Daniel Radcliffe's Favorite Harry Potter Scene To Film Was In Deathly Hallows Part 2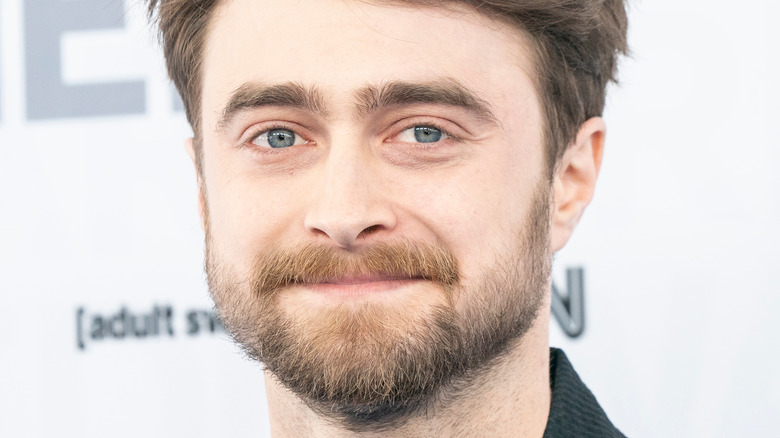 lev radin/Shutterstock
Filming any of the "Harry Potter" movies must have been a lot of hard work — but also a lot of fun. Given the lengths that the studio went to convincingly create not just a wizarding school but also a whole magical world hidden among our own, the actors' efforts to bring that world to life had to live up to the challenge. Granted, the eight movies that make up the full "Harry Potter" story feature some of the best adult actors in the business, from Robbie Coltrane and Maggie Smith to Ralph Fiennes and Helena Bonham-Carter. All were consummate professionals who knew how to be up to the task.
For the kids on set, it was a different story — at least at first. In the "Harry Potter 20th Anniversary" special on HBO Max, Chris Columbus, who directed the first two films, recalled that young stars Daniel Radcliffe (Harry), Emma Watson (Hermione), and Rupert Grint (Ron) had quite a bit of trouble focusing while filming "Harry Potter and the Sorcerer's Stone."
"They'd say a line and then they'd smile at the camera," said Columbus (via E! News), "or they were just so happy to be in a 'Harry Potter' film that they couldn't contain their excitement long enough to focus on an entire scene." 
Of course, all three stars, along with the rest of the cast's youth, eventually grew up, many of them becoming quite the professionals themselves. So when a fan asked Daniel Radcliffe what his favorite scene to film as Harry Potter was, it's fitting that it came from the very last entry in the series.
He enjoyed the action of breaking into Gringotts
During a Reddit AMA in 2013, Daniel Radcliffe was asked by Redditor u/MikeyB67 which scene was his favorite scene to shoot during the films. Understandably, Radcliffe had a difficult time picking just one — given he'd spent a decade on the "Harry Potter" sets — but he mentioned that the first one that came to mind was the scene in "Harry Potter and the Deathly Hallows – Part 2" where Harry, Ron, and Hermione sneak into the vaults at Gringotts bank. They manage to do it with Hermione disguised as Bellatrix Lestrange (Helena Bonham-Carter) and the assistance of Griphook (Warwick Davis).
"We were all enjoying ourselves in that," replied Radcliffe. "It's an action sequence so ... it was more of a technical challenge than an emotional one, so it was a lot of fun to get right."
Watching the sequence gives one a sense of what Radcliffe was talking about. Though there was certainly a lot of green screen involved, it almost definitely required a lot of coordination on the part of the actors in terms of making sure they were in the right places at the right times. That's not to mention the amount of physical work that had to be done, from climbing mountains of magically multiplying goblets to chasing down Griphook himself; it does sound like a lot of fun for the actors. (Then again, maybe it was also Radcliffe's favorite because he had a big old crush on Helena Bonham-Carter.)