The Surprising Crush Daniel Radcliffe Had On This Older Harry Potter Cast Member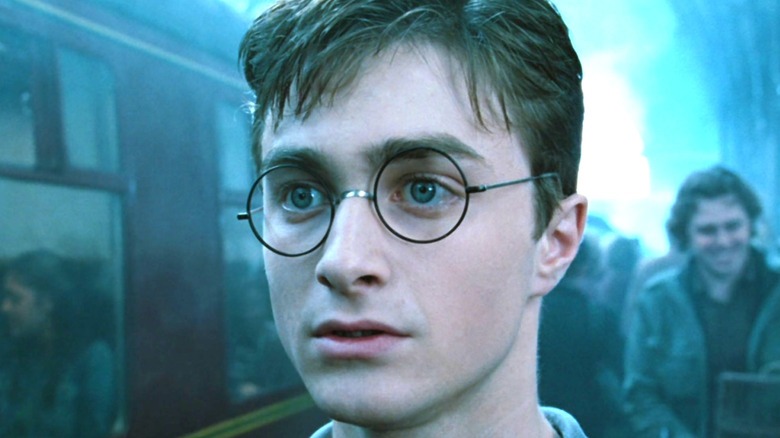 Warner Bros.
Harry Potter, as played by British actor Daniel Radcliffe since his childhood, goes through some romantic ups and downs throughout the film series — and apparently, he developed quite the off-screen crush as well.
During the HBO Max reunion, "Return to Hogwarts," that dropped on the streamer on the first day of 2022 to celebrate the 20th anniversary of the franchise, plenty of secrets were revealed about the decade-long filming process. Throughout years on set, attachments were formed, whether that meant a lifelong friendship between young stars — during the reunion, it's clear that Radcliffe and his most frequent co-stars Emma Watson and Rupert Grint, who play Hermione and Ron, are still good friends. However, there's one unrealized union that never happened, for a pretty obvious reason.
During a sit-down together, Radcliffe and one of the series' most famous stars revealed a pretty juicy behind-the-scenes secret about a crush Radcliffe had on an older cast member. Here's the crush Daniel Radcliffe harbored for his co-star that might surprise you.
Daniel Radcliffe had a huge crush on his on-screen enemy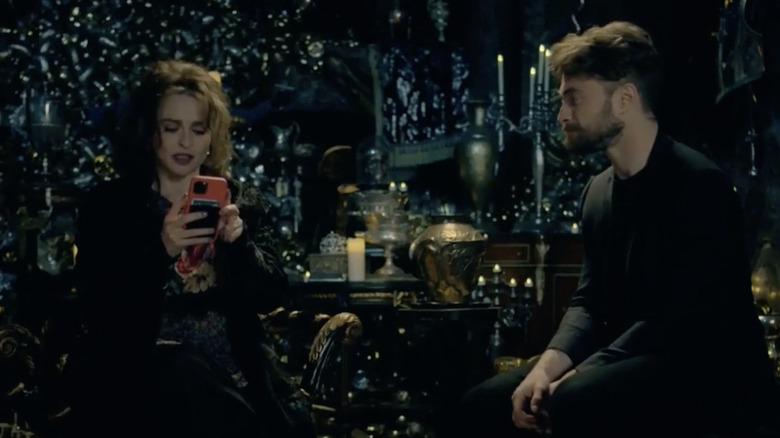 HBO Max/Warner Bros.
During a tour of the set of Gringotts Wizarding Bank, where Harry, Ron, and Hermione pull off a daring Horcrux heist in "Deathly Hallows Pt. 1," Radcliffe and Helena Bonham-Carter — who plays the evil Death Eater Bellatrix Lestrange — discuss their past, which is apparently almost more sordid than anybody imagined. After laughing at the goblin props still stuffed into the Gringotts desk and racing through the marble passageways, Bonham-Carter jokes, "we're snogging in here!"
However, as it turns out, Radcliffe might have loved that. Back in the day, Bonham-Carter apparently asked for his autograph, and he wrote a note confessing that he wished he had been born ten years earlier so he could have had a "chance" with her. "I always treasure that," Bonham-Carter tells Radcliffe. "That is in my toilet, Dan."
Obviously, nothing ever transpired between Bonham-Carter and Radcliffe, but his childhood crush on her is definitely pretty endearing. You can catch Bonham-Carter and Radcliffe's reunion, as well as their work in the "Potter" films, on HBO Max now.