12 Famous Actor Cameos On King Of The Hill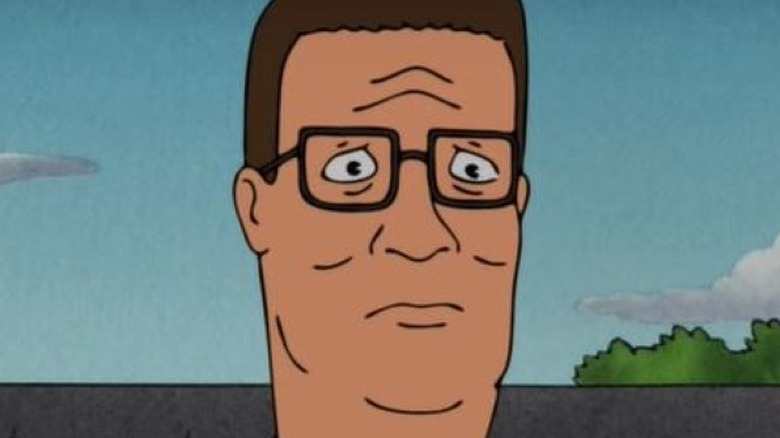 20th Century Fox/YouTube
Legendary animator Mike Judge has given the world such iconic adult cartoons as "Beavis and Butthead" and "Daria." Yet he made waves at San Diego Comic-Con 2022 when he suggested that another one of his hit shows "has a very good chance of coming back." Arguably his most successful series, "King of the Hill" was an integral part of Fox's Animation Domination line-up for 13 seasons alongside animated comedies like "The Simpsons" and "Family Guy." Surprisingly, after a 13-year hiatus, Hank Hill and his propane accessories could be facing a revival in the near future.
"King of the Hill" was unlike other adult cartoons as it did not rely on outlandish situations or unrealistically zany characters. Instead, Hank, his wife Peggy, and their teenage son Bobby represented a standard middle-class family facing relatable circumstances in Texas. Over the course of 259 episodes, "King of the Hill" collected critical praise and reputable awards. It was even named one of "the greatest TV shows of all time" by Time Magazine.
One of the best parts of watching the long-running series involved a rotating door of famous guest stars. Notably, musician Tom Petty played a recurring role throughout the series, appearing in 29 episodes and paving the way for several other country musicians to add their voices. Meanwhile, a smorgasbord of famous talent cameoed throughout the show, including Betty White, Snoop Dogg, and ZZ Top. Discover 12 of the biggest names to appear on "King of the Hill" that you likely missed.
Kathy Bates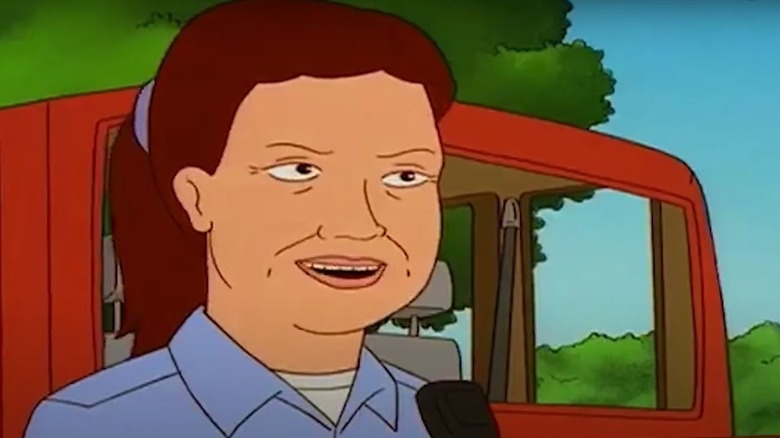 20th Century Fox/YouTube
Kathy Bates may not be the only Academy Award-winning actress to appear on "King of the Hill," but she is arguably the most versatile. The former stage actress boasts one of the most flexible filmographies out there, ranging from "Titanic" to Adam Sandler's "Waterboy." Meanwhile, Bates has not feared television appearances, famously taking on minor roles in "The Big Bang Theory" and "The Office." Seemingly capable of fitting into anything Hollywood has to offer, Kathy Bates also made a voice-acting cameo on the hit Fox animated series.
Badged and blue, Bates made a guest star appearance as police officer Jane Cooper in the sixth season of "King of the Hill." The episode titled "Lupe's Revenge" features Peggy, and her notoriously bad Spanish fluency, inadvertently kidnapping and smuggling a small child across the border from Mexico. Of course, the situation is complicated by Bates's police character after a flirtatious encounter with Hank. In a bit of role reversal, Bates's character uses her authority into forcing Hank into feeling her chest as she frisks his buttocks. Officer Cooper does reappear in Season 7; however, like many other cameo characters, Bates does not reprise her role.
Matthew McConaughey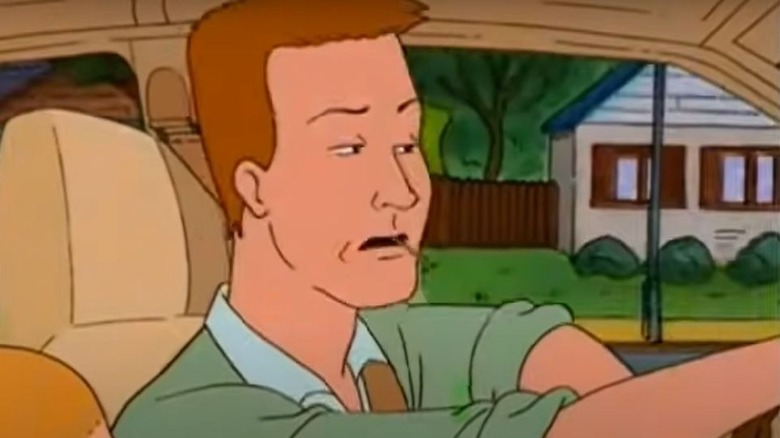 20th Century Fox/YouTube
It would have been a sorely missed opportunity had "King of the Hill" not landed Matthew McConaughey as a guest star on the series. The Texas-born actor has the ideal Southern accent to perfectly fit in with the folks around Arlen. McConaughey, who made a name for himself with his breakout role in "Dazed and Confused," was well on his way to becoming the A-list star he is today when he cameoed on "King of the Hill" in 1999. Although McConaughey was not well known for his voiceover talents, he has since gone on to star in major animated films such as "Kubo and the Two Strings" and the "Sing" franchise.
Fitting to the smooth heartthrob image that McConaughey had developed at the time, the future Academy Award-winning actor entered "King of the Hill" as a temporary dating prospect for Luanne Platter (Brittany Murphy). Featured in the Season 3 episode "The Wedding of Bobby Hill," in which Bobby believes he is marrying his cousin, McConaughey plays the part of Rad Thibodeaux. After courting Luanne, Rad, an alleged music promoter who passes out free trials of AOL, becomes equally admired by Bobby Hill. However, after Rad takes advantage of his new friends, it causes a quarrel between the cousins, leading to Bobby stealing Luanne's birth-control pills and thinking he got her pregnant — hence the mock wedding.
John Goodman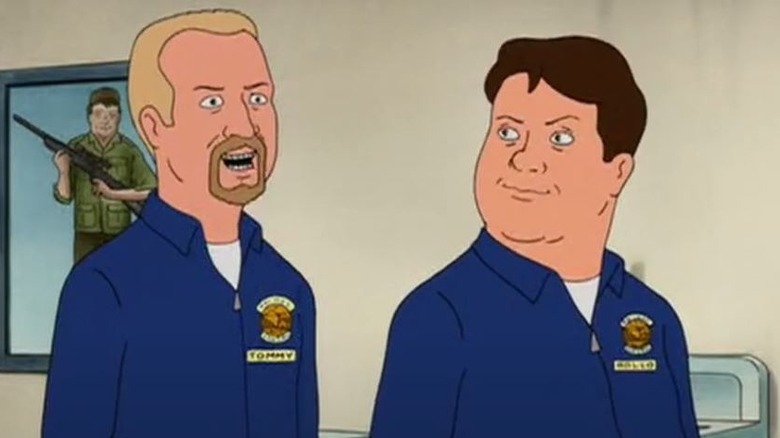 20th Century Fox/YouTube
John Goodman is no stranger to appearing on sitcoms, as he has portrayed father figure Dan Conner on "Roseanne" and "The Conners" for over 300 episodes. Goodman has his fair share of voiceover experience, boasting credits on "Monsters, Inc," "The Emperor's New Groove," and more. With such an impressive resume and cameos on other Fox animated comedies like "The Simpsons" and "Futurama" under his belt, it was only a matter of time before the beloved performer made his way into Arlen.
Goodman made his guest appearance in Season 11 of "King of the Hill" as an animal control officer. The episode "Serpunt" starts with Bobby getting a new pet, a 12-foot snake that quickly escapes down the family's toilet. Commissioned to capture the serpent, Goodman's character spends most of the episode squeezing more money out of the city — until Dale Gribble (Johnny Hardwick) enlists in the animal control squad and forces their hand. Hilariously, Goodman plays a short blond man, while his dog-catching partner is animated to look more like the actor, likely throwing off the audience during the episode's release in 2007.
Michael Keaton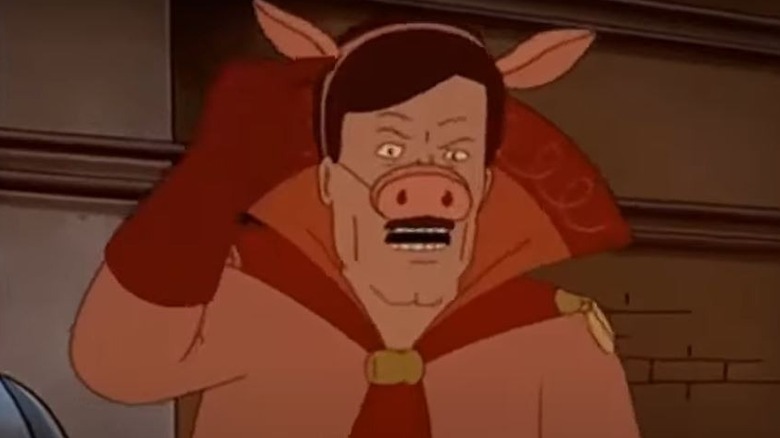 20th Century Fox/YouTube
Michael Keaton is an actor defined by his darker roles in "Batman" and "Beetlejuice" (his lighter fare like "Mr. Mom" notwithstanding), so it's no surprise that Keaton was a significant part of what is considered the darkest episode of "King of the Hill" to ever air on television. The Halloween special "Pigmalion" has gained a reputation for delivering the most disturbing content on the show and carries its own urban legend.
The episode features Keaton as a pork mogul named Trip Larsen who courts Luanne. Unfortunately, Trip's mental stability soon comes into question as he attempts to make his new girlfriend dress like a woman from an old magazine. Ultimately, Keaton's character goes off the handle as he takes Luanne to the slaughterhouse, where he tries to murder her. Shockingly, Trip succumbs to his own scheme, being gruesomely slaughtered and turned into pork sausage (thankfully, this takes place off-screen).
The episode originally was produced for Season 5 yet didn't air for two years, based on its production numbers. It is common practice for Fox's animated shows to have an episode or two as a holdover for their next season; however, many speculate that Fox feared airing the darker and tonally different piece. Additionally, the episode was banned in many regions. Moreover, some viewers who watched the episode during its original airing claim that the death of Trip ended in images of blood and gore, though there is no evidence that this ending actually existed.
Burt Reynolds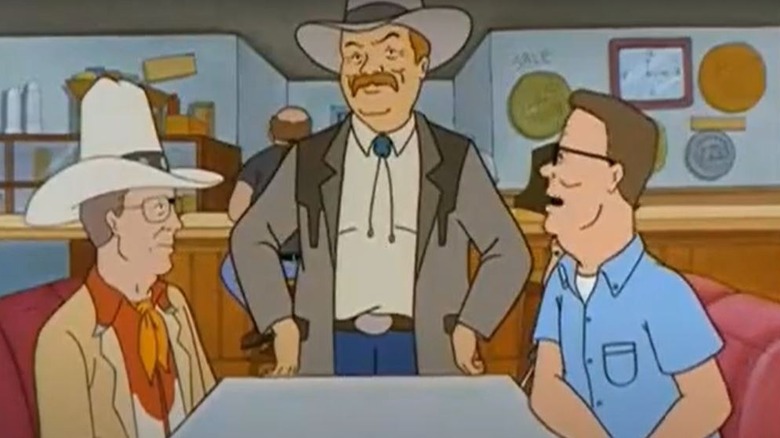 20th Century Fox/YouTube
Fans of "King of the Hill" may remember M.F. Thatherton, the owner of Thatherton Fuels, the direct competitor to Strickland Propane where Hank Hill works. Playing the foil to Buck Strickland, Thatherton was a former employee of Strickland Propane before he started his own company across the street, stealing many clients along the way. The character made minor appearances throughout the show voiced by Toby Huss. However, what many audience members may have missed was Thatherton's first appearance was voiced by legendary actor Burt Reynolds.
A sex symbol of the 1970s, Burt Reynolds has long been a cinematic icon, boasting leading credits in films like "Smokey and the Bandit," "The Cannonball Run," and "Boogie Nights." However, by the time he cameoed in the Season 2 episode "The Company Man" of "King of the Hill," the celebrated performer was well on his way to having more fun with his career. Thankfully, his rich, boastful voice helped give life to the 10-gallon-hat–wearing M.F. Thatherton as he poached clients away from Hank.
Will Ferrell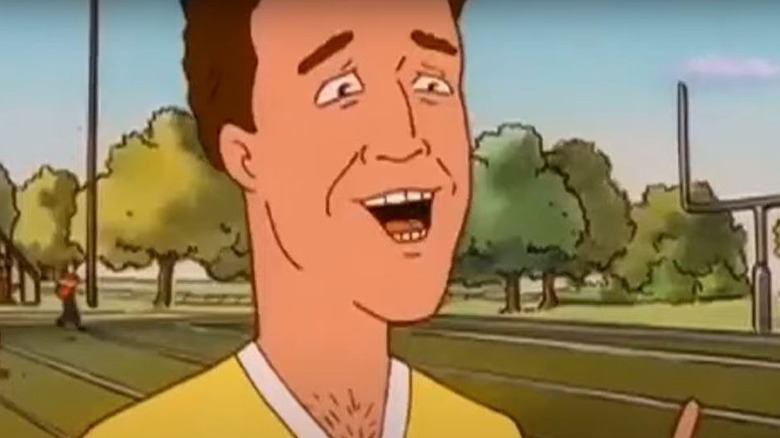 20th Century Fox/YouTube
Will Ferrell has become one of the biggest comedians in Hollywood, headlining movies like "Step Brothers," "Anchorman: The Legend of Ron Burgundy," and most recently "Spirited." However, before the actor stepped away from "Saturday Night Live" in 2002, his appearances were limited to cameos and "SNL" features like "A Night at the Roxbury." Amidst it all, Ferrell managed some voiceover work, most notably as the limbless patriarch of "The Oblongs." Ferrell also had a short cameo in the 1999 Season 3 episode of "King of the Hill," "Three Coaches and a Bobby."
Long before playing a soccer coach in 2005's "Kicking and Screaming," the famed comedian first played a sports coach for young Bobby Hill. The episode starred Hank attempting to get his son to follow in his football footsteps and play under the hardened Coach Sauers. Unfortunately, Bobby joins much of the team in defecting to the softer soccer squad coached by Ferrell's character, Coach Lucas. With a kinder approach and praise for doing the bare minimum, Coach Lucas makes the children much happier. Still, when Hank takes the bench behind the football squad, Bobby convinces his teammates to return to their old squad.
Jeff Goldblum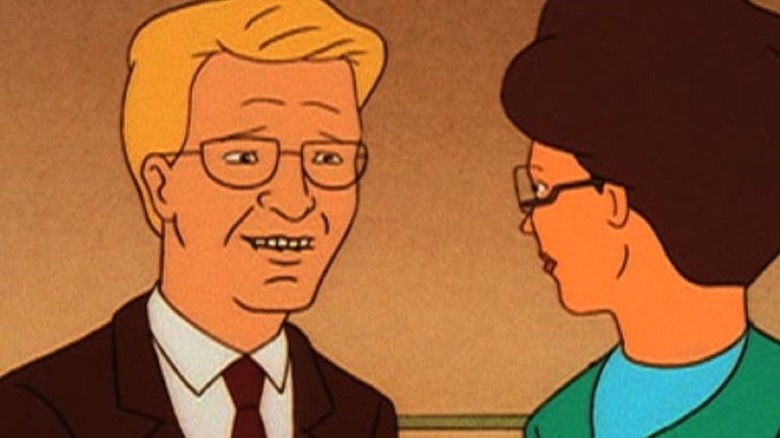 20th Century Fox
Jeff Goldblum catapulted to fame in the '80s with his role in "The Fly" before becoming an icon in the '90s for parts in "Jurassic Park" and "Independence Day." Today, Goldblum is known for his Grandmaster role in the Marvel Cinematic Universe. The eccentric actor has seemingly done it all, and that includes cameo roles in animated comedies like "The Simpsons" and "Big Mouth." Still, his appearance in "King of the Hill" is one of the show's most unexpected guest spots.
Playing the part of Dr. Robert Vayzosa, Goldblum appears in the Season 6 episode "The Substitute Spanish Prisoner." The episode features Peggy Hill facing an existential crisis after she struggles to explain a math problem to her students. Attempting to affirm her intelligence, Peggy attends a seminar hosted by Goldblum's character and is fooled into purchasing a phony Ph.D. Unfortunately, Goldblum's conman persona is far too clever for Peggy as she attempts to swindle her money back from the swindler.
Meryl Streep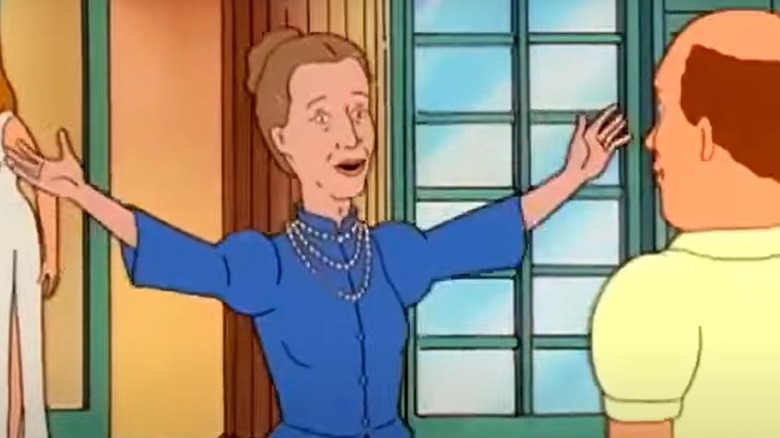 20th Century Fox/YouTube
If it wasn't clear already, "King of the Hill" has landed some of the biggest names Hollywood has to offer for interesting roles across Arlen. The series outdid itself in Season 4 when they gave a cameo to one of the greatest actresses of all time, Meryl Streep. Appearing in everything from "Kramer vs Kramer" to "The Bridges of Madison County," Streep holds the record for the most Academy Award nominations with 21. Out of the actress's illustrious career, she has only appeared in two animated sitcoms: "The Simpsons," where she played Bart's troublesome love interest Jessica Lovejoy, and "King of the Hill."
Meryl Streep appears in the Season 4 episode "A Beer Can Named Desire," in which Hank wins the opportunity to throw a football for a chance at a million dollars at a New Orleans Saints game. Along the way, they meet Bill Dauterive's Cajun family, with Streep playing his Aunt Esme. Unfortunately, the A-list actress's cameo is overshadowed when former Dallas Cowboy Don Meredith arrives in the episode playing himself and hilariously causes Hank to lose out on his million-dollar throw.
Billy Bob Thornton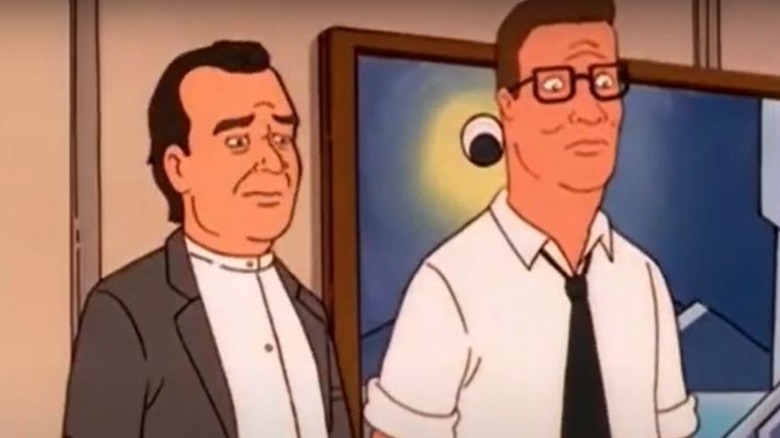 20th Century Fox/YouTube
Another actor who would have been sorely missed if "King of the Hill" didn't bring him in for a cameo is Billy Bob Thornton. The Arkansas-born actor-slash-musician has the ideal Southern accent to perfectly fit in among the locals of Arlen, Texas. Additionally, while "King of the Hill" was still on the air, Thornton was one of the biggest names in Hollywood thanks to his performances in movies like "Armageddon" and "Primary Colors."
Of all the amazing cameos to appear in the long-running animated series, Thornton was handily gifted one of the more outrageous. Appearing in the Season 3 episode "Nine Pretty Darn Angry Men" Thornton joins Hank and the crew in a focus group for a new lawn mower. However, in the singular episode, much of Thornton's Reverend Boyce Hubert's background is revealed. A failed minister, he subtly hints that he was exiled from the church after a mishandled baptism caused a drowning.
Alan Rickman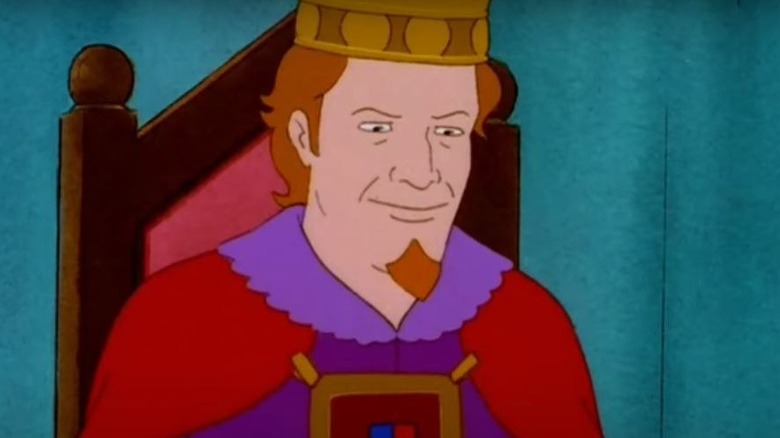 20th Century Fox/YouTube
Legendary actor Alan Rickman was best known for taking on ominous roles like Hans Gruber in "Die Hard" or Severus Snape in the "Harry Potter" franchise. Additionally, the British actor served well in comedic roles, as made evident by his voiceover work in "Hitchhiker's Guide to the Galaxy." The celebrated performer was the optimal choice to play the antagonist in one of the most memorable episodes of "King of the Hill."
The Season 6 episode "Joust Like a Woman" offered fans something different as Hank is enlisted to land a new propane client at the local Renaissance Faire. Unfortunately, he's not prepared to meet Rickman's King Phillip character, who forces the traditional Texan to dress in period garb and behave as if it were the year 1590. Worse, the overly dedicated King Phillip treats women as it were the days of yore, giving them the most demeaning work — including Peggy, who volunteers her time. Thankfully, she gets the upper hand when she defeats the king in a jousting match. Still, the best part of Rickman's cameo is when he takes on a Texan accent after being served a lawsuit by his mistreated female employees.
Brad Pitt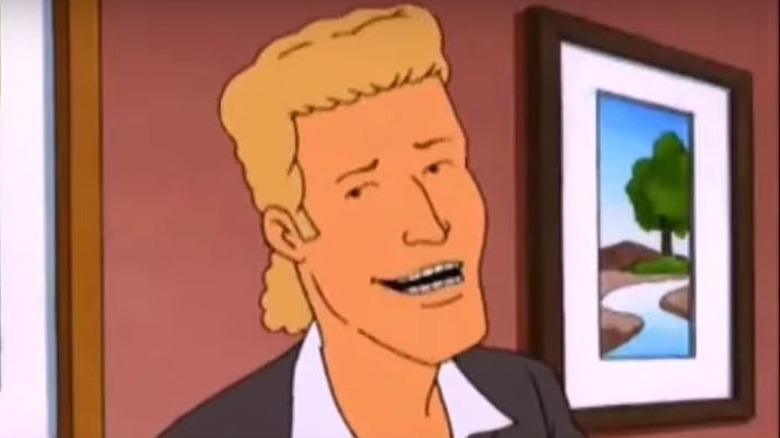 20th Century Fox/YouTube
Despite being a regular part of the series since its inception, "King of the Hill" rarely revealed much about the character known as Boomhauer. Voiced by Mike Judge, Boomhauer talks quickly and with a heavy accent, making it nearly impossible to pick up everything that the character is saying. Despite the incoherent dialect, Boomhauer is the unopposed voice of reason amongst his friends. Yet, aside from having a taste for fast cars and pretty women, not much of the character's background or family was revealed until the Season 8 episode "Patch Boomhauer," where his brother shows up engaged to his old flame.
Hilariously, Patch is voiced by longtime A-lister Brad Pitt in the only cameo the actor ever made on an adult animated sitcom. Perfectly able to match Boomhauer's quick speech, Pitt became an unexpected top choice as Boomhauer's relative, despite most fans not realizing who was behind the performance. Equally as impressive, the episode features an old girlfriend of Boomhauer's who is now engaged to Patch; the voice behind that character is famous "Jurassic Park" actress Laura Dern.
Johnny Depp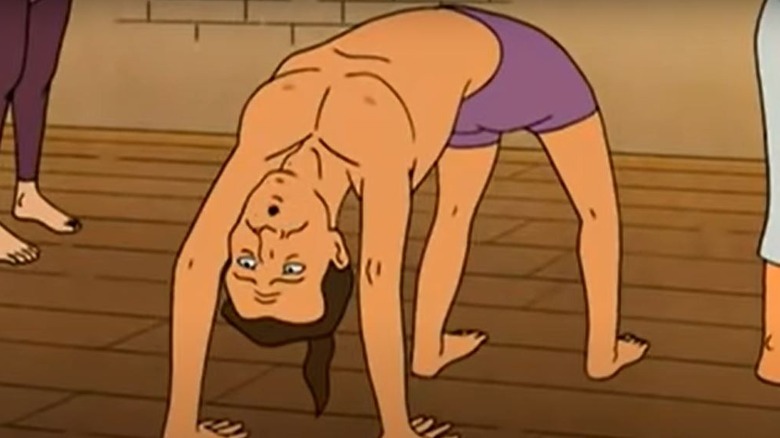 20th Century Fox/YouTube
Another A-list actor who you wouldn't expect to appear on "King of the Hill" is Johnny Depp. Undeniably in the big leagues, Depp has helped turn quirky movies like "Edward Scissorhands" into cult favorites and shepherded big-budget flicks like "Pirates of the Caribbean" to box-office success. The unique actor has never been afraid of a diverse career, popping up in anything from "The Lone Ranger" to "SpongeBob SquarePants." Only an actor of Depp's range could squeeze in a guest spot on "King of the Hill" between major film roles in movies like "Once Upon a Time in Mexico" and "Finding Neverland."
Depp plays an eccentric yoga instructor who helps with Hank Hill's notorious back pain in the Season 8 episode aptly titled "Hank's Back (The Unbearable Lightness of Being Hank)." Unfortunately for Hank, Depp's Yogi character is over the top in his methods but undeniably effective. Thankfully, putting up with the wacky yoga instructor pays off when Hank needs to prove his injuries to the insurance company. Bringing Depp's character to court, Hank makes the point that he would never put up with the Yogi if he were not facing extreme pain.