25 Best King Of The Hill Episodes Ranked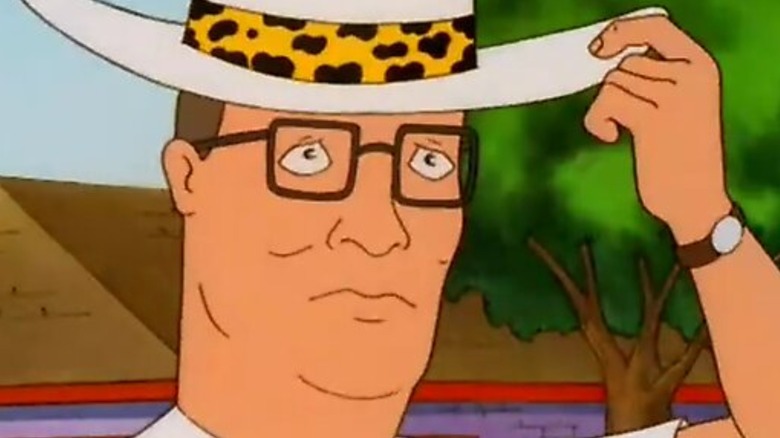 Fox
In 2010, "King of the Hill" went off the air after 13 seasons on Fox. So when news broke that creators Mike Judge and Greg Daniels were planning to revive the Emmy-winning animated series, fans rejoiced. 
Set in the fictional town of Arlen, Texas, the series revolved around the Hill family. The central family unit consisted of uptight propane salesman Hank (Judge), his overly-confident wife, Peggy (Kathy Najimy), their aspiring comic son, Bobby (Pamela Adlon), and their sweetly naive niece, Luanne (Brittany Murphy). Beyond that, the show was populated with an oddball cast of supporting characters, including Hank's trio of friends/neighbors: conspiracy nut Dale Gribble (Johnny Hardwick), sad-sack divorcee Bill Dauterive (Stephen Root), and motormouth ladies man Boomhauer (Judge).
What set "King of the Hill" apart from other primetime animated sitcoms was its focus on subtle observational humor over broad gags. Its storylines were often down-to-earth slices of life, focusing on the struggles of an everyday family over high concept farce. Throughout its run, the show collected six Emmy nominations for best animated series, winning in 1999. Adlon also picked up a prize for voicing Bobby in 2002.
News of the revival may inspire fans to revisit some of their favorite episodes, but where do you start? Let's crack open a can of Alamo Beer and count down the 25 best "King of the Hill" episodes, ranked worst to best.
25. Livin' on Reds, Vitamin C and Propane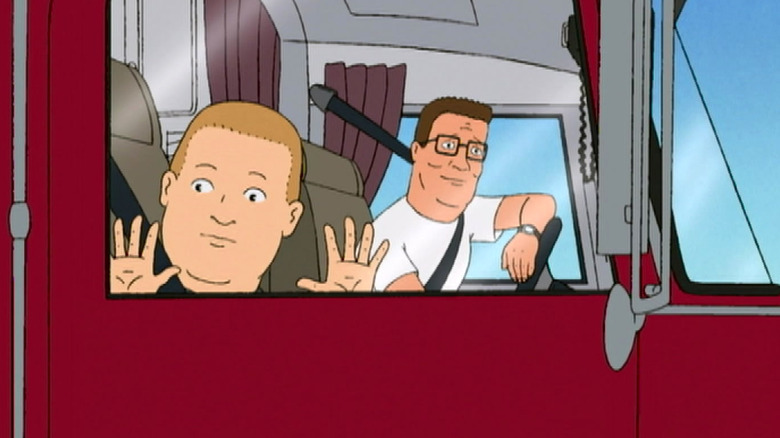 Fox
One of the best episodes of the show's later years, Season 8's "Livin' on Reds, Vitamin C and Propane," finds Hank fulfilling his childhood dream of driving a big rig. The assignment: help his mother move her furniture to a new home. Sort of like "Sorcerer," but with couches instead of nitroglycerin. Bobby tags along (and picks up a habit for coffee drinking on the road), but things go south when Dale, Bill, and Boomhauer sneak a ride in the back. Meanwhile, Peggy and Luanne stretch their songwriting abilities by trying to write a Christmas carol.
24. The Exterminator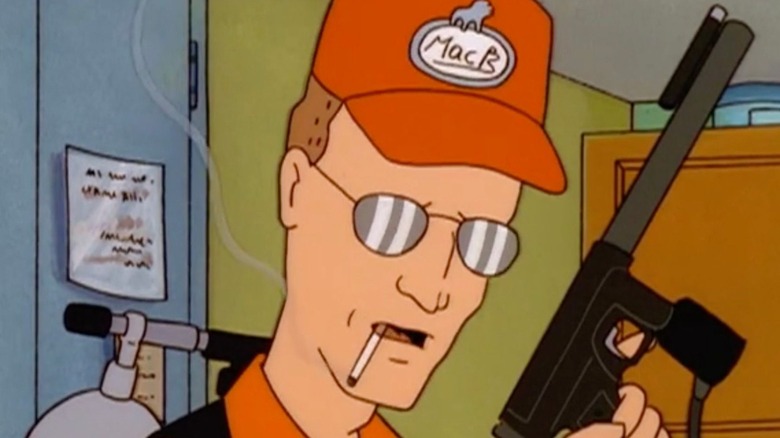 Fox
If there's one thing Hank's high-strung, conspiratorial neighbor Dale Gribble is known for, it's being an exterminator. So it's earth-shattering when Dale has to put the bug spray away and get an office job after the poisons he uses for work erode his sinuses. He finds a way to put his extermination skills to good use when the company puts him in charge of firing employees, but he has to do some real killing when the office is overrun with cockroaches. Luckily, Dale doesn't need chemicals to fulfill his destiny, proving the adage of "once an exterminator, always an exterminator."
23. Jumpin' Crack Bass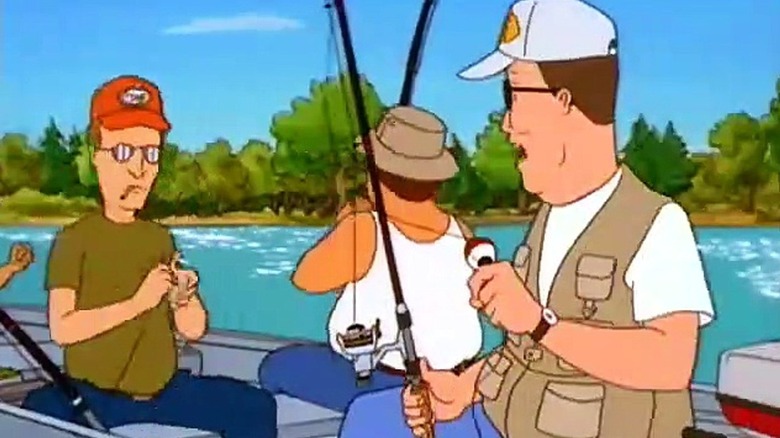 Fox
Hank's love of fishing gets him in serious trouble in this second season installment. In "Jumpin' Crack Bass," Hank's fealty to good old-fashioned worms is put to the test when Dale, Bill, and Boomhauer start having more success with "cheater bait." He catches tons of fish with his very own special lures purchased by a street vendor, which turns out to be crack! Democratic strategist James Carville lends his distinctive Louisiana twang to the voice of a no-nonsense judge who puts Hank's alibi to the test during a fishing trip, where the worm saves the day!
22. Nancy's Boys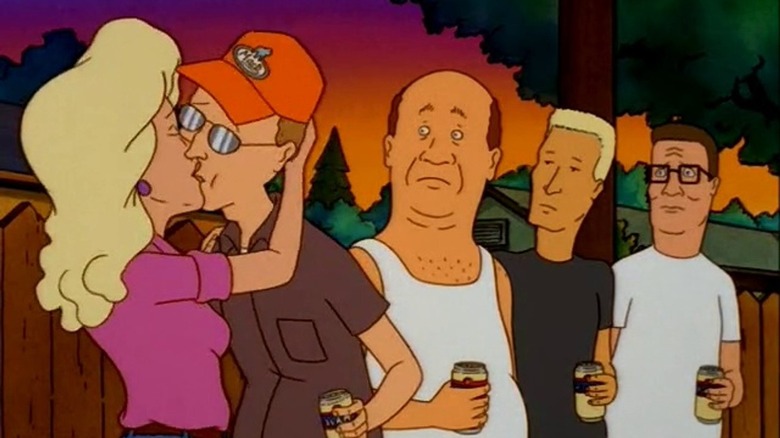 Fox
The long, complicated love triangle between Dale Gribble, his wife, Nancy, and her "healer" John Redcorn takes a new turn with "Nancy's Boys." When Hank is given a romantic dinner for four at That's Amore, he initially wants to bring Dale, Bill, and Boomhauer. But at Peggy's insistence, he decides to take her and another couple. Dale invites himself and Nancy, who was hoping to spend the night with John Redcorn, but Redcorn tells her to go ahead so he can have a night to himself. This backfires when Dale and Nancy rekindle their long-dormant love affair.
21. As Old as the Hills...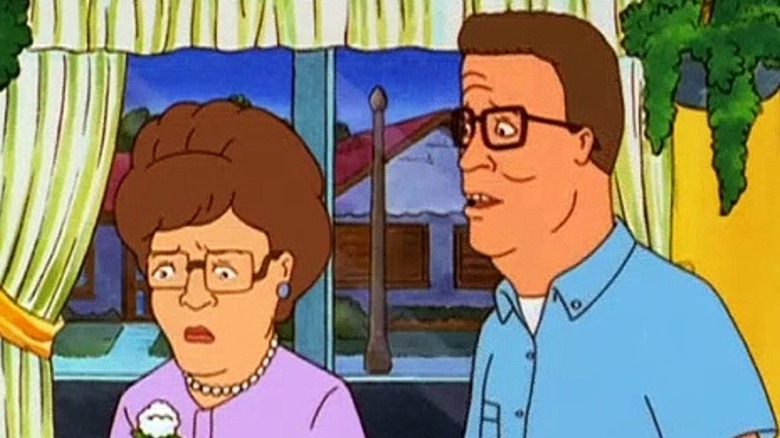 Fox
Throughout its run, "King of the Hill" would often end episodes with cliffhangers, including at the conclusion of Season 3. In "As Old as the Hills," Hank and Peggy are feeling their age as their 20th wedding anniversary approaches. Peggy wants to do something special to prove they're still young, especially when Cotton's wife, Didi, shows up newly pregnant. She settles on skydiving, which majorly backfires when her parachute fails to open. Fans had to wait a full four months to find out whether or not she survived the fall (spoiler alert: she was OK).
20. Hilloween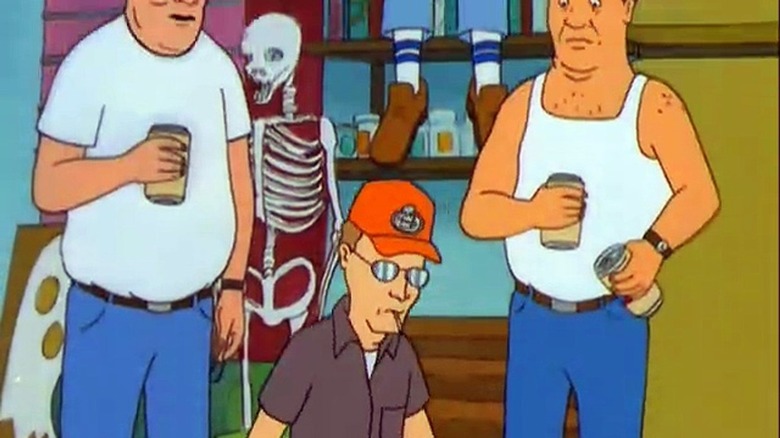 Fox
"King of the Hill" has often poked fun at moral hypocrisy as Hank tries to navigate his way through an increasingly outraged world. In "Hilloween," he's butting heads with the newly arrived youth group minister, Junie Harper, played by special guest star Sally Field, over the haunted house he's constructing for Bobby's school. After a persuasive Bible study class led by Junie, Luanne becomes convinced that celebrating Halloween is a gateway to Hell. She tries to save Bobby's soul by taking him to the minister's Hallelujah House, which is put together after she successfully shuts down the school's haunted house. Hank rebels, donning his childhood devil costume and trick or treating in protest.
19. Love Hurts... and So Does Art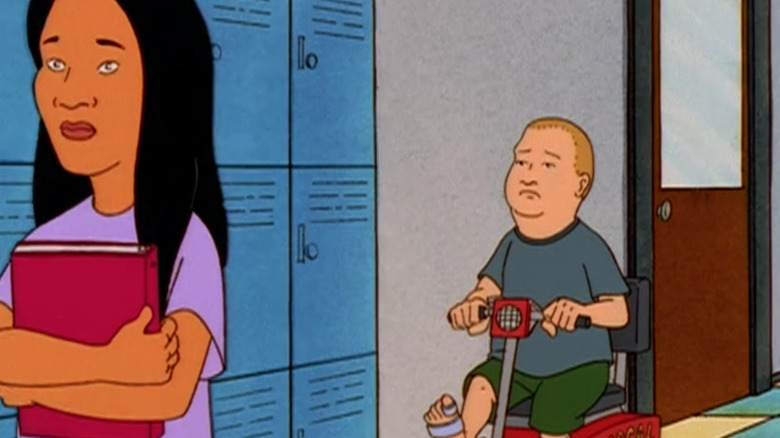 Fox
Bobby's romance with Connie hits a snag over his reluctance to take her to the school dance. He drowns his sorrows on organ meats at the newly opened Show Biz Deli, causing him to develop a serious case of gout. Bobby uses his confinement to an electric wheelchair as an excuse not to go to the dance, but he'll have to play through the pain if he wants to keep Connie. Meanwhile, Hank visits an art museum thinking his high school football photo is being displayed, only to discover it's actually an x-ray of his colon that was taken during his bout with constipation during "Hank's Unmentionable Problem."
18. Jon Vitti Presents: 'Return to La Grunta'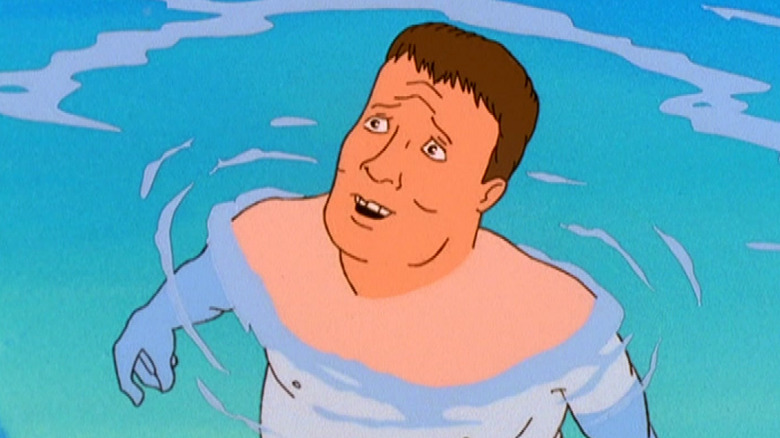 Fox
Hank's embarrassment in awkward situations is a constant source of humor on "King of the Hill," most hilariously (and surprisingly poignantly) in "Jon Vitti Presents: 'Return to La Grunta.'" Luanne wants to give her uncle a thank you present after getting her a job as a golf course drink girl at a country club. Even though Hank wants a free round of golf, she gifts him a dolphin encounter instead, and things take a turn when the dolphin becomes sexually aroused in the tank. At first, Hank wants to keep the experience a secret but changes his mind when he sees Luanne getting harassed at work.
17. Texas City Twister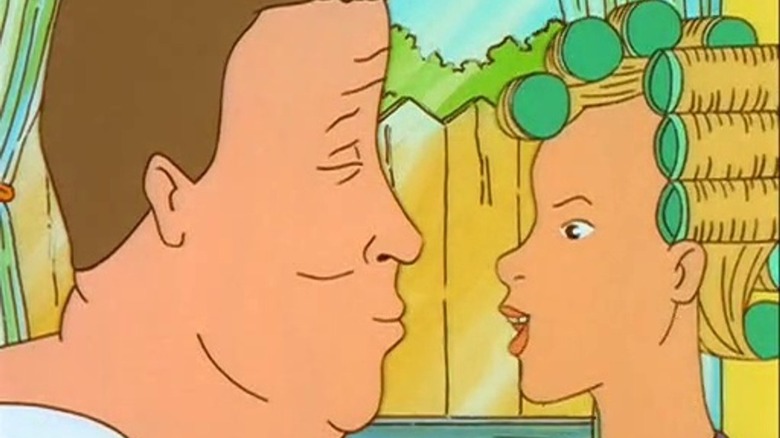 Fox
Hank's patience with Luanne hits its breaking point when he discovers she's washed her undergarments with his. He decides to right the toppled trailer she lived in with her abusive mother so she can move back in, much to Peggy's consternation. As they fight over his coldness towards their niece, Hank tells Peggy in his own words to go to Hell. He immediately regrets this when he learns a tornado is coming right as she's helping Luanne move back into the trailer park — which is a lot like Hell during a tornado. He desperately tries to get to his family before it's too late, regaining their love (and losing his clothes) in the process.
16. Pretty, Pretty Dresses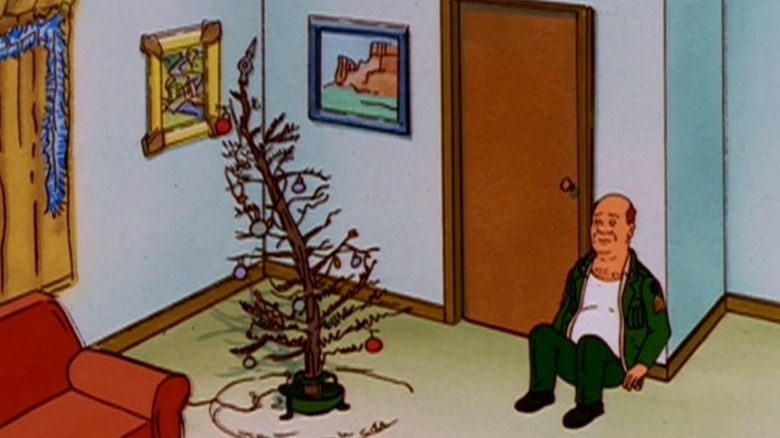 Fox
The sad saga of Hank's divorced neighbor Bill Dauterive provided "King of the Hill" with some of its most profoundly unsettling episodes. In "Pretty, Pretty Dresses," he's feeling the holiday blues as the anniversary of his separation from Lenore approaches. Hank tries to lift his spirits with nightly dinners at his house, but those only make things uncomfortable for the rest of the Hill family. Bill attempts suicide, and Hank tries to snap him out of his funk with some tough love. But that only causes Bill to don a dress and call himself "Lenore," which threatens to ruin Hank's annual company Christmas party.
15. Little Horrors of Shop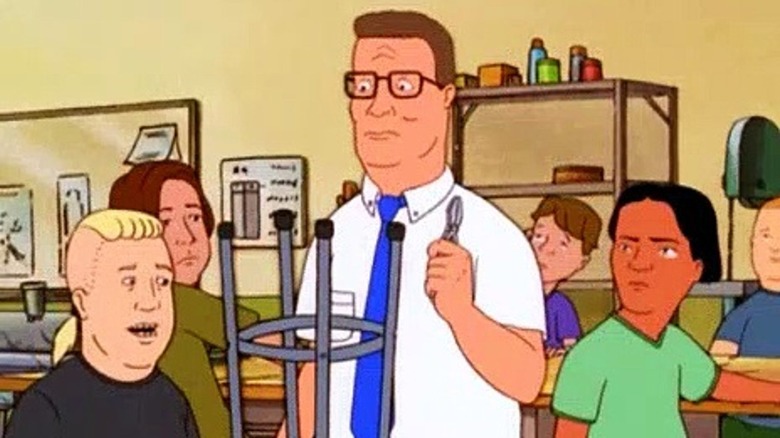 Fox
If there's one thing Hank loves almost as much as selling propane (and propane accessories), it's do-it-yourself fix-it jobs. So when Hank's boss, Buck Strickland, forces him to take a two-week vacation after years without one, he throws himself at the opportunity to substitute as the shop class teacher at Bobby's school. Professional substitute Peggy tries to offer him some advice, yet Hank finds success trusting his own instincts. His popularity soars with the students, putting him in direct competition with his wife for the substitute teacher of the year award. Which Hill will win?
14. The Wedding of Bobby Hill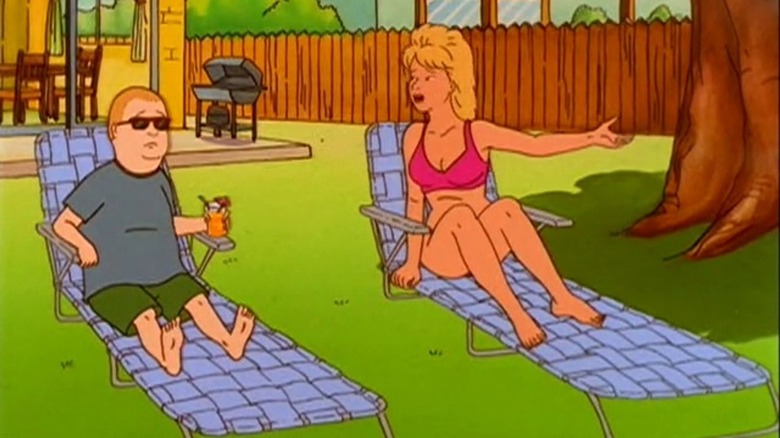 Fox
Texas native Matthew McConaughey's famous Southern drawl gives life to Rad Thibodeaux, a self-proclaimed genius working in the "entertainment industry" who charms both Bobby and Luanne. He even convinces Bobby to let him throw a party at Boomhauer's house, which the young Hill is house sitting. Rad's subsequent disappearance causes a rift between the two Hill cousins, which escalates when Bobby replaces Luanne's birth control pills with candy. Hank and Peggy decide to teach their son a lesson by convincing him he's gotten her pregnant and forcing him to do the only honorable thing — marry her.
13. Naked Ambition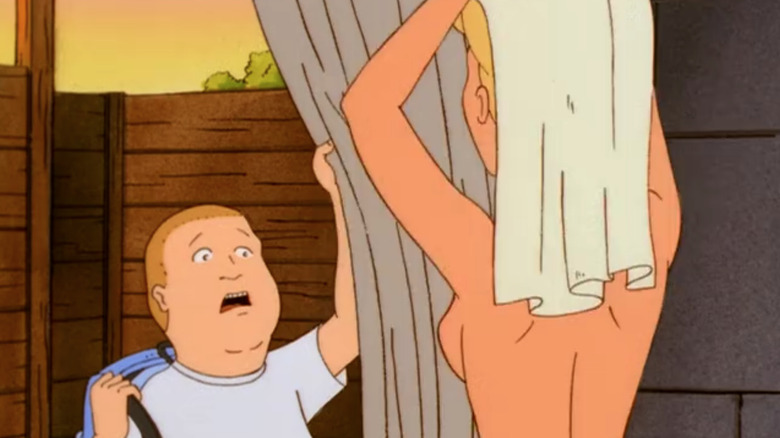 Fox
"King of the Hill" sets itself apart from other animated sitcoms by aging its child characters, creating new story possibilities for Bobby and his friends as they navigate puberty. In "Naked Ambition," Bobby accidentally sees Luanne naked after a day of swimming at the lake, much to the ire of hormonal Joseph, who's desperate to sneak a peek. Joseph's attempts to see Luanne naked keep backfiring on Bobby, causing a problem with Connie. Rather than turn into an animated "Porky's," the episode takes a poignant turn when Connie reveals her own insecurities about her developing body, which Bobby shares about his own. Meanwhile, Boomhauer gets placed in a mental institution after falling asleep at the lake and waking up in Houston.
12. Propane Boom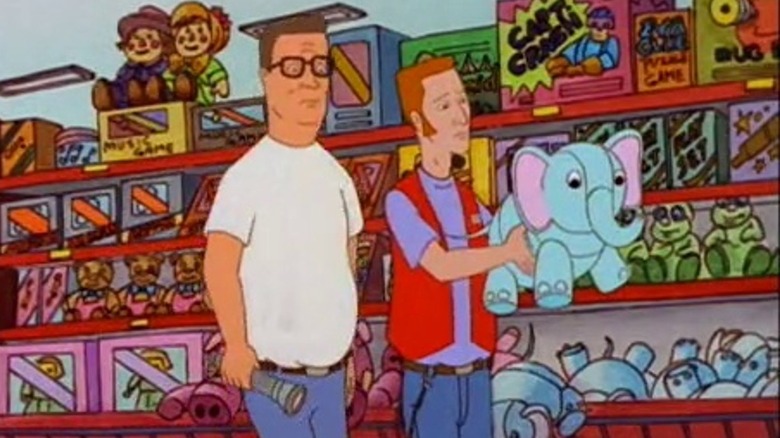 Fox
"King of the Hill's" second season ended with one heck of a cliffhanger. In "Propane Boom," Buck Strickland is forced to close Strickland Propane after the Mega-Lo Mart starts selling the precious gas at a discounted rate. Although Luanne was hoping to use her relationship with Mega-Lo employee Buckley to get a job selling propane, Hank fills the new position in spite of his hatred for the store. Buckley's incompetence causes the Mega-Lo Mart to explode during a Chuck Mangione concert, and audiences had to wait four full months before the fate of Hank and Luanne –- who were both in the store when it blew up – was revealed.
11. Hanky Panky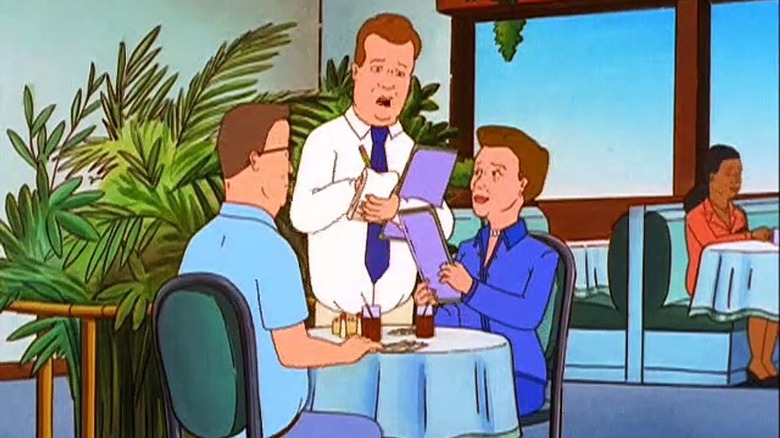 Fox
The first half of one of the show's best two-parters finds Buck Strickland facing a divorce from his long-suffering wife, Miss Liz (Kathleen Turner), after his affair with Debbie Grund (Reese Witherspoon) becomes public. Desperate to hold onto his possessions during the divorce proceedings, he sells Hank his beloved Sugarfoot's Barbecue restaurant, which is conveniently across the street from Debbie's apartment. Soon both Miss Liz and Debbie are throwing themselves at Hank, who picks up a smoking habit to calm down. Peggy installs herself as general manager of Sugarfoot's, where she makes a grisly discovery: Debbie's dead body slumped over in the dumpster next to a shotgun.
10. Keeping Up With Our Joneses
Fox
Even in its first season, "King of the Hill" was churning out classic episodes. In "Keeping Up With Our Joneses," Hank catches Bobby smoking a cigarette in the Strickland Propane bathroom. He decides to teach his son a lesson the old-fashioned way: making him smoke an entire carton of cigarettes. However, that only causes Bobby to pick up the filthy habit, and for Hank and Peggy to reignite their love affair with tobacco. It all culminates in one stormy night when Luanne locks her family in a room without smokes to get them to quit cold turkey.
9. Hank's Dirty Laundry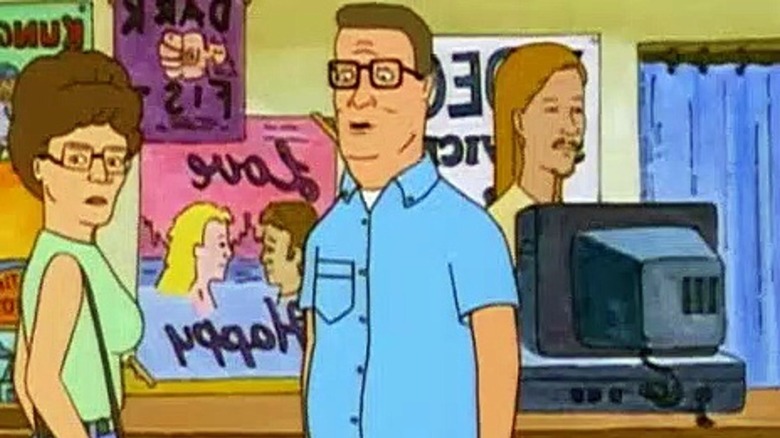 Fox
Hank's uptight, old-school conservatism provided the series with some of its funniest moments, most hilariously in this second season installment. In "Hank's Dirty Laundry," his quest to buy a new dryer hits a snag when his otherwise perfect credit gets a ding from an overdue video store rental, which he claims he never made. Turns out the tape in question is actually porn, and Hank fights tooth and nail to clear his good name when this clerical error causes his name to get put on several mailing lists that send a barrage of adult entertainment to his doorstep.
8. A Beer Can Named Desire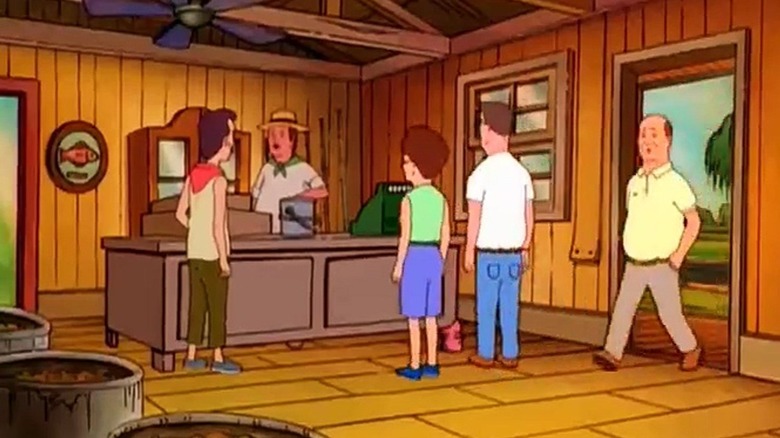 Fox
"A Beer Can Named Desire" manages to have a B-plot that is just as compelling (if not even more so than) the A-plot. The episode's main focus finds Hank winning a trip to Louisiana and a chance to compete for $1 million at the upcoming Saints-Cowboys game. All he has to do is throw a football through a giant Alamo Beer can, or he can go for a lesser prize by letting former Cowboys quarterback Don Meredith take the shot. While in New Orleans, the Hills stay with Bill's aunt (Meryl Streep) in the lavish Chateau Dauterive, where three widows throw themselves at the unmarried Bill. The only problem is that two were married to his cousins, while the other is his blood relative.
7. To Sirloin with Love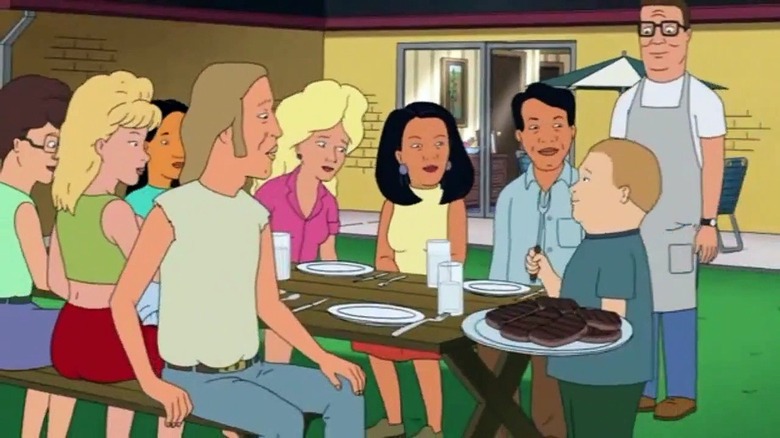 Fox
Although the show's later seasons failed to capture the magic of its earlier years, "King of the Hill" did manage to hit one last home run in its series finale (well, technically it was the finale: four unaired episodes played in syndication after it). In "To Sirloin with Love," Hank finally finds something in common with Bobby when his son reveals a surprising knowledge of beef. His steak expertise lands him a spot on the Heimlich County Junior College meat examination team, but more importantly, it lands him a spot next to Hank at the family grill.
6. Returning Japanese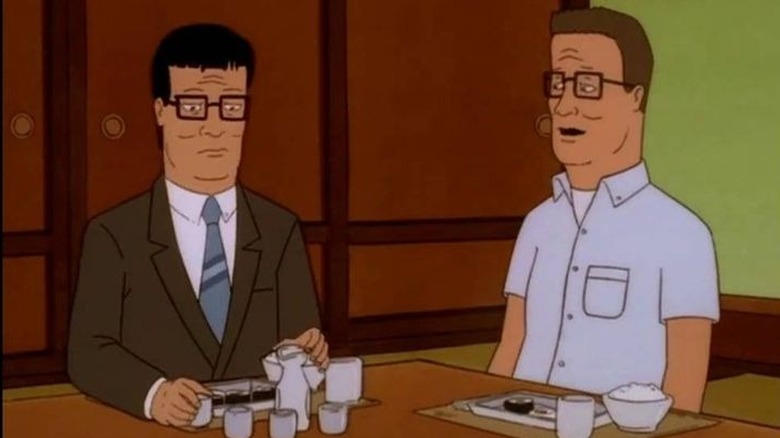 Fox
In one of the show's best two-parters, the Hill family travels abroad for some culture clashes and surprising revelations. In "Returning Japanese," Hank's ornery father, Cotton, yearns for his lost love, Michiko, a Japanese woman he met while overseas in World War 2. After Peggy pens an op-ed in the Arlen Bystander about their romance, the Hills win a trip to Japan to track Michiko down and reunite her with Cotton. While there, Hank makes a shocking discovery: his half-brother, Junichiro. Meanwhile, Bobby strikes up a romance with a Japanese schoolgirl over an arcade step-dancing game.
5. Aisle 8A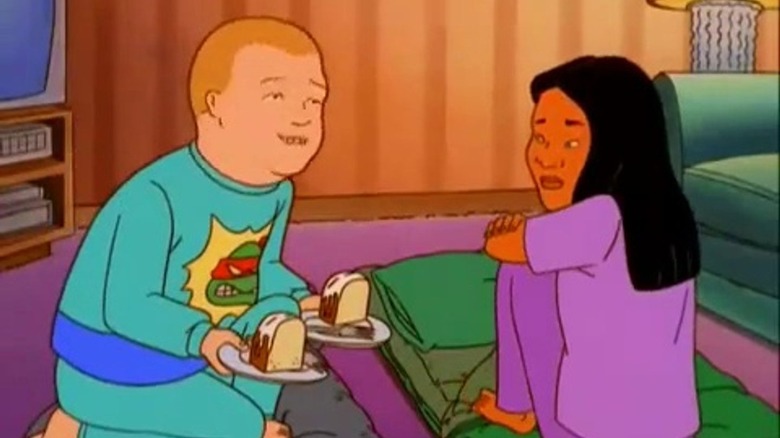 Fox
As Bobby and his friends grew into teenagers, "King of the Hill" took animated storytelling in surprising new directions. In "Aisle 8A," Kahn and Minh go to Hawaii for a business trip and leave Connie with the Hill family. Already on edge about his girlfriend staying over, Bobby is thrown for a loop by Connie's bad mood. It turns out she's just had her first period, and it's up to Hank to navigate the dreaded aisle 8A at the supermarket and help her find some feminine hygiene products. Peggy, meanwhile, fills Bobby in on Connie's major life change and assures him there's nothing wrong with being a late bloomer.
4. High Anxiety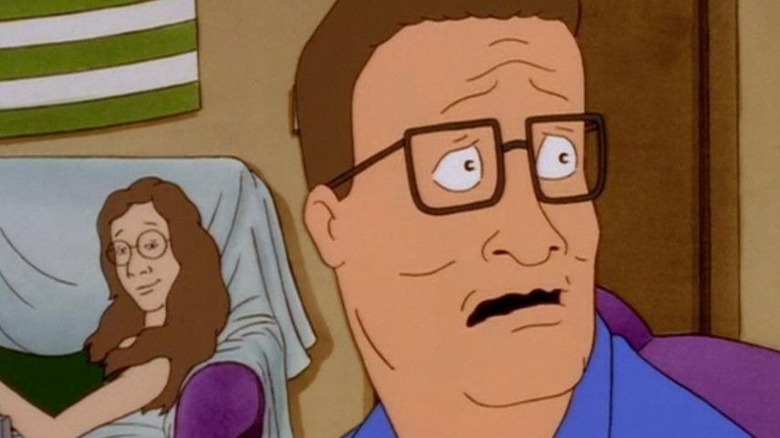 Fox
At the end of "Hanky Panky," Buck Strickland's mistress, Debbie Grund (Reese Witherspoon), is found dead in the dumpster outside Buck's restaurant, Sugarfoot's Barbecue (renamed Peggy's Sugarfoot's when Mrs. Hill took over as manager). In "High Anxiety," Hank begins to fear he may have committed murder while under the influence of marijuana, which he accidentally smoked with Debbie's roommate, long-haired hippie Gayle. This fear is egged on by Buck, who tries to shift suspicion towards Hank and away from his wife, Miss Liz (Kathleen Turner). But Hank's real fear is Bobby will find out he smoked a joint and lose respect for him.
3. A Fire Fighting We Will Go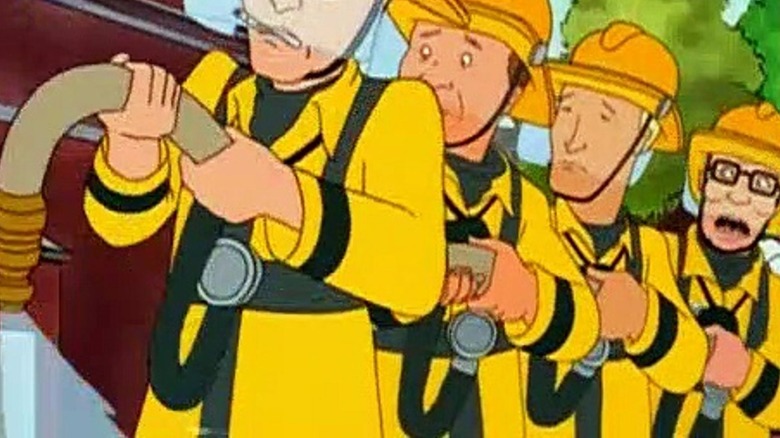 Fox
Like a funny, animated "Rashomon," "A Fire Fighting We Will Go" employs flashbacks and multiple perspectives to find out how Hank, Dale, Bill, and Boomhauer managed to burn down the Arlen Fire Department. When Bill becomes a volunteer firefighter, his neighbors decide to suit up and serve as well. While at the station, they meet Chet Elderson, Arlen's oldest living firefighter, who insists on keeping his neon Alamo Beer sign plugged in despite it being a fire hazard. 
Although Hank treats the new position with his usual professionalism, Dale, Bill, and Boomhauer cause chaos with their incompetence, including destroying a hydrant and ruining Chet's funeral. The fire station burns down while under their watch, due either to Dale's cigarette, Boomhauer's tanning bed, or Bill's burned pizza. Who's responsible? Each recollection of the event takes wildly different turns depending on who's telling it while adding a piece to the puzzle.
2. Ho Yeah!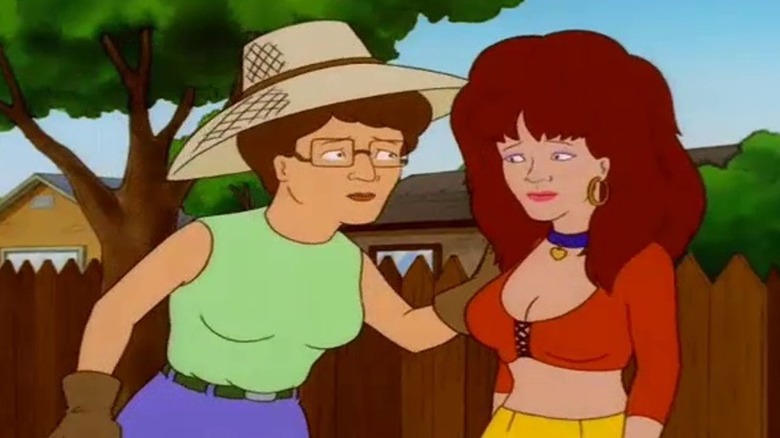 Fox
With "Ho Yeah!," Hank finds himself in one of his most embarrassing situations yet, and he rises to the occasion in spectacular fashion. Peggy takes a liking to Strickland Propane's latest employee, Tammy Duvall (Renée Zellweger), who hopes to one day get her GED. When she learns Tammy doesn't have a place to live, she offers her a room at the Hill house, where she'll tutor her. Hank soon takes a liking to his new boarder, who keeps meeting up with interesting new men. He even agrees to set her up on dates with some of his best clients. But it soon becomes apparent that Tammy is a prostitute, and Hank has unwittingly been pimping her out. When her former pimp, Alabaster Jones (Snoop Dogg), comes looking for her, it's up to Hank to don his own leopard-printed hat and scare him out of town.
1. Bobby Goes Nuts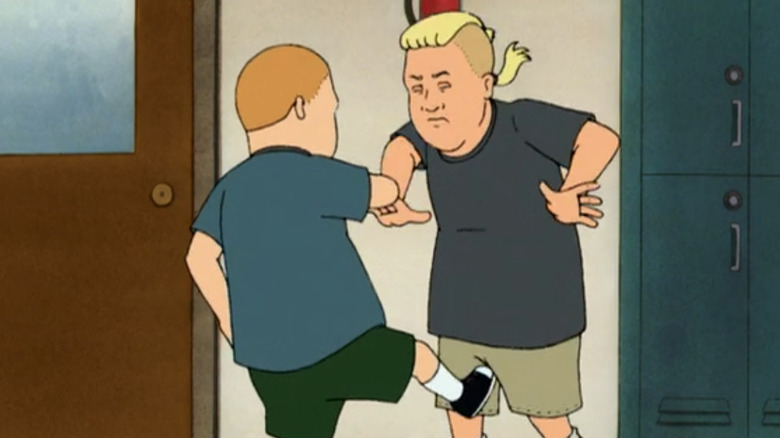 Fox
Every "King of the Hill" fan remembers where they were the first time they heard Bobby scream, "That's my purse! I don't know you!" In "Bobby Goes Nuts," Hank enrolls his son in boxing classes at the YMCA when he's bullied by Connie's wannabe suitor, Chane Wassanasong. Instead, Bobby takes a women's self-defense course, where he learns to fend off attackers by kicking them in the groin. When he becomes infamous at school for exactly that, Hank tries to teach the younger Hill how to properly defend himself — only to get kicked between the legs himself.