The King Of The Hill Character You Likely Forgot Matthew McConaughey Voiced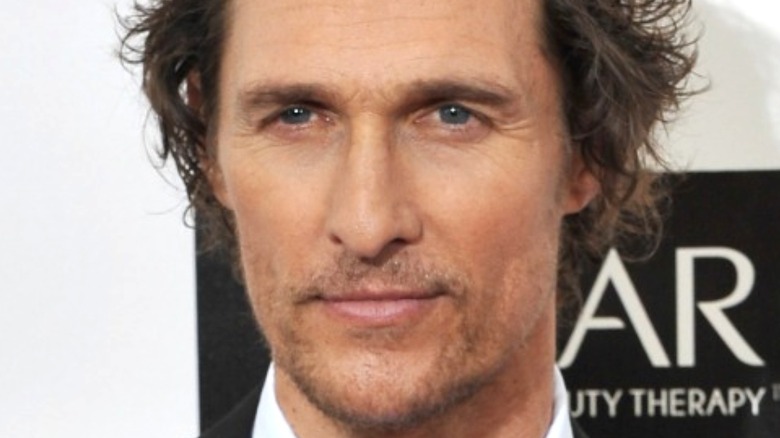 Featureflash Photo Agency/Shutterstock
"King of the Hill" liked to bring in celebrity guests to the beloved animated series, often to play themselves and poke fun at their pop culture images. For instance, a running gag throughout the series is that famed flügelhorn player Chuck Mangione, voicing himself, is a spokesperson for the local Mega Lo Mart. In later seasons, Tom Petty even joined the series as the recurring character Lucky, a good-natured "redneck" who marries and has a child with Luanne Platter (Brittany Murphy).
Obviously, the nature of the guest role depends on whether or not the celebrity prefers to give more of a distinct performance or play themselves. Brad Pitt is hilarious as Patch, Boomhauer's (Mike Judge) no-good estranged brother because he really does nail the distinct Boomhauer fast patter, while Laura Dern plays Boomhauer's likable ex, Katherine.
However, even if you remember "King of the Hill," which featured country music legends like Lyle Lovett and the Chicks, you may still forget about Matthew McConaughey's voice performance in one episode.
McConaughey played Rad in The Wedding of Bobby Hill
When Luanne meets the "self-proclaimed genius" Rad Thibodeaux while giving him a haircut, she's immediately smitten with the smooth, pretentious hustler. Bobby Hill (Pamela Adlon) also takes a liking to Rad and tries to hang out with him and Luanne. This causes conflict between the two of them — at least until Rad throws a party at Boomhauer's house and admits he never actually committed to Luanne.
If Rad's cool baritone sounds familiar, that's because Matthew McConaughey supplies his memorable voice. It's a perfectly calibrated performance, as Rad is the kind of con artist who is openly hawking free AOL trial CDs. The way McConaughey says things like "A man is only as good as his word, so keep it, or nobody's going to know that you are a man ... who keeps ... his word" is memorable enough to keep two gullible young people hanging around him.
Despite McConaughey's voice talents, he's only recently begun using his Texan drawl for more animation roles. His last voice credit before 2016's "Kubo and the Two Strings" was as Al Bean in the 2005 documentary "Magnificent Desolation." Hopefully, McConaughey's performances in "Kubo," "Sing," and "Sing 2" will lead to more voiceover work for the A-list actor.