Why Fans Won't See Nicolas Cage In A Star Wars Movie Anytime Soon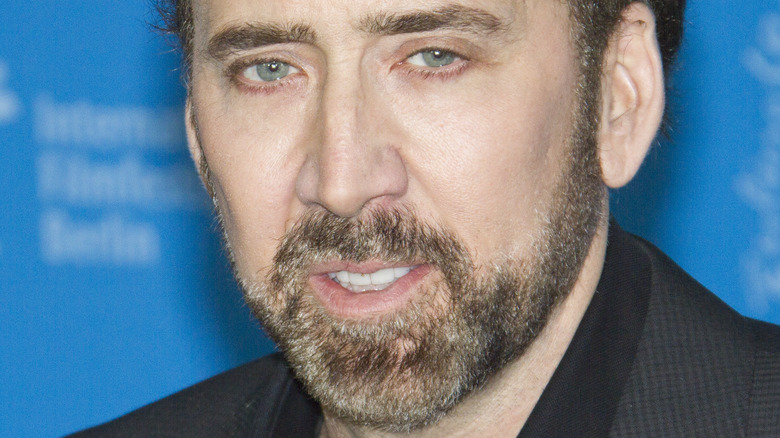 Denis Makarenko/Shutterstock
Sound the alarms! It looks like Nicolas Cage has no interest in joining the galaxy far, far away.
Throughout his Oscar-winning career, Cage has popped up in a diverse array of projects, making him one of the most varied (and consistent) actors working today. One look at his filmography and audiences will see that there's no role he can't jump into. From dramatic outings like "Leaving Las Vegas" to action-classics such as "Face/Off," Cage has proven that he can't be boxed in.
With an ever-expanding filmography and a 'can-do' attitude, Cage has lent his talents to both niche indie productions and behemoth franchises throughout the years. Perhaps his most notable is "National Treasure," which sees him playing a fortune hunter in search of America's greatest treasures. And who could forget his stint as Marvel's Ghost Rider? And if things work out, Cage could return for a "Face/Off" sequel. In recent years, the actor has become notorious for taking on daring, smaller roles in an effort to keep busy. Cage previously told The Hollywood Reporter that he doesn't regret any of his creative choices and tries to give each project the amount of energy and dedication it deserves.
That enthusiasm continues to be true... except for when it comes to "Star Wars," a franchise Nicolas Cage doesn't appear to care for. 
Pedro Pascal thinks Nicolas Cage should join the Star Wars franchise...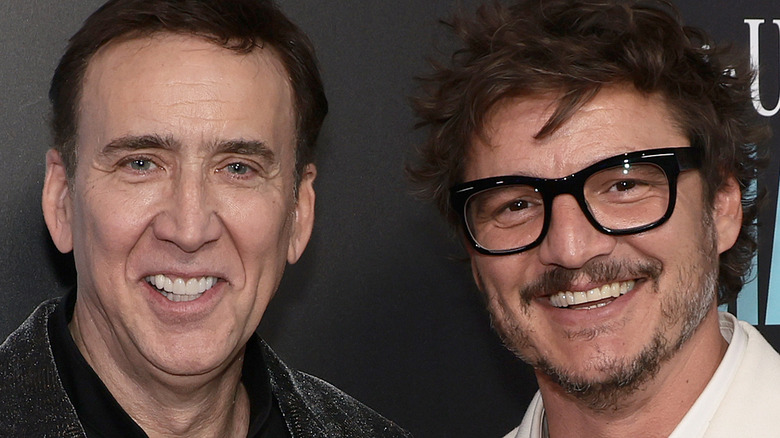 Dimitrios Kambouris/Getty Images
Why doesn't Nicolas Cage want to join the "Star Wars" franchise? It all starts with his former costar Pedro Pascal, who currently headlines Disney+'s "The Mandalorian."
2022 saw the release of "The Unbearable Weight of Massive Talent," which featured "Star Wars" star Pascal as a billionaire who spends a healthy chunk of change to have Nicolas Cage show up at his party. As the celebrations ramp up, the two unlikely acquaintances are thrust into a conspiracy, resulting in one of the most hilarious and underrated films from 2022. Pascal and Cage naturally became friends thanks to their first cinematic outing together. With their infectious chemistry dominating on the screen, it wouldn't be hard to imagine the two teaming up again for another project. Seeing as Pascal is currently starring in Star Wars' flagship series "The Mandalorian," wouldn't it be great if Cage popped in for a brief cameo?
Curious about the possibility of Cage joining the "Star Wars" franchise, Yahoo asked Pascal in 2022 if there was an opportunity for Cage to join the intergalactic bounty hunter in his third season. "I already suggested [it]. I already said he would make a great Mandalorian," Pascal told the outlet last year. Series producer Rick Famuyiwa jokingly asked if Cage would wear a helmet in the series, to which Pascal replied a resounding yes. ""He'll wear a helmet," the actor told Yahoo. "Absolutely... Or he could be one of the helmet-less."
Pascal seems to be on board with Cage joining the ever-expanding "Star Wars" universe. Cage, on the other hand, doesn't want to touch "Star Wars" with a ten-foot pole.
...But Nicolas Cage is more of a Star Trek fan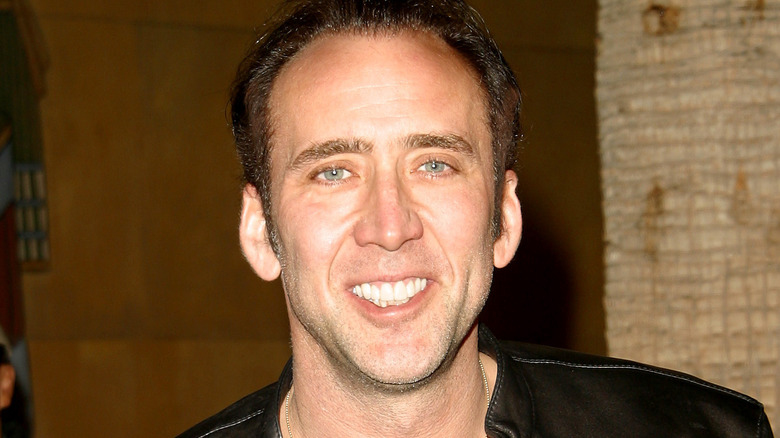 Joe Seer/Shutterstock
While speaking with Yahoo earlier this year to promote his recently-released Western "The Old Way," the outlet followed up with Nicolas Cage and asked if he'd be interested in joining the world of "Star Wars," especially after Pedro Pascal extended him the invitation. "'No,' is the answer. I'm not really down," Cage laughingly told the outlet. "I'm a Trekkie, man. I'm on the Star Trek Enterprise. That's where I roll."
Cage continued by gushing over the love he has for "Star Trek," which stems from his childhood. "I grew up watching [William] Shatner," Cage revealed before praising Chris Pine's iteration of the character, who was last seen in 2016's "Star Trek Beyond." "I think the movies are outstanding," Cage continued, praising their political and sociological messages. "To me what science fiction is really all about and why it's such an important genre is that really you can say whatever you want, however you feel. You put it on a different planet, you put it in a different time or in the future .... And 'Star Trek' really embraced that."
While this is definitely a bummer for both Pascal and fans of "The Mandalorian," it's clear that Cage loves "Star Trek" too much to even consider joining another franchise. Thought it remains to be seen if the long-gestating fourth entry in the 'Star Trek' reboot franchise will ever manifest, Cage could always join Paramount+'s "Star Trek: Discovery."