Nicolas Cage Was 'Mystified' That No One Offered Him A Western Role Before The Old Way - Exclusive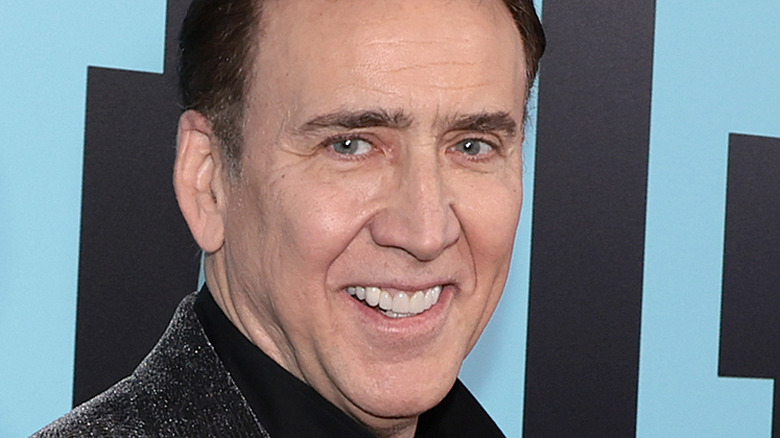 Dimitrios Kambouris/Getty Images
Oscar-winning "Leaving Las Vegas" star Nicolas Cage has an acting resume that is so prolific and diverse that it comes as a shock to discover he's never taken part in one of Hollywood's most revered genres. But thanks to director Brett Donowho's offer to have Cage embark on a trail he's never been down before, the actor is finally starring in a Western in "The Old Way."
New in theaters and premiering on premium video on demand and premium digital on January 13, "The Old Way" stars Cage as Colton Briggs, a fearsome gunslinger who shows no mercy to those who dare to challenge him. But after Colton fatally guns down a man during a botched execution yet spares his young son, he decides to change his ways, and in time, he finds a new life with his wife, Ruth (Kerry Knuppe), and young daughter, Brooke (Ryan Kiera Armstrong).
Twenty years after his last act of violence, however, Colton's past as a cold-blooded killer catches up with him, as his last shooting victim's son, James McCallister (Noah Le Gros), grows up with vengeance on his mind. After James and his fellow bandits cruelly exact revenge on Colton's family, the gunslinger aims to make the perpetrator and his posse pay. But with no one to care for Brooke, Colton must bring the 12-year-old girl with him and is forced to reveal the ugly truth about his outlaw past.
"The Old Way" has all the makings of a classic Western, complete with dusty environs, remote farms, stables and horses, an Old West town, and a richly detailed vintage wardrobe. It was the type of space that Cage had longed to play in, and he recalled his hopes for getting there in an exclusive interview with Looper.
Cage always knew he could put on the boots and hat of a Western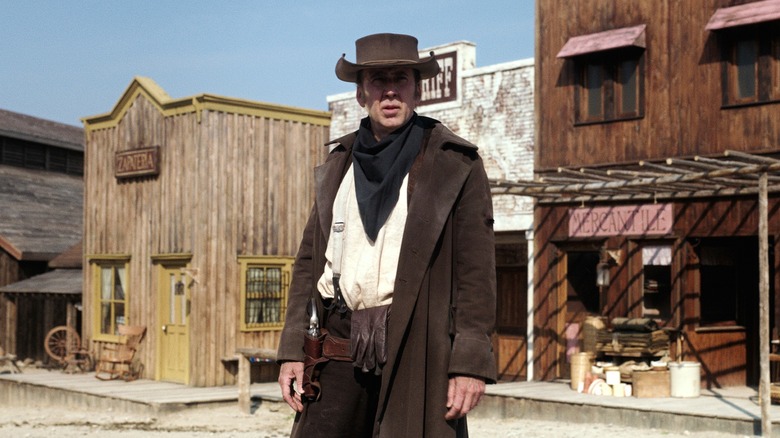 Saban Films
Nicolas Cage, of course, has about as wide a range as an actor can bring to a project, having starred in multiple comedies, dramas, crime stories, horror tales, and action-adventure films, as well as superhero films and animated features. In 2022, Cage even went as far as to parody his achievements and acting persona by playing an alternate version of himself in the meta-action comedy "The Unbearable Weight of Massive Talent."
But despite all the massive talent Cage has displayed on the big screen over the years, no studio or filmmaker had considered taking him on a trip back to the cinematic world of the Wild, Wild West — something the actor told Looper he had a hard time understanding.
"It mystified me that it took this long for anyone to call me and say, 'We want you to be in a Western,' because it seemed like an easy match to me," Cage said. "Being from California, living in Nevada, I always felt like I had a bit of a Mojave drawl to my voice. I can understand someone maybe having second thoughts about casting me in a Shakespeare drama in medieval England, but not the West. I think I could put those boots on and the hat."
Coming on the heels — and spurs — of his Western debut in "The Old Way," Cage will revisit in April a combination of genres he's familiar with in the new horror-comedy "Renfield," in which he plays famed movie monster Count Dracula opposite Nicholas Hoult's titular character.
Also starring Nick Searcy, Shiloh Fernandez, and Clint Howard, "The Old Way" is in theaters now and premiering on premium video on demand and premium digital on January 13.