Nicolas Cage Has A Bonkers Story In Mind For A Potential Face/Off 2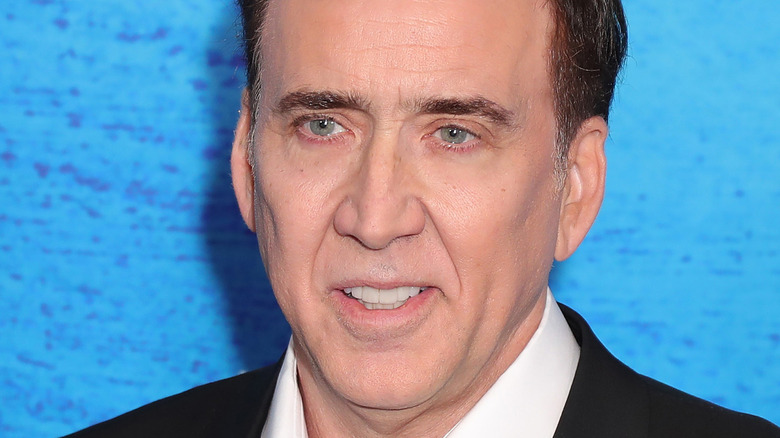 Leon Bennett/Getty Images
We're officially entering the year of Nicolas Cage. The legendary actor's career has had a massive resurgence over the last few years, finding him in films like "Spider-Man: Into the Spider-Verse," "The Unbearable Weight of Massive Talent," and "Pig." He isn't showing any signs of slowing down, either, as audiences will soon see him as Count Dracula in "Renfield" and as a Western gunman in "The Old Way." (Unfortunately, he won't be making his wall-crawling return in "Spider-Man: Across the Spider-Verse.")
With the revival of Cage's career, the door opens for the iconic actor to return to some of his greatest roles. "National Treasure" recently got a sequel series on Disney+, and Cage's movie co-star confirmed the existence of a "National Treasure 3" script, so we could see the actor return to the franchise in the future.
Another popular Cage movie that's always towards the front of sequel wishlists is "Face/Off." John Woo's 1997 film pits Cage against John Travolta, as the characters switch faces during FBI Agent Sean Archer's (Cage-as-Travolta) pursuit of terrorist Castor Troy (Travolta-as-Cage). Although the plot seems incredibly convoluted, the movie is actually quite good, with both actors giving career-defining performances. While there's no official news on "Face/Off 2," Cage recently revealed an even crazier story idea for a possible sequel.
Face/Off 2 would bring in the kids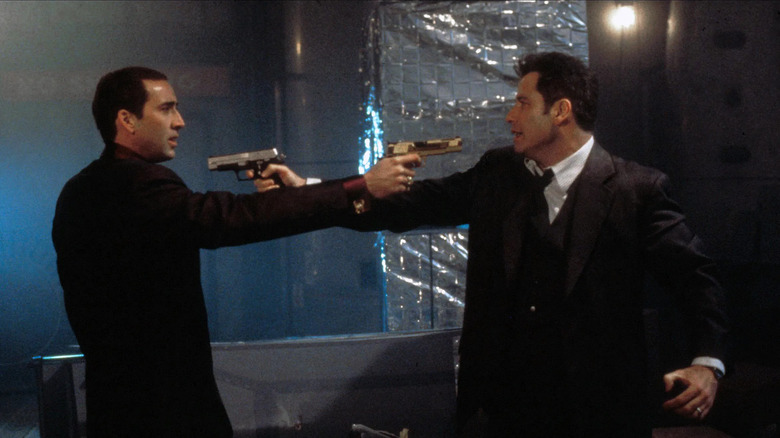 Paramount Pictures
While promoting his outing in the new Western "The Old Way," Nicolas Cage sat down with Collider, giving an exciting update on a possible "Face/Off 2." According to the actor, a sequel would bring Castor Troy and Sean Archer's adult kids into the mix, opening the door for even more wild plot twists. "I think 'Face/Off' is a sequel that lends itself to a lot of twists and turns and unpredictability," Cage told Collider's Steve Weintraub. "It's almost like if you factor in the idea of offspring and Castor and Sean having children and these children grow up, then it becomes like three-dimensional chess, and then it's not just the two, John Travolta and myself, it's four of us ping-ponging and going at different levels, and it becomes even more complex."
Cage clarified that, while there's a lot of potential for a "Face/Off 2," he hasn't heard anything about the project moving forward since the initial office meeting. The original movie ended with Archer, looking like Cage, killing Troy, looking like Travolta, before reversing the facial transplant surgery. Archer adopts Troy's now orphaned son, who could be one of the children Cage mentioned.
Rumors of a "Face/Off" sequel hit the internet in 2021 when Deadline reported on Paramount's plans to remake the movie. The studio brought "Godzilla vs. Kong" director Adam Wingard onto the project, and he revealed he was approaching the film as a direct sequel instead. It remains unclear whether Cage or Travolta will return. Deadline suggested Wingard would recast the lead roles, but Cage praised the director's filmmaking during the Collider interview, so anything's possible.