The Workaholics Movie Has Been Scrapped By Paramount+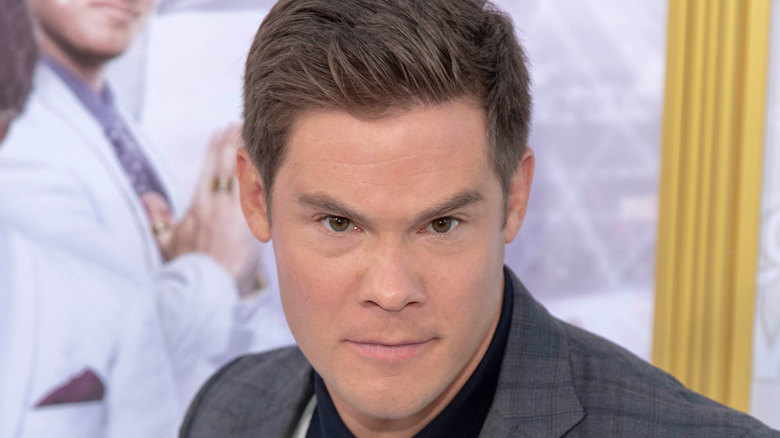 Eugene Powers/Shutterstock
A half decade after completing its 86 episode run on Comedy Central, fans rejoiced when the hapless-telemarketing-guys sitcom "Workaholics" finally got the green light for a Paramount+ movie. In February of 2021, the streaming network announced during its launch event that it was full-speed-ahead on the project, and in December of 2022 an excited Adam DeVine revealed a near-finished script and plans to begin filming in the Spring of 2023; things were looking good. Now, just mere weeks later, DeVine is breaking some bad news to fans of the cult series.
Hatched, mostly scripted by and starring DeVine, Blake Anderson, Kyle Newacheck and Anders Holm, the series followed the less-than-stellar work lives and personal hijinks of a trio of college dropouts sharing an untidy party/flop-house in the California exurb of Rancho Cucamonga. Packed with workplace sitcom storylines, the series endeavored to push the standard TV-comedy-envelope with meme-worthy takes on stoners, male bonding and the absurdities intrinsic in entry-level jobs. It ran for seven seasons from 2011-2017, 
But according to DeVine, a mere 5 weeks before cameras were set to roll on the Paramount+ revival, the "Workaholics" movie has been fired.
The Workaholics movie fell victim to changes in Paramount's filmmaking plans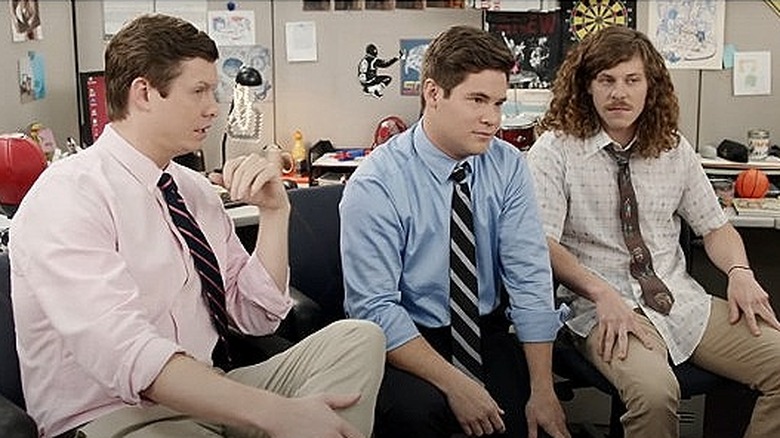 As it turns out, the ax that dropped on the "Workaholics" film was wielded by execs at Paramount. Taking to his Instagram feed to announce the latest developments, a clearly-upset DeVine didn't mince words. 
"Welp, Paramount+ decided to cancel the Workaholics movie," he wrote. "Obviously, this news is the loosest butthole." 
While announcing the movie in February of 2021, MTV Entertainment Group president Chris McCarthy revealed a loose plot — albeit it one that perhaps wouldn't feel as urgent now. "[It's about] what it's like to work through the pandemic," McCarthy explained, adding that if successful, the film could yield a revival of the series, similar to what MTV recently did with the "Beavis and Butt-Head" franchise. "You may begin to see the seeding of a next generation of cast for what a new 'Workaholics' could look like."
In announcing the cancellation, DeVine made a point to note that it was Paramount decision-makers who had pulled the plug. "We were supposed to begin filming in 5 weeks! [They] told us [that we] don't fit their new 'global' strategy...We are deeply butt hurt about this decision because we were so excited to bring the weird one last time. I'm butt hurt that I don't get to work with my best friends again. I'm butt hurt for the fans, and I'm butt hurt for our loyal crew, and other cast members who are now going to have to scramble to find new jobs."
But before "Workaholics" fans abandon all hope, they might want to note the seemingly-mandatory plea that nearly every modern creator/actor seems to send out when a project falls apart. According to DeVine (and promising more details on the group's "This is Important" podcast), if somebody else has work, the "Workaholics" are willing to travel. 
"We are out to others streamers," DeVine said. "Hopefully, we will get to make this insanely fun movie somewhere else."