Nicolas Cage Won't Be Back As Spider-Man Noir In Spider-Man: Across The Spider-Verse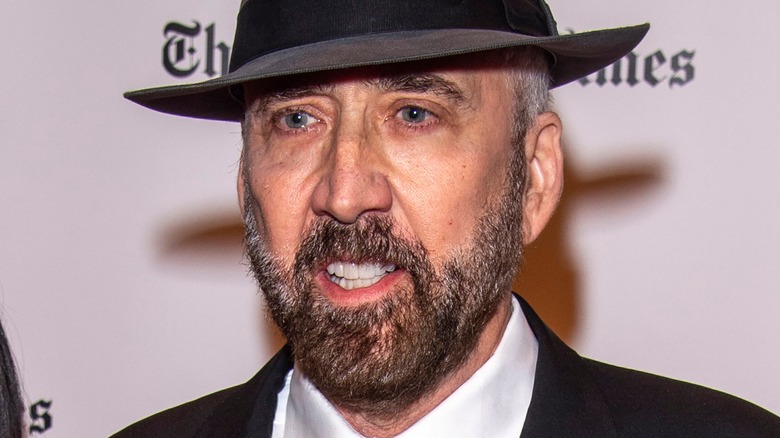 Ron Adar/Shutterstock
One of the many highlights of 2018's "Spider-Man: Into the Spider-Verse" was Nicolas Cage's turn as the Peter Parker of the perpetually black-and-white-and-raining "Spider-Man: Noir" universe, which the actor even called "unusual." This version of Spider-Man is a two-fisted gun-wielding crimefighter who loves beating up Nazis, and many fans were certainly looking forward to seeing the character's return in the upcoming sequel, "Spider-Man: Across the Spider-Verse," or possibly even in a solo adventure of his own.
Unfortunately, that doesn't appear to be happening, at least not with Cage's voice. The famed master of mega-acting is currently on a press tour promoting his first Western, "The Old Way," and he denied that he is involved in "Across the Spider-Verse," and it's not because he wasn't interested in reprising the character. Instead, he lays the blame on Sony, the studio in control of the big-screen Spider-Verse.
It's a disappointing turn of events for sure, and Cage himself seems disappointed that he hasn't yet been approached about returning as Spider-Man Noir to the Spider-Verse in some capacity or another.
Cage calls Spider-Man Noir a great character
In a January 2023 interview with Screen Rant, when asked if fans can expect to hear him in the role of Spider-Man Noir anytime soon, the actor responded, "You'd have to ask Sony. I don't know what's going on with that. No one's spoken to me about that. Ask them. I don't know. I really don't. I wish they would."
Cage went on to affirm that his absence from the upcoming "Spider-Man: Across the Spider-Verse" has nothing to do with any lack of enthusiasm for the character on his part. "I love Spider-Man Noir, too," Cage said. " I think that's a great character. Spider-Man's the coolest superhero. And then you combine that with Cagney and Bogart and Edward G. Robinson, come on, it's a great character.
Spider-Man: Noir has been conspicuously absent from advance promotional materials for "Spider-Man: Across the Spider-Verse," so Cage's words don't come as a complete surprise. But it's still disappointing and somewhat baffling that the sequel wouldn't have room for at least a cameo role for the character — and given Cage's own affection for him there's no good reason for Spider-Man Noir to be voiced by anybody else.
While Cage says he's not in "Across the Spider-Verse," there is a subsequent sequel in the works for next year, "Spider-Man: Beyond the Spider-Verse" (per IMDb), so perhaps the filmmakers will find a way to bring Cage back as Spider-Man Noir after all. Pistols crossed!