Yellowstone's Cole Hauser Says He And Kelly Reilly Are Completely Different From Rip And Beth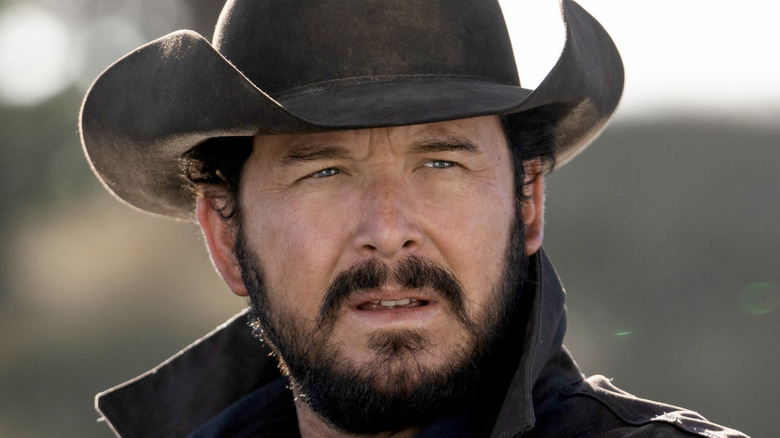 Paramount Network
Taylor Sheridan's cowboy-centric show, "Yellowstone," is full of volatile relationships, but none have tested each other's nerves more than the one between Rip Wheeler (Cole Hauser) and Beth Dutton (Kelly Reilly). Since the beginning, the dirty right hand of John Dutton (Kevin Costner) has fallen in and out of love with his boss' dysfunctional daughter, who has her own issues. Even so, both have helped fuel some of the show's most dangerous and dramatic moments during its five seasons so far.
That's the thing about some of television's best romances, though; no matter how unhealthy they are for one another, you just want to see them get together in the end. We're not the only ones either, as Hauser has shared his thoughts on what makes Rip and Beth the winning power couple in "Yellowstone." Thankfully, he's also explained that both characters are a far cry from the cast members that play them.
Hauser believes Beth and Rip are soulmates
In an interview with Awards Daily, Cole Hauser explained that both stars thrive on pushing their characters to their limits and that, warts and all, they're a perfectly imperfect match. "They were meant for each other, 1000%. They are soulmates, for good or bad. They're going to have their differences, their viewpoints. They're not perfect. This is just my opinion," Hauser revealed. 
It's this element that he feels the audience can connect with so well, acknowledging that relationships on their own aren't perfect and that it's thanks to the show's creator, Taylor Sheridan, who has done a great job in bringing it to life. Amidst the cowboys and corrupt activities behind closed ranch doors, these two are individuals you can never predict. Hauser continued, "Taylor has written two characters that have a lot of different colors in them and it depends on what day it is to what color you're going to get."
Thankfully, these colors have been applied so well throughout the show because of the people stepping into the shoes or kicking them off, as is often the case.
Hauser has enormous respect for Reilly and her dedication to the role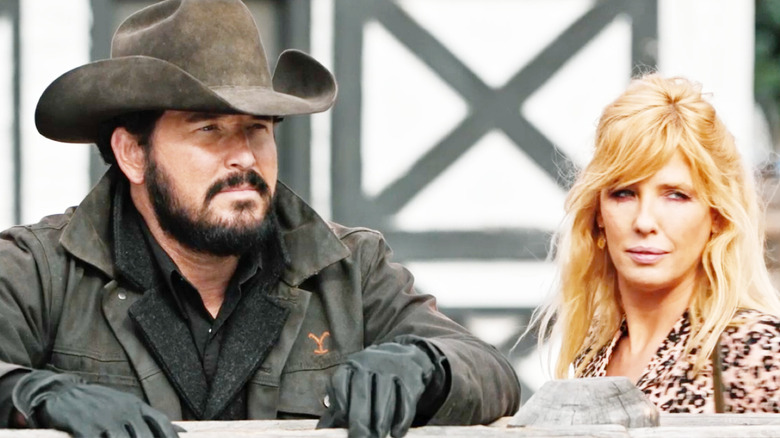 Paramount Network
As is often highlighted by the head of the Yellowstone ranch — John Dutton, himself — Beth is one of the most formidable family members because she has to be. It makes sense then that Kelly Reilly makes sure her character is the consistently volatile tearaway she has been from the start. It's also what Cole Hauser greatly admires in his co-star's performance, especially considering the two have shared plenty of highs and lows throughout the series.
In comparing his now on-screen wife to the woman who plays her, Hauser said, "I've said a thousand times, she's this really wonderful human being from England. But I think she obviously loves the character that she's playing." Both seem happy to test themselves and their character's limits, as well. "She [Reilly] loves the challenge of it. I love the challenge of going from one episode killing people to the next episode sitting on the porch with her having an emotional moment," explained the man behind one of television's toughest antiheroes. "It's being able to have, as an actor, all those different colors to play."