Cole Hauser Confirms What We Suspected All Along About Kelly Reilly's On-Set Behavior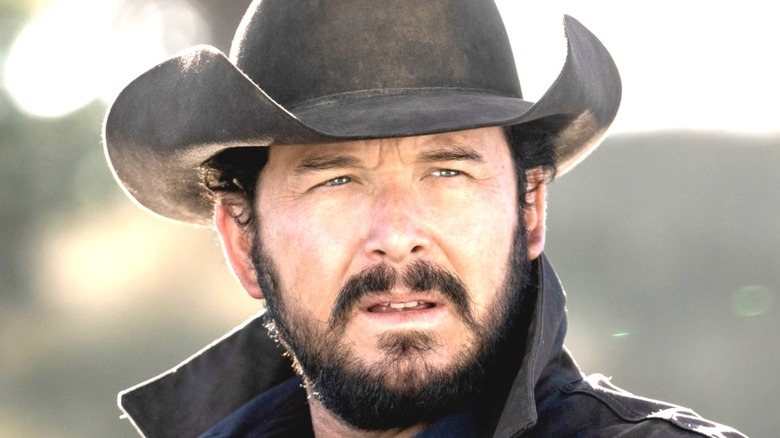 Paramount Network
Cole Hauser is known to many as tough guy Rip Wheeler on Paramount's "Yellowstone." He's the ranch foreman, who just so happens to be the right-hand man to family patriarch John Dutton (Kevin Costner). He's fiercely loyal both in terms of his work on the ranch as well as his relationship with John's daughter, Beth (Kelly Reilly). The two have maintained an intriguing yet often heartwarming relationship throughout the show's run, and it's only gotten more intense going into Season 4.
Beth's gone through a lot over the last few episodes of the series. She survived a horrific attack against her life, coming out of the situation relatively unharmed. After escaping by the skin of her teeth, she's continued to give back to her community, which includes preventing a kid from falling into homelessness, all while Rip has been there by her side. That doesn't mean things have been easy for the couple. They've gone through the wringer more than a few times over the course of the show, and luckily, the two actors have each other as support when they're acting out emotional scenes. According to Hauser, it's been an immense pleasure working alongside someone as talented as Kelly Reilly all these years. 
Kelly Reilly is one of Cole Hauser's 'favorite actresses'
Even if you've only watched a couple of episodes of "Yellowstone," you know it's an intense show. Every scene is loaded to the brim with emotion and pathos. It's undoubtedly hard work for the actors once in a while to embody these characters, so it naturally helps when they get along with one another. 
That's the case with Cole Hauser and Kelly Reilly, with the former having nothing but praise for his co-star. The actor sat down for an interview with CinemaBlend to discuss acting alongside one of the finest television actresses working today. As he put it, "In Season 4, there's an obstacle or obstacles that they have to face, and it was wonderful doing it with Kelly. She's one of my favorite actresses I've ever worked with, and working with her on this relationship has just been so much fun."
Of course, it helps when the material is good enough to stand on its own. In the same interview, Hauser praised the show's creator, Taylor Sheridan, and the team behind the scenes for crafting complex characters who have continued to grow over the years. "I mean, you know, once again, I think Taylor [Sheridan] did just a fantastic job of putting these two kids together, and seeing how they can grow, and how their hearts can be more open," he mentioned. "How they can navigate different waters together, and find even a stronger bond through those waters."
Just like their characters, it's nothing but love between these two.
Wes Bentley also had praise to heap onto Kelly Reilly
Contains spoilers for "Yellowstone" Season 4
Hauser's not the only one who's enjoyed his time with Reilly over the years. Beth Dutton has a more tumultuous relationship with her adopted brother, Jamie (Wes Bentley), but Bentley still enjoys every scene he gets to do with Reilly. In a similar interview with CinemaBlend, he mentioned, "[Kelly Reilly] is one of the sweetest people and sweetest actors. She has to go so far to get to Beth. She does an amazing job." Kelly Reilly may be intimidating as Beth, but it's clear she knows how to turn on the charm when the cameras stop rolling.
It's good to hear that the two don't have the same kind of relationship off of the set that their characters have. It likely wouldn't result in the same kind of dynamic because, as Bentley goes on to state, there needs to be respect and admiration toward your fellow actors to get a worthwhile performance, even if the characters are supposed to hate one another. That's what Bentley goes on to mention in the interview: "It's hard because if you truly don't like each other, it almost has the opposite effect. There's a lack of chemistry, you know? You kind of have to have some connection to really go for the anger."
And "anger" is definitely an apt word to describe the relationship between Beth and Jamie. After all, she recently threatened to kill him on the show. That likely won't happen, but you never know what might occur on "Yellowstone." Jamie's busy enough trying to cover up his biological father's involvement with the attacks on the Duttons. It's a good thing these actors all like each other off-set because things are about to get messy over on the Dutton Ranch.