Don Cheadle Sets The Record Straight On Filling Terrence Howard's Role As War Machine
Don Cheadle is known for a long list of iconic roles, but one of his best-known is as Colonel James Rhodes, aka War Machine, in the Marvel Cinematic Universe. Across "Iron Man 2," "Iron Man 3," "Captain America: Civil War," and the "Avengers" films, Cheadle brought Rhodes to life as a complex character struggling with the conflict between his military background and his role as a superhero.
However, Cheadle wasn't the original War Machine, as the first "Iron Man" featured Terrence Howard in the role, with Cheadle taking over starting with 2010's "Iron Man 2." The recast came after a conflict regarding Howard's reduced role and salary for the sequel. That perceived slight in light of Robert Downey Jr.'s rising prominence, combined with Howard's own sometimes volatile temper, led to Howard being fired from "Iron Man 2." 
Cheadle has since played Colonel Rhodes in every subsequent MCU project featuring the character, including a very brief appearance in "The Falcon and the Winter Soldier" that was nominated for an Emmy, something even Cheadle thought was ludicrous. Because of the replacement, some may think that Cheadle somehow intentionally moved Howard out of the role. But if that's what you think, Cheadle wants you to think again.
Don Cheadle had nothing to do with Terrence Howard losing his role as War Machine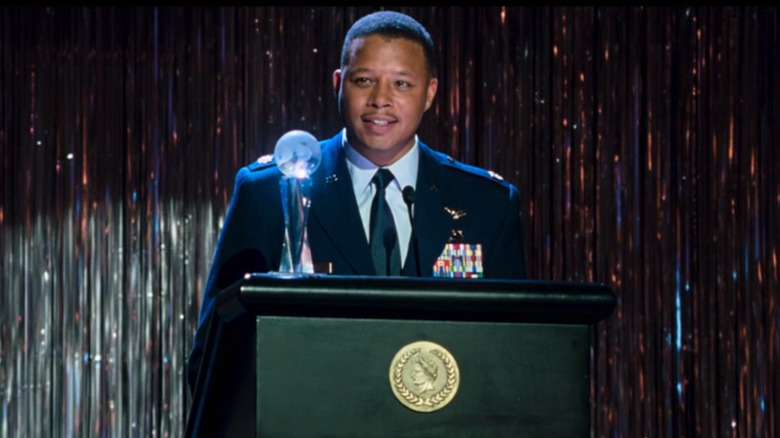 Marvel Studios/Disney
In a 2023 interview with GQ, Don Cheadle stated in no uncertain terms that he was in no way responsible for Howard losing his role as War Machine. "I did not move Terrence out of a role," Cheadle said. "They had decided that that was not happening. And it was an open part."
But that's not the end of the story. When Cheadle received word that he was offered the part, he was at his child's laser tag birthday party and only had an hour to accept or reject the six-movie deal. After telling the representative about his situation, he was given two hours instead. Of course, he ultimately accepted the part, and the rest is history. That history will continue with Rhodey taking center stage for the upcoming MCU movie "Armor Wars."
"It's been 12 years now, which is bananas that from that moment till now, we've been doing it for so long," Cheadle told GQ. "And it just keeps expanding and growing and these universes keep folding in on each other and different characters being introduced and relationships popping up. So I haven't seen any scripts. I don't know where it's headed, but I'm excited about the potential."