The Printing Press That Set The American Pickers Back $200 But Was Valued For $1,000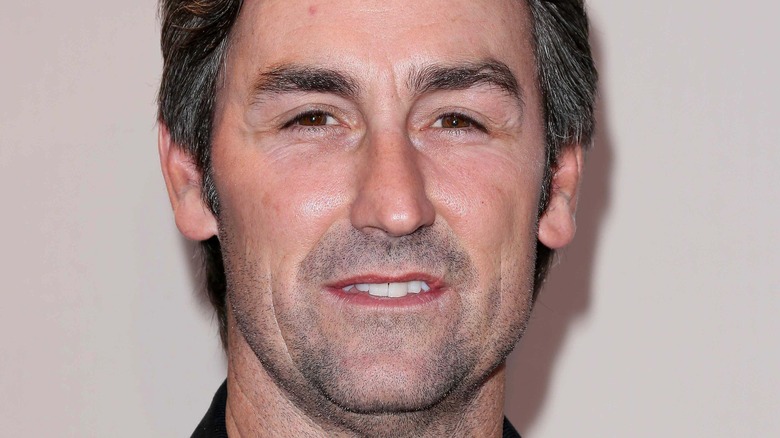 false/Shutterstock
Anyone in the trade of antiques and collectibles knows very well what a crap shoot it can be, as does anyone who watches "American Pickers." Danielle Colby, Mike Wolf, and the now-departed Frank Fritz have certainly had to drive some hard bargains over the years. There have of course been a few misses, such as the brown Lionel train set that ended up costing Frank more than four grand.
Then there are the moments that are on the polar opposite of the spectrum, when the pickers purchase something that they think might garner a tidy little profit, but ends up selling for double, triple, or quadruple what they paid for it. That was the case in Season 2, Episode 12, an episode named "Mike's Breakdown," during one of Frank and Mike's trips to Michigan, at the home of a friendly collector named Jan.
From the sound of it, the two expected some great finds at this house the minute they entered Jan's basement. "When you walk into a basement like that, as a picker" said Mike, "that is a major, major experience, because everything is so old. Everything!"
Mike elaborated that it's best to go through every box with a fine-toothed comb in cases like these. "Because even something the size of a quarter could be worth a lot of money."
Collectors will pay bank for an antique printing press
As it turned out, the big find in the basement was bigger than a quarter. Far bigger in fact. "I looked over and I saw this old printing press," Frank Fritz recounted, "and it immediately piqued my interest. It was in great condition." It was physically a large item, but not so massive it couldn't fit comfortably in one's home. Frank said that normally, he wouldn't have thought to buy an item like a printing press, but here he decided to go with his gut. Jan originally wanted $300 for it, but Frank managed to talk her down to $200.
Enter Mushroom. Yes, Mushroom, a local hippy-esque historian in the pickers' homebase of LeClaire, Iowa. His name may be weird, but Mushroom seems to have known his stuff. He gave the pickers the rundown, confirming that collectors of 19th century printing memorabilia love to look for big items like these. And what would these collectors pay for it? According to Mushroom, in the working condition of the one Mike and Frank bought, somewhere around $1000. In other words, the pickers would make a profit four times what they paid for it.
Scrolling through the internet confirms what Mushroom told Frank and Mike. In 2019, an online auction house called K-Bid sold a printing press around the size the pickers got for $1275. A grand also seems to be the starting asking price for similar models on eBay.