Big Sky Fans Find Donno's Plan For Super Foxes Endearing
Despite having the brutal job of being the former enforcer for drug cartel daughter Ren Bhullar (Janina Gavankar) and current enforcer for money launderer and real estate mogul Tonya Walsh (Jamie-Lynn Sigler), "Big Sky"'s Donno (Ryan O'Nan) is one of the most beloved characters currently starring on the series. "Big Sky" fans have found themselves surprisingly rooting for Donno in the most unlikely circumstances, whether he's face-to-face with another suspected killer or doing his best to awkwardly tell Tonya how he feels about her.
In Season 3, Episode 11 ("Super Foxes"), the first episode after the cliffhanger fall finale, Tonya and Donno successfully capture Avery (Henry Ian Cusick), who they've been tasked with killing. "Now for the fun part," Donno says with a grin, approaching Avery with two sledgehammers, "progressive amputation." But Avery insists he has the $15 million they've been after, and if they protect him, he'll give them a large share of it.
The idea of having millions of dollars is intriguing to Tonya and Donno, especially since they've both had plenty of time to figure out what they'd do with it. Tonya, ever the realist, wants to open a diner franchise and buy up more real estate. Donno, on the other hand, has a plan to create what he calls super foxes, and the reason makes him all the more endearing.
His inspiration is the Fox and the Hound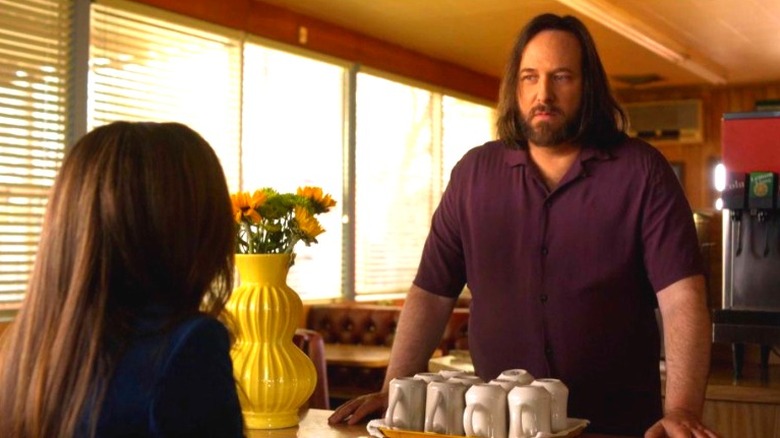 ABC
"Big Sky" fans have made it clear that Donno's one-liners are one of the best parts of the show, but so many of the best — and most absurd — lines also just seem to be reflective or philosophical thoughts from the man. Episode 11 definitely tops the list. Donno reveals to Tonya that he wants to breed mean foxes to mean foxes, and those mean foxes into smart foxes. The outcome, he theorizes, will be foxes that will be ready if hunters try to kill them.
"My favorite movie — "The Fox and the Hound" — Tod and Copper just want to be friends," he tells Tonya. "But the world just ... they had to hide their feelings. It's a good one."
Fans loved Donno's thoughtful plan for the millions of dollars — and also that he gave a shout-out to a Disney classic. "My favorite Disney movie!" tweeted @4GinFan4Ever4. "My favorite too — reason #782 to love Donno!" wrote @HthrQRoryMc. Many viewers also wished that Tonya would stop getting involved in criminal activities when it's clear that Donno wants to leave that world. "Donno just want[s] to make superfoxes! And Tonya keeps putting him in danger .. Let Donno be happy with his little farm!!!" tweeted @DemonChloe.
Now that Tonya is considering Avery's offer, Donno is one step closer to his super fox goal. We hope he lives long enough to see it become a reality.