Chris Hansen Nearly Missed Dateline's First To Catch A Predator Segment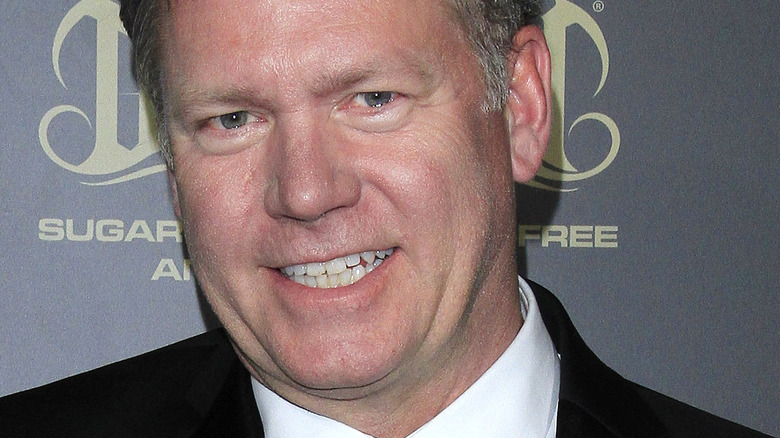 Joe Seer/Shutterstock
"To Catch a Predator" really was a bonkers idea. Way back in November 2004, "Dateline" premiered the hidden camera series, and the premise and its deadpan host quickly became cultural phenomenons. The concept was simple: activists pose in online chat rooms as teenagers and flirt with men until they agree to come over to a house rigged with cameras. After this, the dangerous predator is lured to a house where he encounters Hansen, who then reminds the man of what he said in the chat room. Invariably, the man leaves the house only to be taken into police custody after he steps out. That's a premise that sounds like it comes with plenty of risks, but Hansen was all-in every episode.
The most entertaining — and disturbing — part of the series came when Hansen confronted targets in the sting house, holding chat logs and reading off them and making sure to never introduce himself until the very end where he offered three words that became synonymous with doom for predators everywhere: "I'm Chris Hansen."
"To Catch a Predator" became instant fodder for comedians and it was riffed on endlessly on "The Opie & Anthony Show," and spoofs of the show's host can be found in everything from "It's Always Sunny in Philadelphia" to "South Park." Hansen also hosts a podcast today, "Predators I've Caught," offering insight into old episodes of the series and providing updates on the men who found themselves exposed by the reporter.
Hansen found undeniable success with "To Catch a Predator," but he also nearly missed the filming of the show's first segment.
A target almost beat Chris Hansen to his own set
Chris Hansen recalled in his 2007 book "To Catch a Predator: Protecting Your Kids from Online Enemies Already in Your Home" that "To Catch a Predator" almost started with a disaster as the very first predator nearly beat the host to the sting house. Stuck in traffic in Bethpage, Long Island, in February 2004, Hansen recalled receiving a call from his producer and being told the suspect was on the way to the house.
"If the predators got there before I did, it could sabotage the whole operation," he wrote. Luckily, Hansen ended up beating the target to the house by 45 minutes. 
Hansen revealed while recalling the same story that he was concerned that no one would actually arrive at the sting house and the whole operation would be a bust. What ended up actually happening was Hansen confronted more than a dozen targets in the sting house, throwing their own predatory messages back at them in a signature style that would give the internet endless content for memes. 
"Once they started coming, they never stopped. Over the course of the next two and a half days, seventeen men arrived to meet with one of our decoys — who'd posed as underage girls and boys," Hansen wrote.