The Role That Carey Mulligan Was Scared To Play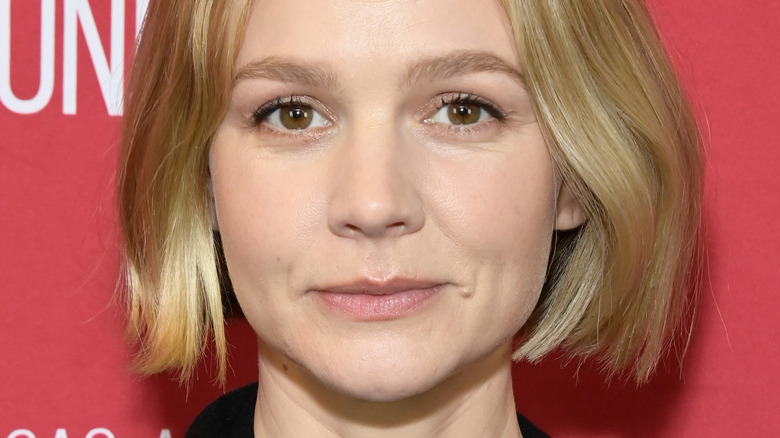 Araya Doheny/Getty Images
"Doctor Who" fans will remember Carey Mulligan as Sally Sparrow from one of the show's most legendary episodes, "Blink." Fans of classic British drama will remember Mulligan for her roles in period pieces like "Pride & Prejudice" and "Bleak House." As Mulligan herself said in a 2020 interview with The New York Times, "I know that for a cinema audience, I'm just constantly in period costume." 
But after her performance in the 2020 dark comedy "Promising Young Woman," a lot more people are remembering her for that. In Emerald Fennell's feature debut as a writer and director, Mulligan plays Cassandra, a young woman whose life is turned upside down after the sexual assault of her friend, sending her on a mission of revenge against everyone involved and men who would do the same to other women. The movie received plenty of awards attention, including Mulligan's second Oscar nomination, her first since 2010's "An Education."
While "Promising Young Woman" was a daring film exploring difficult themes, Cassandra wasn't the role that Mulligan was most scared to play. 
Carey Mulligan was scared to play Megan Twohey in She Said
In the 2022 film "She Said," Carey Mulligan and Zoe Kazan play Megan Twohey and Jodie Kantor, respectively, the two real-life New York Times journalists who broke the story about Harvey Weinstein's long history of sexual assault against multiple Hollywood actresses. In a joint interview for Vanity Fair alongside Paul Dano, Mulligan talked about how intimidated she was at first to play the role. "I just kept on reading those scenes where they rang people up and knocked on people's doors and thought, 'In a million years I couldn't ring someone up and say I know this awful thing happened to you.'"
Describing the process of getting into Twohey's headspace, she continued, "It's like, this is what [Megan] feels called to do. I am here to unearth mistruths and put injustice on the table and allow society to make a decision about how they're going to deal with it. I was massively intimidated to play Megan Twohey."
The intimidation factor was probably part of what drew Mulligan to the role, however. As she told IndieWire, she only picks scripts that challenge her. "There has to be something that feels like there's a definite risk and that I could f*** it up. Otherwise, it just doesn't feel worth it." Despite the fear — or perhaps because of it — she turned in a stellar performance.