Jeremy Renner Posts A Heartfelt Message To His Fans In First Instagram Update Since His Accident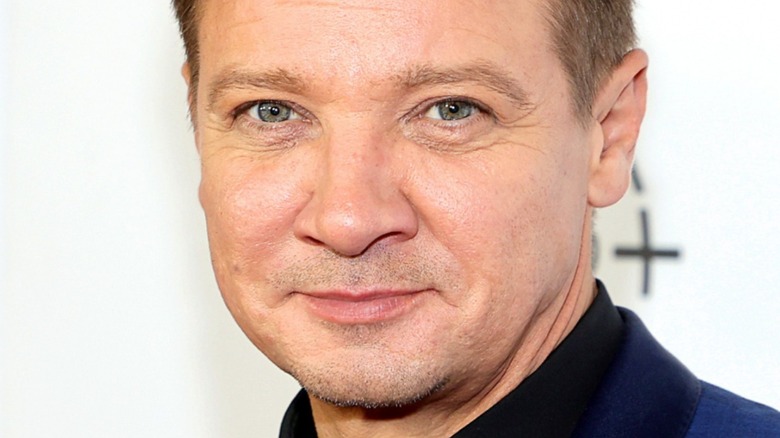 Theo Wargo/Getty Images
Jeremy Renner took to Instagram on Tuesday, January 3, to offer up his very first message to the public since his serious snow plow accident.
Renner has been listed as being in "critical but stable" condition following an accident involving a snow plow on January 1. Police officials say Renner was near Mt. Rose Highway in Reno, Nevada when the accident occurred and he suffered a serious injury to his chest. It was subsequently reported that Renner underwent surgery for blunt chest trauma and orthopedic injuries (via Variety). A representative sent out a statement, saying: "Jeremy's family would like to express their gratitude to the incredible doctors and nurses looking after him [...] They are also tremendously overwhelmed and appreciative of the outpouring of love and support from his fans."
While things have appeared to be proceeding smoothly with Renner's treatment and the start of his recovery, many fans have nonetheless been anxious to hear more about how Renner is doing. Thankfully, it now seems that the actor has recovered enough to manage a reassuring personal update on his own wellbeing, as well as a heartfelt thank you to everyone via social media, which prompted a deluge of support in the comments on his Instagram page. 
Renner is thankful for the kindness from fans and friends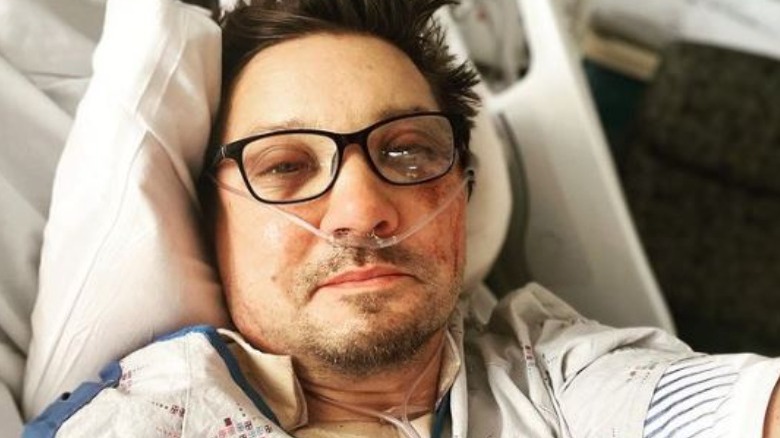 Jeremy Renner/Instagram
Jeremy Renner finally posted his first update after his life-threatening accident on Instagram. In the new post, the actor included a single photo of himself in the hospital. The star is sporting severe bruises on the side of his face, he's laying down in a hospital bed, and he's clearly still hooked up to medical equipment, but he's nevertheless very much alive. "Thank you all for your kind words," Renner wrote in the post's caption. "Im too messed up now to type. But I send love to you all."
A personal update from Renner himself has proven to be a moment of comfort for fans in what has been otherwise been an uneasy and concerning series of updates in recent days regarding the actor's condition. The post garnered a startling amount of attention in the time that immediately followed, with it amassing over 5,700,000 likes and 230,000 comments within roughly 18 hours of being posted. While the actor remains in critical condition, it hopefully won't be too long before fans get another update about Renner's recovery.
Celebrities and fans flock to Renner's IG page to give him well-wishes following his post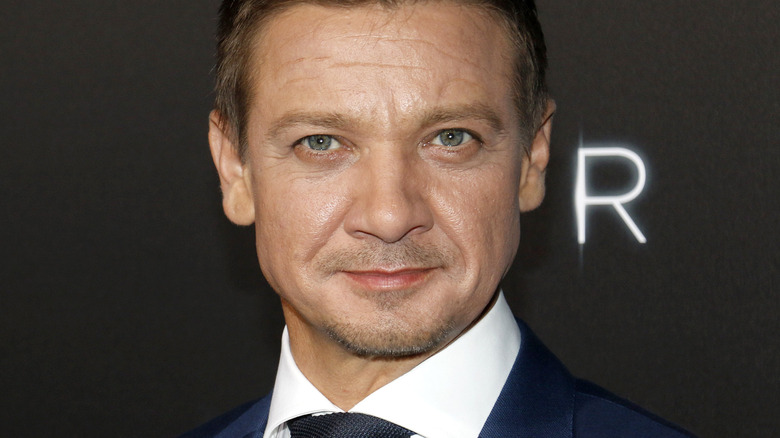 Tinseltown/Shutterstock
Not long after Jeremy Renner broke his silence on Tuesday, January 3, many fans started flocking to his post to show support. "Happy to see you awake," one fan commented. "Was really worried about you even if we don't know each other. Get well soon." Another fan commented: "Thinking of you every day man, sending love and prayers to my favorite hero." Many fans were quick to invoke Renner's role as Hawkeye in the MCU in their well-wishes. "Get better Hawkeye, we all send our love & support," another fan wrote.
Many of Renner's colleagues from throughout the film and entertainment industry also took the time to comment on the post. Fellow Marvel star Chris Pratt said, "Continued prayers your way brutha." Meanwhile, Vanessa Hudgens wrote, "Sending so much love n healing!" and actor Tasha Smith declared, "You's a tough mother you know what and I love you for it all!"  In addition to showing support, many users and celebrities expressed their happiness that Renner was well enough to provide his own update. "Damn brother I was really worried about you," wrote celebrity trainer and actor Jason Walsh. "Good to see your face." Renner's "Tag" co-star Isla Fisher commented: "Phew! I'm so happy you made this post. Sending you so much love and healing energy. We love you."