Which Glass Onion Cameo Was Your Favorite? Here's What Knives Out Fans Say - Exclusive Survey
"Glass Onion: A Knives Out Mystery" reintroduces fans of the original "Knives Out" to the charismatic sleuth Benoit Blanc (Daniel Craig) as he tackles yet another convoluted murder mystery -– this time centered around the titular "Glass Onion," a private resort in Greece owned by tech billionaire Miles Bron (Edward Norton).
Like its predecessor, one of the most notable things about "Glass Onion" is the sheer star power of its ensemble cast, boasting (alongside Craig and Norton) Janelle Monáe, Kathryn Hahn, Leslie Odom Jr., Dave Bautista, Kate Hudson, and Madelyn Cline. In addition, the film also includes a remarkable number of celebrity cameos, including Ethan Hawke as one of Bron's assistants, Hugh Grant as Blanc's husband Philip, and legendary cellist Yo-Yo Ma as a party guest of Birdie Jay (Hudson).
One particularly memorable scene also sees Benoit Blanc on Zoom with Stephen Sondheim, Angela Lansbury, Natasha Lyonne, and Kareem Abdul-Jabbar, as the five friends play a game of Among Us. Indeed, there's an enormous number of celebrity cameos in "Glass Onion," though according to an exclusive survey from Looper, fans have decided that one of these cameos outshines all the rest. Here's who fans of say had the best cameo in all of "Glass Onion: A Knives Out Mystery."
Fans say Serena Williams had the best cameo in Glass Onion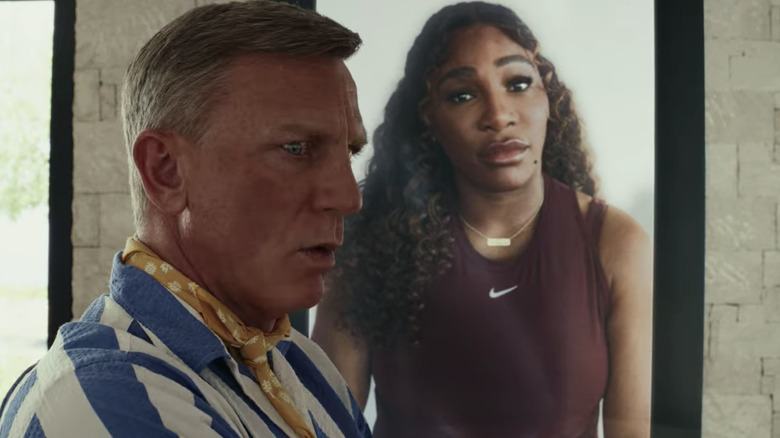 Netflix
An exclusive survey from Looper (posted on December 30th, 2022) polled 19,000 "Knives Out" fans to ask which cameo from "Glass Onion: A Knives Out Mystery" was their favorite –- and the answer should come as no surprise. Coming in first place with 30% of the vote is tennis legend Serena Williams, who has without a doubt one of the funniest scenes in the entire movie.
After it's revealed that Benoit Blanc and Helen Brand (Monáe) have been working in secret to uncover the true killer of Helen's identical twin Andi, we get a brief scene in which the two meet in Miles Bron's exercise facility to discuss possible motives and clues they've uncovered. While they're talking we can see a large Peloton-like video board labeled "Fitness with Serena," complete with what appears to be a video of tennis star Serena Williams. Suddenly, Williams speaks up and interrupts their conversation to ask if they'd like an exercise session, revealing that she's actually "on the clock" and is live streaming directly to Bron's gym.
Although Bron's remote island resort is full of ludicrously expensive amenities, it's still hilarious to think that he pays Serena Williams to simply sit in front of a screen all day, on the off chance he might come down for a workout session. This particular cameo is one of the funniest and most surprising scenes in the entire film (which is certainly saying something), and as such it's easy to see why fans believe it's the best cameo in all of "Glass Onion."
Fans also loved the cameos from Hugh Grant and Ethan Hawke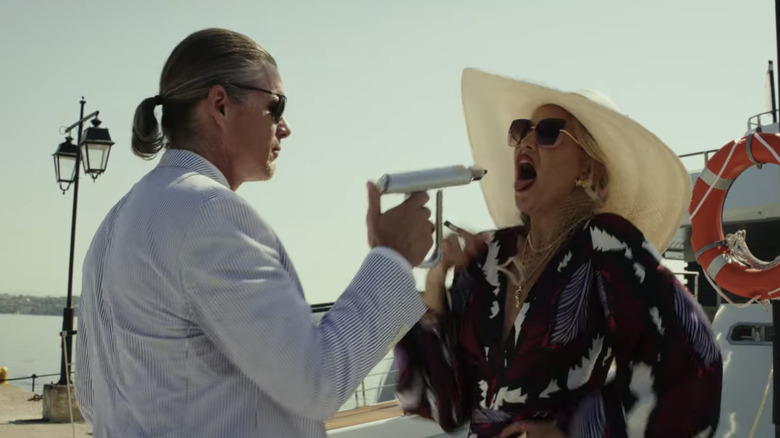 Netflix
Despite the fact that Serena Williams emerged as the clear favorite in this exclusive poll, it's clear that several other cameos made their mark on the audience as well. Right behind Williams' is prolific actor Hugh Grant, earning 21% of the vote for his brief appearance as Philip, Benoit Blanc's husband. Like Williams' cameo, Grant's is completely unexpected, as he abruptly opens the door to Helen Brand while covered in powder and wearing a tie-dyed apron.
In third place with 20% of the vote is the aforementioned cameo of Ethan Hawke, who appears as one of Miles Bron's assistants at the beginning of the movie, and is listed as "Efficient Man" in the film's credits (via IMDB). Because the film takes place during the height of the COVID-19 Pandemic, the film's opening sees all of Bron's party guests arriving in Greece and wearing masks. Shortly after arrival they're greeted by Hawke's "Efficient Man," who administers a strange pressurized burst of liquid into each of their mouths, implied to be an immediate cure or vaccine. Like Williams' cameo, Hawke's brief appearance is yet another example of the ludicrous billionaire lifestyle that Miles Bron embodies, and as such it's easy to see why so many people enjoyed this absurd cameo.
Filling out the rest of the survey are the cameo appearances by Kareem Abdul-Jabbar (15%) and the late Angela Lansbury (14%), making it clear that the tongue-in-cheek "Among Us" scene certainly made a splash with audiences. In any case, it's clear that all these impressive cameos make for some of the most entertaining moments in the entire film.