Why Benedict Binswanger From Firefly Lane Looks So Familiar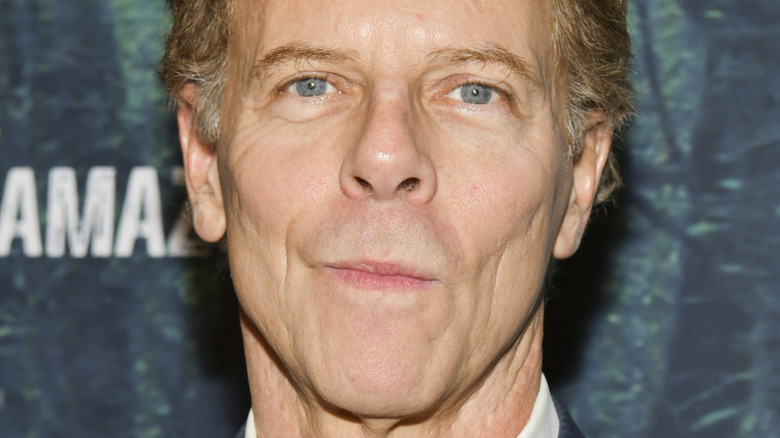 Rodin Eckenroth/Getty Images
"Firefly Lane" premiered on Netflix on February 3rd, 2021. Based on the novel of the same name by Kristin Hannah, the series follows longtime friends Tully Hart (Katherine Heigl) and Kate Mularkey (Sarah Chalke) from their teens in the '70s all the way through to adulthood in the early 2000s. Season 2, which divided fans over its Tully-Kate conflict, was split into two parts, with the first airing on December 2nd, 2022, and the second set to make its way onto the streaming platform on June 8th, 2023. The show has been well received by audiences and fans of Hannah's book, according to Rotten Tomatoes, and has many eagerly awaiting the fate of their favorite characters when the show returns. 
Season 2 introduced several new recurring characters, including Benedict Binswanger played by Greg Germann. Benedict is a wealthy and cold-hearted businessman with high ambitions to become the governor of Washington. Reporters Tully and Danny Diaz (Ignacio Serricchio) cover him for a story, but as Tully hones in on Benedict, it is revealed that they share an important connection. 
"Firefly Lane" viewers might recognize Germann, as he's had an extensive career in the acting business and has played many familiar roles in movies and on TV. Here is a look at some of the parts that Germann has made his own. 
He was the best friend
People who like sitcoms — and rewatch their favorite ones — probably recognize Greg Germann for his role in the short-lived '90s comedy, "Ned and Stacey." Ned (Thomas Haden Church) needs a wife to get promoted at his ad agency, while Stacey (Debra Messing) wants to move out of her parents' house, but cannot afford to. In order to solve both their problems, Stacey agrees to pretend to be Ned's spouse, and Ned lets her move in with him. Germann plays Eric "Rico" Moyer, Ned's best friend and co-worker, who — alongside his wife and Stacey's sister, Amanda (Nadia Dajani) — gets Ned and Stacey together, setting the former's plan into action. 
Only called "Rico" by Ned, Eric is a good-natured, slightly nerdy guy. He idolizes his friend and always agrees to take part in whatever scheme Ned cooks up. His kindness and willingness to go with the flow often get him into trouble, however, because he cannot seem to say "no" to Ned. Oftentimes, Amanda is forced to step in or push Eric to stand up for himself, if and when things get out of hand.
Though "Ned and Stacey" received decent audience reactions (via Rotten Tomatoes), the show was canceled after two seasons, before Eric and Amanda could see the eponymous pair actually fall in love. 
He was a lawyer
Following the cancellation of "Ned and Stacey," Greg Germann went on to play his most famous role. From 1997 to 2002, Germann co-starred as Richard Fish in the legal comedy series, "Ally McBeal." In the show, Ally McBeal (Calista Flockhart) is forced to leave her job due to sexual harassment and then joins a firm co-founded by her former classmate, Fish. 
In contrast to Eric in "Ned and Stacey" — and more like Benedict in "Firefly Lane" — Germann's character seems to act with very little conscience. He possesses a rather loose interpretation of the law, but because of his confidence and charisma, which contrasts with his socially-awkward partner, John Cage (Peter MacNicol), he manages and leads the Cage & Fish law firm, which later becomes Cage, Fish & McBeal. 
Fish, in a running gag, is attracted to women with loose skin around their necks, otherwise known as a "wattle." In Season 1, for example, he pines after the real-life Attorney General Janet Reno, played by Linda Gehringer. Despite this fetish, he falls in love with the smooth-necked Liza Bump (Christina Ricci) and ends up marrying her in the final episode.
One of three actors to appear as a regular in all five seasons, Germann earned a Screen Actor's Guild Award alongside his co-stars in 1999. 
He was a doctor
"Grey's Anatomy" fans probably remember seeing Greg Germann donning a white coat in the long-running medical drama. He portrays Dr. Tom Koracick, a neurosurgeon with a troubled past, never having completely moved on from the death of his son, David. He makes his first appearance in the Season 14 episode "Go Big or Go Home," and becomes a recurring character until he is made a regular in Seasons 16 and 17. Germann returns as a guest star for the next two years, and officially leaves the show in the episode "When I Get to the Border" in Season 19. 
Tom is extremely skilled at his job and isn't afraid to praise himself, even though others dislike him for it. Really, though, he's often putting up a tough exterior, and he drops this facade to comfort those in need, including Miranda Bailey (Chandra Wilson) after she suffers a miscarriage, something that his ex-wife has experienced twice. Because of David's death —-which occurred after getting hit in the head with a baseball bat — Tom has been known to have a soft spot for children. This is especially true when he treats Kimmie Park (Nayah Damasen, in a Season 14 recurring role). Despite her terminal illness, Tom goes to great lengths to extend her life so she can fulfill her dream of seeing as many Broadway shows as possible before she dies. 
Germann reprised his role in the spin-off, "Station 19," where he treats Battalion Chief Robert Sullivan (Boris Kodjoe) in the Season 3 episode, "Eulogy."
He was a villain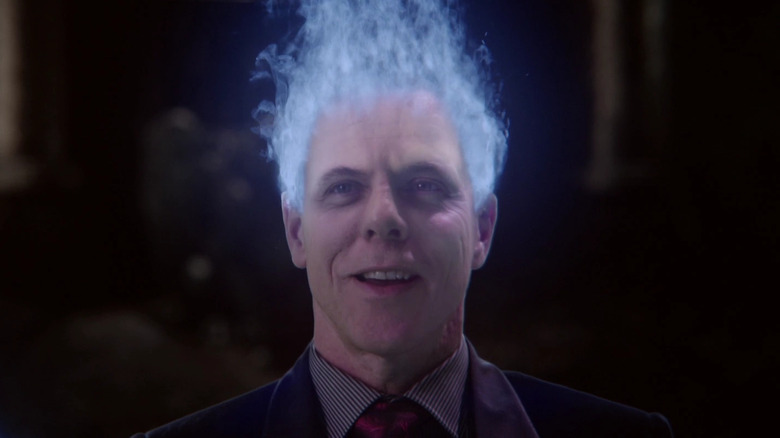 ABC
In 2016, Germann played another smooth-talking character, but this time he got to dive into a fantastical world. During Season 5 of the hit fairy-tale drama "Once Upon a Time," the gang travels to the underworld to save Killian Jones/Captain Hook (Colin O'Donoghue). Germann appeared in all 10 episodes of the arc as Hades, the popular villain from "Hercules." 
Like with all its antagonists, "Once Upon a Time" offers viewers a more emotional look at Hades. Following his attempt to kill Zeus, his heart stops beating — something which only true love's kiss can reverse — and he becomes Lord of the Underworld. He later heads to Oz to thank Zelena (Rebecca Mader) for the souls she has sent his way. The two quickly fall in love, but Zelena, unwilling to let go of her revenge, will not act on her feelings. 
When Hades is reunited with Zelena, he tries to win her over, even promising that they can rule Storybrooke and punish everyone who has ever wronged them. He pushes Zelena to kill Regina and join him, but Zelena stabs him with the Olympian Crystal and he dies with her name on his lips. Hades' death is heartbreaking, especially because, despite his love for Zelena, he has never been able to change. As a result, he cannot become the man Zelena wants and needs after her redemption.