Five Different Actors Have Played Barbara Walters On SNL, But One Impersonation Stands Above The Rest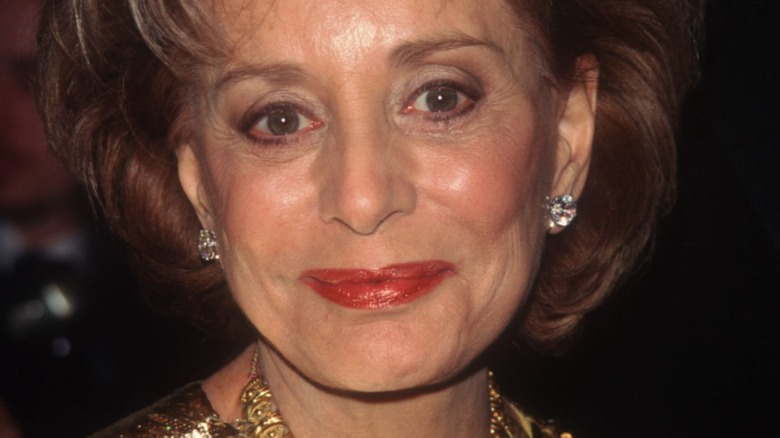 Evan Agostini/Getty Images
American journalist and television legend Barbara Walters has passed away at the age of 93. And the legacy she leaves behind undoubtedly ranks among the most enormous and vital in TV history. Walters was, of course, largely known for her incisive, sober, distinct style as an interviewer and host, with which she built herself up as one of the most enduring presences in the U.S. news cycle for decades, becoming an instantly recognizable figure to multiple generations. But even setting aside her sheer pop icon cred, it's Walters' contributions to the history of broadcast journalism that make her a giant. After all, she was the first woman to co-host an American news program, the first primetime anchorwoman on broadcast TV, and the creator of the trailblazing ABC talk show "The View."
In short, Walters' importance to American culture is not to be taken for granted, and there will be much to look back on as the world remembers her career, her myriad achievements, and her iconic interviews. And, like any American icon, there is also one particular field in which Barbara Walters left her mark: as fodder for impersonations. Many have been the comedians who tried their hand at ribbing Walters' unique cadence and posture and her unmistakable public image over the years. On "Saturday Night Live" alone, she has been impersonated by a total of five actresses, with "appearances" spanning practically her entire 40-year career as a TV host — and one of those impressions is downright iconic in its own right.
Cheri Oteri's portrayal of Walters was a staple of '90s SNL
The first "Saturday Night Live" cast member to impersonate Barbara Walters was Gilda Radner, all the way back on Season 1 — when Walters was the co-host of "The Today Show." Radner impersonated Walters two more times in that season, and another two in Season 2, going into Walters' bow as anchor of "ABC Evening News." The portrayal became immediately notorious; Radner played Walters as "Baba Wawa," emphasizing the speech impediment that caused the news host to speak with a rounded "R." Walters herself was originally not a fan of the impression, but eventually warmed to it (via New York Daily News).
The title of the most iconic Barbara Walters impression on "SNL," though, would most likely belong to Cheri Oteri. Beginning on her first season as a regular cast member, in 1995, Oteri played Barbara Walters with significant frequency, whether as co-host of "The View" or on Walters-focused sketches. It was one of those perfect performer-celebrity matches, with Oteri nailing Walters' seriousness and intense composure without going too hard on her speech impediment, and instead finding humor in occasional fits of raunchiness that suddenly erupted through Walters' poise. It became a go-to character for Oteri and a staple of '90s "SNL." Indeed, Oteri went on to play Barbara Walters a total of 23 times on the show and even shared the screen with Walters herself on a "Barbara Walters Interviews Barbara Walters" skit on "The View" years later.
Several other cast members have offered their take on Walters
Barbara Walters' career as a host spanned 40 years, going from her promotion to co-host of "The Today Show" in 1974 to her retirement from "The View," the show she created and helped induct into the TV history books, in 2014. In all that time, Gilda Radner and Cheri Oteri were naturally not the only two "Saturday Night Live" funnywomen to offer their takes on Walters. While there was a period of nearly two decades between 1977 and 1995 in which Walters did not appear as a character on the show, "The View"-centric sketches became common following the success of the Oteri years.
Rachel Dratch was the first cast member to take up the mantle after Oteri, playing Barbara Walters in three sketches between 2003 and 2004. The impression was striking enough, in Dratch's typically absurdist style, that she even went on to bring her Walters to an end credits tag on "30 Rock" years later. Dratch was followed by Michaela Watkins, who played Walters two times during her single-season bow, both in early 2009. And then there was the ever-underrated Nasim Pedrad, who had a go at Walters on three sketches between the 2009-10 and 2010-11 seasons; although they weren't as numerous, Pedrad's impressions rivaled Oteri's for utter accuracy every time. Walters herself appeared on a "Weekend Update" in 2014 on the occasion of her retirement from "The View," and proved she could also poke fun at herself keenly.