The Devastating Death Of Barbara Walters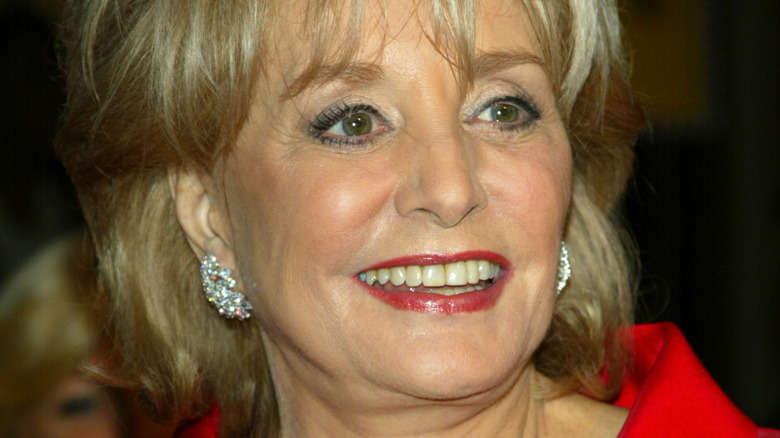 DFree/Shutterstock
Barbara Walters, iconic journalist and longtime television staple, has died at the age of 93. Outlets such as Variety reported her death on the evening of December 30, 2022, with her publicist confirming her passing. Walters was a trailblazer in the field of broadcast journalism, getting her start way back in the 1950s and steadily climbing her way to the top. She famously became the first woman to co-anchor a major United States news program in 1974 when she sat down at the "Today Show" desk for the first time. Two years later, she joined Harry Reasoner on "ABC Evening News."
In the decades that followed, Walters continued to leave her mark on both TV and news history. She interviewed a who's who of pop culture and political notables, ranging from presidents like Richard Nixon to actress-singer Barbra Streisand, resulting in numerous on-air moments worthy of multiple viewings. Not to mention, she was a driving force behind "20/20" and "The View" for years, continuing to keep audiences informed and entertained simultaneously. Suffice to say, her influence cannot be understated, and her enduring impact on the media landscape will be felt for years to come.
Simply put, Barbara Walters was a revolutionary whose many contributions will never be forgotten. To honor her memory, let's take a look back at some of the highlights of her incredible life and career.
Walters was the interviewer of all interviewers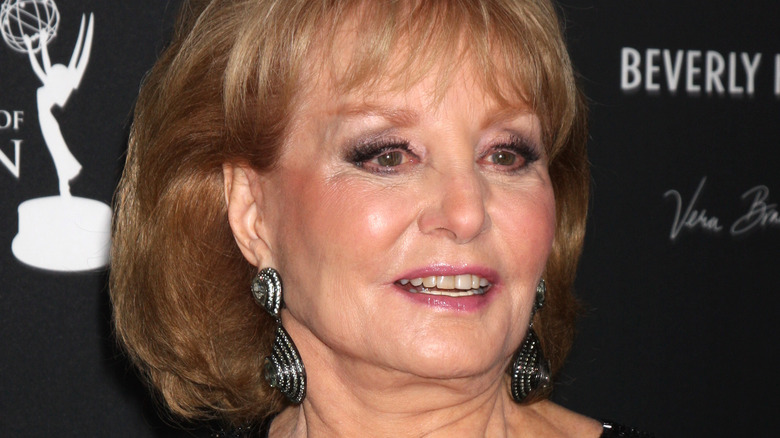 Kathy Hutchins/Shutterstock
Born in Boston, Massachusetts, on September 25, 1929, Barbara Walters went through the public school system before pursuing higher education post-graduation. Following her graduation from Sarah Lawrence College, she got busy trying to find work. This eventually led her to what's now known as WNBC, setting her on a career path that she'd flourish in by the start of the 1960s. Of course, while Walters excelled in front of the camera as a news anchor, when one thinks of the famed journalist, chances are they're reminded of her many celebrity interviews — a handful of which have become the stuff of legend.
Arguably one of her most widely-known interviews is the one with legendary actress Katharine Hepburn. After struggling to get the Oscar-collecting Hepburn to agree to an interview, Walters finally got the opportunity to do so. While Hepburn offered some fascinating insights, all folks seem to remember the interview for is Walters asking her which kind of tree she feels she would be. Other noteworthy segments include her special with former Cuban leader Fidel Castro and her chat with Monica Lewinsky in the wake of the scandal involving her and then-U.S. president Bill Clinton, but they're just the tip of the iceberg when it comes to her truly countless interviews.
By the start of the 2010s, Barbara Walters began to lighten her workload with retirement on the horizon. Sure enough, by the middle of the decade, her career officially came to an end, and she had nothing to be ashamed of. Between the news programs she hosted, the figures she interviewed, and the accolades she collected, Walters enjoyed a career like no other. She will be sorely missed.
Friends, celebrities, and fans mourn Walters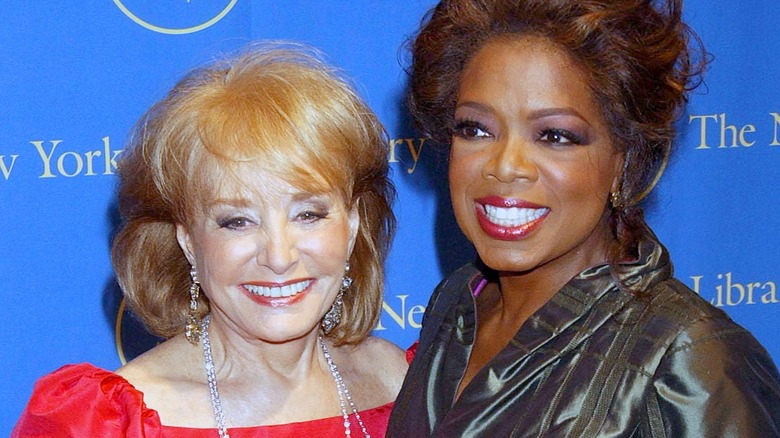 Everett Collection/Shutterstock
Following the announcement of Barbara Walters' death, several celebrities, friends, and fans began to pay tribute to the late broadcaster. NBA superstar Kareem Abdul-Jabbar took to Twitter to praise her efforts in pursuing the truth. "Barbara Walters never flinched when questioning the world's most powerful people. She held them accountable," Jabbar wrote, before noting how she inspired an entire generation of journalists. "We are all better off because of her." 
Fellow journalist and television personality Oprah Winfrey opened up about the influence Walters had on her career on Instagram, sharing a photo of the two. "Without Barbara Walters there wouldn't have been me—nor any other woman you see on evening, morning, and daily news," Oprah said, before sharing how she kept Walters in mind during her first television audition. Several other celebrities mourned the loss of one journalisms most iconic players, including "Wonder Woman" star Lynda Carter, who described Walters as "an American institution" who "opened the door to endless possibilities for so many girls who wanted to work in TV..." 
As the news of her death made its way through various pockets of social media, fans' began to post some of Walters' most memorable moments. Vulture's Wolfgang Ruth (via Twitter) fondly remembered how Walters called the Kardashian family "untalented" in a damning interview, while @beygdency shared a playful video of the broadcaster giving pop sensation Beyoncé five dollars to sing for her.   
Perhaps the most fitting tribute to cement Walters' legacy is one that took place nearly a decade ago. During her final appearance as a co-host on "The View" in 2014, her colleagues and Winfrey brought out over a dozen female journalists to thanks Walters for her trailblazing efforts (via Twitter). The tribute to journalist went viral following her death.