Magnum P.I. Reboot Star Perdita Weeks Didn't Realize How Physically Taxing The Role Was Going To Be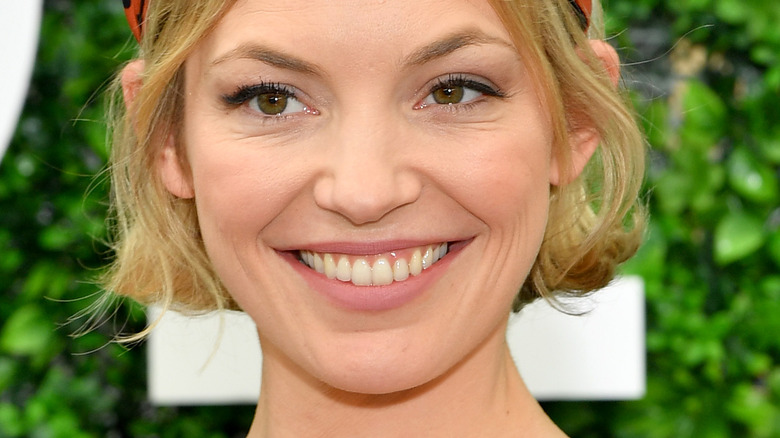 Pascal Le Segretain/Getty Images
Perdita Weeks has come a long way since appearing in "Spice World" as an 11-year-old child star, but her work in high-profile projects like "The Tudors," "Penny Dreadful," and "Ready Player One" prepared her for the show she is now arguably best known for. Weeks plays one of the leads, Juliet Higgins, in the ensemble-driven reboot of Tom Selleck's "Magnum P.I." television series, which aired on CBS for eight seasons. Unfortunately, the new "Magnum P.I." came face-to-face with a most bitter end following its fourth season when CBS surprisingly canceled the reboot.
Can you imagine "Magnum P.I." going out that way, though: Thomas Magnum (Jay Hernandez) and Higgins kiss, and then the series — not the season — fades to black? However, all the drama was squashed, much to the relief of fans rooting for a Magnum and Higgins love affair — to say nothing of their torrid crime-fighting antics. NBC swooped in and greenlit 20 episodes for its own network, which will be split up between Seasons 5 and 6 (per Variety).
So, the tension-filled will-they-or-won't-they tango between Magnum and Higgins seems to be destined for romance after all. But are these partners in crime truly destined to be lovers, too? "In my mind, they can't end up together ... not yet," Hernandez said in an interview with TV Insider. "If they do, that means it's the end of the show." Sure, Hernandez seems worried about Magnum's on-screen relationship with Higgins becoming lovey-dovey too soon. But did you know Weeks was more preoccupied with just the physicality of portraying Higgins on the show?
Weeks didn't realize how physical her role on Magnum P.I. would be
In the "Magnum P.I." Season 4 episode, "The Long Sleep," Juliet Higgins (Perdita Weeks) contemplates Magnum's (Jay Hernandez) invitation to spend the day with him, while she continues to experience a recurring dream in which she kisses her crime-fighting colleague. Higgins then reveals that she, in fact, does have romantic feelings for Magnum to Dr. Ogawa (Tijuana Ricks), but she is hesitant to act on them because of their friendship and working relationship. However, way before the now life-altering, Season 4 cliffhanging kiss happened between Thomas and Juliet, Weeks was just busy wrapping her head around another integral part of Higgins' character: The massive amount of stunt work required on the show.
"I didn't know quite how extensive it was gonna be," Weeks said during an interview at the 2018 San Diego Comic-Con with TVLine. "But, you know, as soon as there was a mention of like stunts and stuff I just was like signed up. And [I] said, 'Hey, you know all the rehearsal time you need, like I want to do as much as I possibly can' because it's just so fun. The stunt teams are always amazing, and, yeah, it's no different on this show." 
"Magnum P.I." executive producer Peter Lenkov also elaborated to TVLine in the same interview that despite the series' incredible stunt work and action-packed sequences, the show is more character-driven in nature. "It's not a big, testosterone-driven show," Lenkov insisted.