The Ending Of Magnum P.I. Season 4 Explained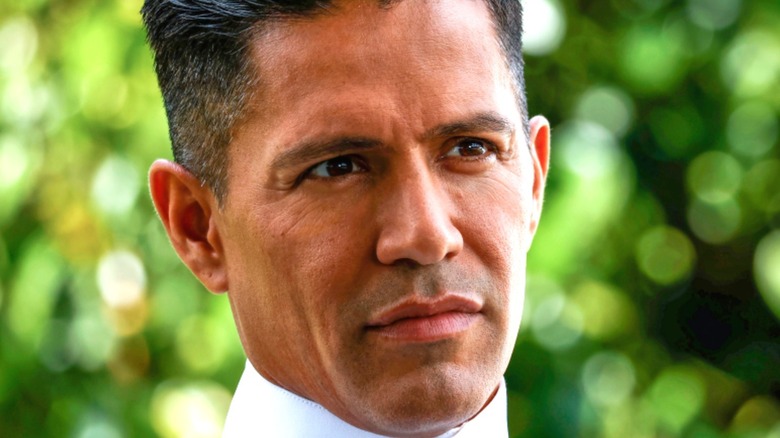 Zack Dougan/CBS
Following "Hawaii Five-0" and "MacGyver," CBS premiered another fresh take on a classic series in 2018. A revamped version of "Magnum P.I." joined the reboot ranks. Much like its original predecessor, which initially starred Tom Selleck, the new series centers on ex-Navy SEAL Thomas Magnum (Jay Hernandez), who works as a security consultant for a mysterious millionaire novelist and as a private investigator in Hawaii. Magnum is often aided by former MI6 Agent Juliet Higgins (Perdita Weeks). In previous seasons, the two, along with their crew comprised of two former Marine veterans and a Hawaii Police Department Detective, often find themselves involved in some of the wildest cases the Aloha State can offer.
Season 4 didn't skimp on giving Magnum and his cohorts some worthwhile adventures to handle. The season includes Higgins dealing with her old agent past in "Devil On The Doorstep" and "A Fire In The Ashes." Meanwhile, some crossover fun with Sgt. Duke Lukela (Dennis Chun) of "Hawaii Five-0" occurs after he appears in the episode "Evil Walks Softly." The minor crossover event hits differently, considering that "Hawaii Five-0" and "MacGyver" are no longer around. But one of the main bubbling plot points throughout the season is the ongoing romantic tension between Magnum and Higgins, which seems to explode during the season finale. Let's take a deeper look into what happened between the two during the ending of "Magnum P.I." Season 4.
Magnum and Higgins confess their feelings for each other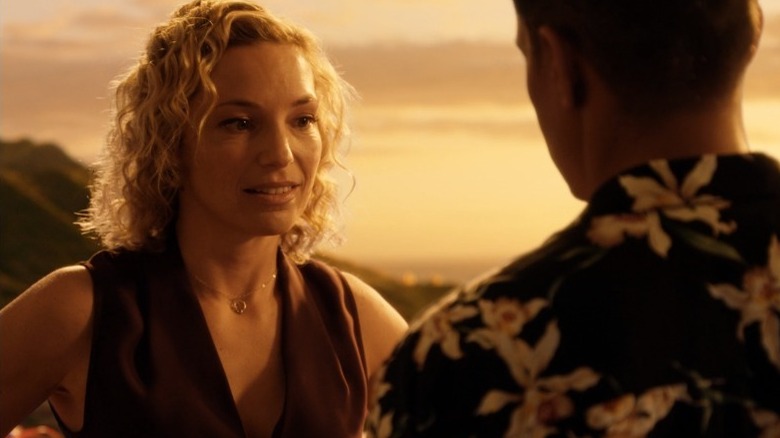 CBS
The Season 4 finale, "Close to Home," has one of the most challenging cases for Magnum and his cohorts, as HPD Detective Gordon Katsumoto's (Tim Kang) ex-wife Beth (Shawna Christensen) is kidnapped. In return for her safety, the criminals want the detective to kill his imprisoned ex-partner Shane Whelan (Josh Stamberg). However, after narrowly busting Whelan out of prison, a planned ransom exchange becomes an explosive shootout. Magnum, Higgins, and Katsumoto rescue Beth and arrest the kidnapper, who turns out also to have been the one responsible for the murder of Katsumoto's sister. With that significant loose end tied up and Rick (Zachary Knighton) and Suzy (Betsy Phillips) welcoming a baby girl, "Close to Home" almost hits all the right notes for a happy ending. Fortunately, it has one more sweet scene up its sleeve. 
In the final scene, Magnum and Higgins finally confess their feelings for each other. They both follow that admission by saying romantic feelings are a bad idea for their partnership and friendship. However, the feet-dragging soon goes away as they share a kiss. It's a nice moment that concludes what the writers had been cooking up for the two in Season 4 and potentially serves as the series' way to say goodbye properly. 
Shortly after the episode aired, it was announced that CBS decided to cancel "Magnum P.I." despite the series still pulling in strong ratings (via The Hollywood Reporter). It's unclear if the show's writers knew a potential cancellation was on the horizon, as according to Deadline, negotiations for a new season had been going on for quite some time. If this was the show's way of ending the series just in case it knew what was coming, then it couldn't have chosen a happier way. Still, it would be nice to see how the Magnum and Higgins dynamic would have played out after the two confessed their feelings.