Patrick John Flueger Is Nervous About Jesse Lee Soffer Returning To Direct Chicago PD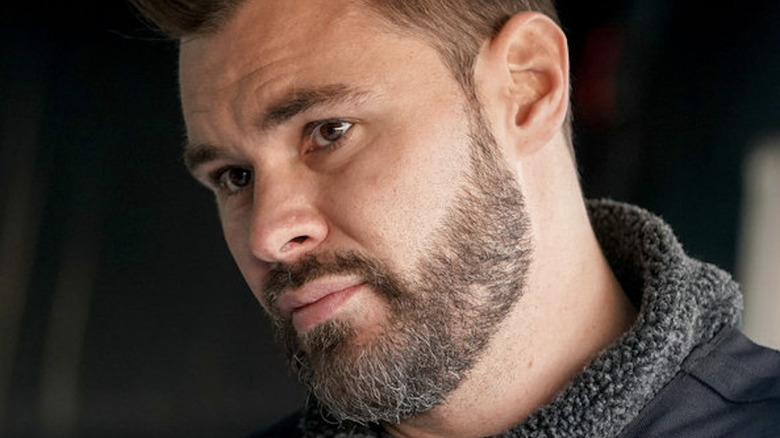 Lori Allen/NBC
For those "Chicago P.D." fans who are still lying on the ground, defeated after hearing the news that the show's longtime star Jesse Lee Soffer has decided to end his run playing Det. Jay Halstead for good, it's time to pick yourself up, dust yourself off, and take in some good news. Despite the fact that the crushing effects from the revelation are still justified, fans can take some solace in the news that Soffer will be back, in some capacity, quicker than they might expect. That's because Soffer has signed on to step behind the camera for a Season 10 episode, making his directorial debut. 
Soffer made his departing announcement through Variety by saying, "To create this hour drama week after week has been a labor of love by everyone who touches the show. I will always be proud of my time as Det. Jay Halstead." But now, he'll be back as part of the crew — and although that might be exciting for viewers at home, not everyone in the cast is completely thrilled about it, including Patrick John Flueger. 
Flueger's nerves have nothing to do with Soffer's performance
Lori Allen/NBC
It's been a few months since "Chicago P.D." fans had to endure the pain and anguish of one of the show's main characters, Jesse Lee Soffer's Det. Jay Halstead, permanently leaving the force in exchange for a position in the U.S. Army. But, with Soffer set to direct an upcoming episode in Season 10 of the show, fans will get to see the actor's creative take on the long-running series. However, for his fellow cast member Patrick John Flueger (who plays Adam Ruzek), being directed by Soffer actually makes him feel nervous.
You would think that nothing would be better for an actor than to be directed by someone who's become a great friend over the past nine years. However, Flueger admitted to NBC Insider that although he has full confidence in Soffer's directorial abilities, the thought of him calling the shots behind the camera makes him uncomfortable. "When you work this closely and you become that close with somebody after a decade, they know you pretty well," he said. "So I'm excited for him to direct, but I'm also a little nervous for him to direct."
However, Flueger's nerves aren't about his performance but from familiarity: "I don't know if I'm gonna be able to get through things without laughing. Because I'm embarrassed that Jesse can see right through me like I'm a transparent ghost," he confessed.