American Pickers Once Bought A Dodge A100 Hot Rod Truck And Only Frank Fritz Could Fit In It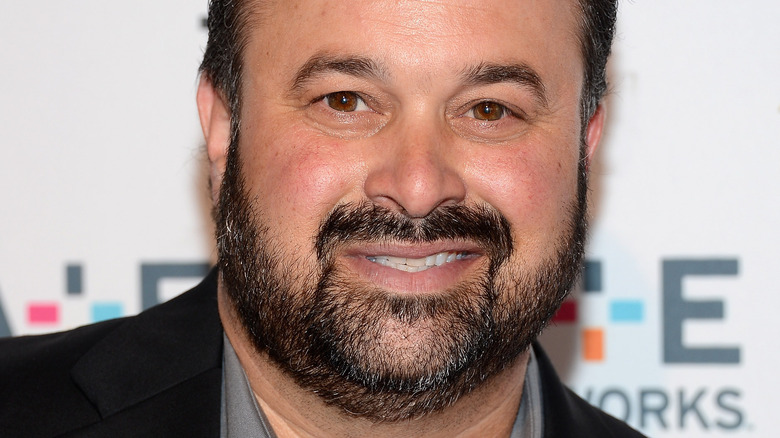 Dimitrios Kambouris/Getty Images
If you happen to find yourself with some free time, a want for some new stuff, and a bit of cash to burn, antiquing is a great way to go. Driving around seeking out little hobby shops and full-on trinket warehouses to sift through is a fun way to spend recreational time. On the other hand, if you had enough passion for it, it could also be quite a lucrative career path. Just ask the folks on "American Pickers," who've found a way to turn digging through mountains of old stuff into a means of paying the bills.
Since 2010, the "American Pickers" crew have entertained History viewers through their coast-to-coast rusty treasure hunts. They've uncovered all kinds of things in that time, though they've shown a particular affinity for certain items over others. Some of their most frequent purchases are old automobiles and, in some cases, old automobile parts that have become increasingly difficult to find. With the number of car collectors out there, these buys are all but guaranteed to turn a profit — so long as they find the right buyer.
In the case of a Dodge A100 hot rod truck, however, finding the right person to buy it surely turned out to be a rather difficult task. After all, longtime "American Pickers" star Frank Fritz was the only one who could fit inside of it.
Fritz was a perfect fit
In a scene posted on the History YouTube channel, we see Mike Wolfe and Frank Fritz pick a garage full of all kinds of treasure, including a 1966 Dodge A100 compact truck. Though they were interested in grabbing it, they needed to see it run before they could seal the deal. The problem? Only Fritz could fit inside it. The much taller Wolfe struggled to sit comfortably in the cab, so he handed it off to Fritz for the test drive. After taking it for a spin, Fritz couldn't help but express his enjoyment in getting to drive it, so the "American Pickers" hosts struck a deal with the owner and brought it home.
Should Mike Wolfe and his brother, Robbie Wolfe, encounter any more trucks like this on "American Pickers," though, they may have to use their best judgment instead of driving them. It's no secret that Frank Fritz is no longer a part of the show, and it stands to reason that he's not coming back. Between his feud with Mike and a major health scare, the odds of him touring the backroads of the United States on the small screen are slim to none at the time of this writing. Still, that's not to say that he's not at all interested in giving "American Pickers" another shot, even telling The Sun in 2021 that he misses some aspects of the gig.
Even though Frank Fritz isn't a part of it anymore, "American Pickers" is still chugging along. Some may not love the show without him, but at least they have moments like this one with the Dodge A100 to look back on with fondness.