Former American Pickers Star Frank Fritz Hospitalized After A Stroke
Former "American Pickers" star Frank Fritz is currently in the hospital after suffering from a stroke, according to an Instagram post from his former co-host Mike Wolfe. 
"I have been very private in the past year in regards to Franks life and the journey he's been on," Wolfe wrote on the social media platform, appearing to reference Fritz's health problems and reported falling out with Wolfe and the "American Pickers" team, which resulted in him disappearing from the show during Season 21. "There has been lots of opinions in regards to mine and Frank's friendship and the show but now is not the time to set the record straight. Now is the time to pray for my friend."
Fritz has opened up about his health problems in the past, including discussing his life with Crohn's Disease during an interview with The Sun. While official details of Fritz's current condition are slim, some of his other former "American Pickers" co-stars have taken to social media to voice their support. 
Frank Fritz's former co-stars ask American Pickers fans to pray for his recovery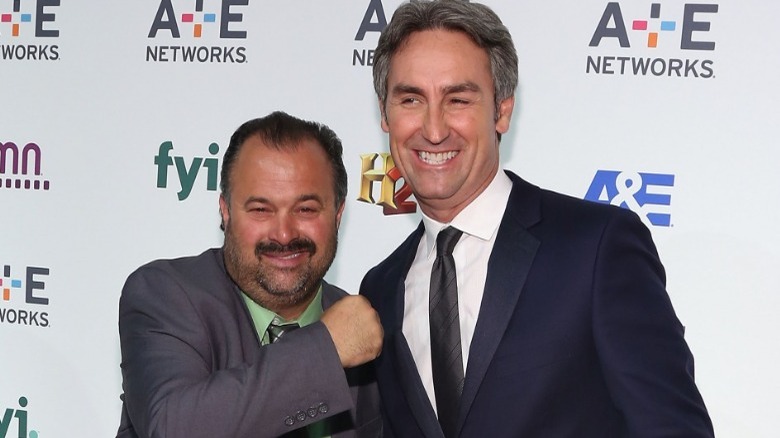 Taylor Hill/Getty Images
It's unclear when Frank Fritz went into the hospital, but Mike Wolfe offered some unequivocal words of support for his former "American Pickers" co-star on his Instagram post. 
"Frank has suffered a stroke and is in the hospital," Wolfe wrote. "Please keep him in your hearts and thoughts." Wolfe concluded the post by saying, "Frank I pray more than anything that you make it through this okay. I love you buddy." Fritz' last appearance in "American Pickers" came in March 2020, and he's been largely out of the public eye ever since. 
The 23rd season of "American Pickers" is currently airing on History with Wolfe, his brother Robbie Wolfe, and longtime star Danielle Colby being the main personalities on the show now. Colby took to her Instagram page on Friday, July 22, to show her support for Fritz in a since-deleted post (via Outsider). "Frank, you've got the fight in you," she said. "I've watched it for almost 2 decades. Just keep on fighting. Never stop fighting." 
Meanwhile, Robbie Wolfe also shared a candid snap of himself and Fritz with a hopeful caption: "Frank is in the hospital recovering from a stroke, he's improving every day. Keep him in your thoughts and prayers as he goes down the road to recovery."