Iain Armitage's Season 1 Monologue In Young Sheldon That Left Zoe Perry Mind-Boggled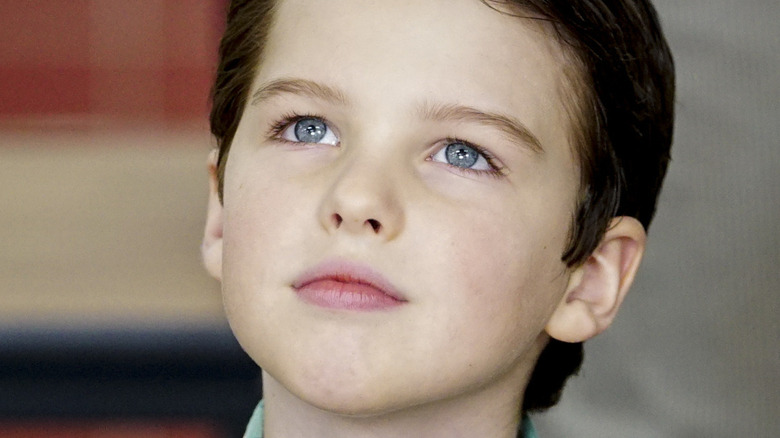 Sonja Flemming/CBS
With over 100 episodes produced, "Young Sheldon" shows no signs of stopping its serialized dominance. The brainchild of Chuck Lorre and Steven Molaro, the CBS comedy is the prequel series to the Emmy-darling "The Big Bang Theory." This time around, audiences are getting deep insight into Sheldon Cooper's (Jim Parsons) humble childhood in Texas, where he first developed his love for science and being a smart aleck. The young version of the iconic character is played by Iain Armitage, who first rose to prominence after his reviews of stage musicals went viral (via Playbill).
Playing young Sheldon's mother is Zoe Perry, who stars as Mary Cooper in the CBS series. In an interesting twist, Perry plays the same character her mother, Laurie Metcalf, played in "The Big Bang Theory." With the mother-daughter duo linking the two series, it's easy to see how the cast of "Young Sheldon" is a true family. Perry previously told Watch about how the cast of the series has become quite close with one another, becoming a true off-screen family by hosting pool parties. In general, Perry has nothing but positive things to say about her on-screen children, who have grown up on the show as it has progressed. Truly proud of the young cast on the show, Perry has opened up about how Armitage is a phenomenal actor, pointing out how he was once able to study up on a monologue with no preparation, something she left her mind-boggled. 
Iain Armitage was able to rehearse a complex monologue last minute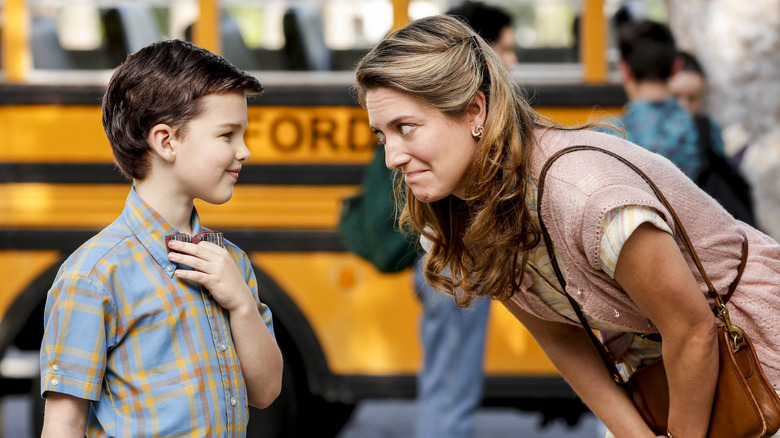 Robert Voets/CBS
It turns out Iain Armitage has a little bit of young Sheldon Cooper's smarts in himself. While speaking with Mashable India, Zoe Perry opened up about how Armitage managed to nail a monologue scene with little to no prep time. "I remember we had an episode in Season 1 and because it was new for us all, it just so happened that our running time was short," Perry said, revealing that a "brilliant" monologue was added for Armitage's character at the last minute. "And Iain memorized it in literally five minutes! I don't know how he did it!" Perry was particularly blown away by how Armitage was able to deliver the monologue with clarity as it was filled with scientific jargon. Perry, who herself was a child actor, believes she wouldn't have been able to deliver a monologue as great as Armitage's.
Armitage being able to study the Season 1 monologue that blew Perry's mind away shouldn't be too surprising to the "Young Sheldon" creatives. In an interview with Build, the young actor revealed that he had to memorize a monologue that spanned multiple pages for his initial audition. "They sent me like a monologue that I had... and it was like 'I don't know how I memorized it,'" the young Sheldon actor said. "It was a couple of pages long and then I managed to get it out of my small mouth." After his lengthy monologue was a success, Armitage was invited for another audition in California and received the part of young Sheldon Cooper shortly after.