The Idea For Young Sheldon Goes Back To 2007
Sheldon Cooper's (Jim Parsons) quirks, witty comebacks, and heart have turned him into a beloved character on the hit CBS sitcom "The Big Bang Theory," which ran for 12 seasons. And what better way to learn about how Sheldon came to be Sheldon than by revisiting his childhood? It's the move that Chuck Lorre (co-creator of "The Big Bang Theory"), Parsons, and Steven Molaro (writer and producer of "The Big Bang Theory") made just a few years ago. Still, it's an idea that has been simmering for quite some time, according to those behind "Young Sheldon."
The spin-off to "The Big Bang Theory" introduces fans to a 9-year-old Sheldon, starting his first year in high school in East Texas. The show is equal parts academic stories and family, introducing fans to characters mentioned and introduced on "The Big Bang Theory," including 1989 versions of his mom Mary Cooper (Zoe Perry), his twin sister Missy (Raegan Revord), and his Meemaw (Annie Potts). And Sheldon himself pushed to bring Sheldon's backstory to the small screen.
Parsons is not the only person who has thought about visiting Sheldon's childhood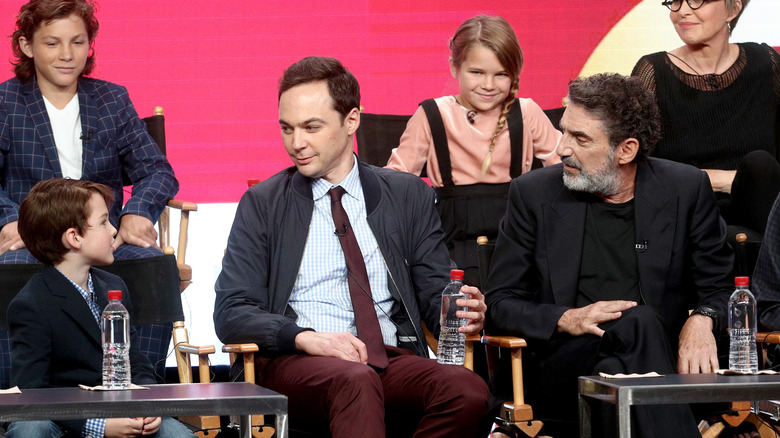 Frederick M. Brown/Getty Images
Jim Parsons told Vanity Fair that he and his husband, Todd Spiewak — who co-runs Parsons' production company — came up with the idea to base a TV series on Parsons' brilliant nephew. "So we're just starting to put together this show idea, and Todd and I were like, 'I mean, it sounds like a young Sheldon.'" That's when Parsons decided to write Chuck Lorre, who, after talking with Steven Molaro, decided to move forward with the project about the future theoretical physicist.
And while Parsons is the one who brought the idea to Lorre, the co-creator noted during a 2017 Television Critics Association press tour (via The Hollywood Reporter) that it's an idea that had already been swirling around very early on in the journey of "The Big Bang Theory." "We've been talking about this story on 'Big Bang Theory' for 10 years. The origins of Sheldon have been something we've been interested in writing about for a couple hundred episodes of 'Big Bang,'" he said. And it's an origin that is still entertaining fans of Sheldon Cooper and the "The Big Bang Theory." "Young Sheldon" premiered in 2017 and celebrated the airing of its 100th episode back in the spring of 2022 (via CBS Chicago).