Young Sheldon's Iain Armitage Had To Be Given The Run-Down On Dial Tone Phones While Filming The Show
Dr. Sheldon Cooper (Jim Parsons), known for his intellect and blunt remarks, quickly became the breakout character on the hit CBS series, "The Big Bang Theory." The show's prequel, titled "Young Sheldon," explores Sheldon's youth as a precocious Texan child during the 1980s. While speaking to CBS Mornings in 2017, Parsons revealed he and members of his production company, That's Wonderful Productions, developed the concept of the family comedy. He noted he approached the creator of "The Big Bang Theory," Chuck Lorre, to see if he was interested in the idea. The "Hollywood" actor admitted he was surprised that Lorre wanted to move forward with the project. "I really thought — I was like they would have thought of this before; they have been building the material for it for a decade; I mean, we've had anecdote after anecdote about Young Sheldon that Big Sheldon has talked about, but they jumped at it," shared Parsons.
Iain Armitage plays the young physicist on "Young Sheldon." While he seems to portray Sheldon with ease, there are some aspects of the show that he has found difficult.
Iain Armitage revealed he was unfamiliar with technology from the 1980s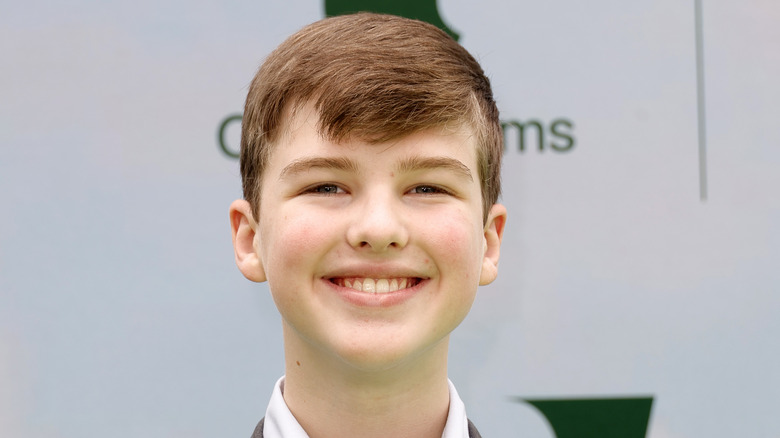 Frazer Harrison/Getty Images
During a 2018 interview with CTV Your Morning, Iain Armitage's on-screen parents, Lance Barber and Zoe Perry revealed that the "Big Little Lies" actor had difficulty using some props on set. Perry explained that her young castmate had to be taught to use a corded phone to make his scenes more realistic. "Iain didn't understand what a dial tone was," noted the actress. Barber chimed in that Armitage was unaware he had to wait for the dial tone before punching in a phone number. 
Armitage, who was born in 2008, spoke about being unfamiliar with 1980s technology during a 2018 appearance on "Live with Kelly and Ryan." "I don't know what the phones are ... Like the phone with the cord on the kitchen wall, I can't –I mean, they are fun to fiddle with and play with when they yell cut, but I don't like those cords. I don't like those phones."
Armitage also revealed that he was confused by the fashion of the 1980s during a 2019 interview with Access Hollywood. "Miss Annie [Potts] will come onto the set with one of her Meemaw shirts, and I'll like put my arm around her, and I'll be like, 'your shoulder feels weird,' and then she's like 'all of it's padded.'"