How I Met Your Father's Chris Lowell Says Chemistry Is The Most Important Aspect Of A Sitcom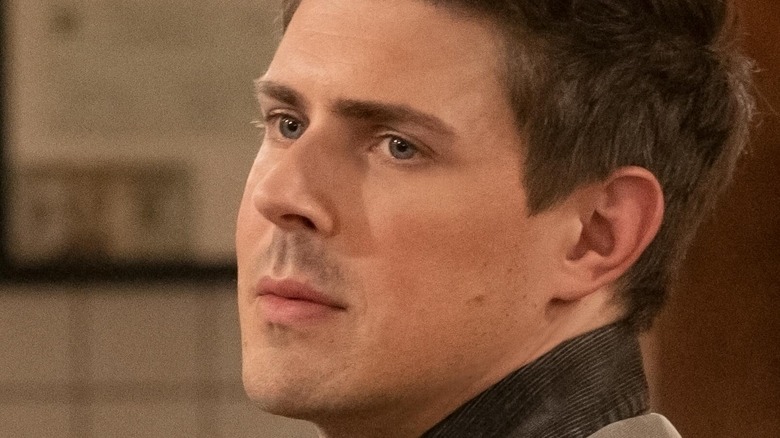 Patrick Wymore/Hulu
Seeing as "How I Met Your Mother" dominated CBS' catalogue for nearly a decade, it shouldn't be too surprising that a spinoff was commissioned. Titled "How I Met Your Father," the series is set in the same universe as its predecessor, albeit with a different roster of characters. The focus is on Sophie (Kim Cattrall), a woman who recounts her various youthful love stories (young Sophie is played by Hilary Duff) to her son. Despite not being a direct sequel to "How I Met Your Mother," the Hulu sitcom shares much of the same DNA from the original series. There's still flashbacks, forwards, a lingering mystery of who the lead ends up with, and lots of romantic drama. Oh, and a lovable roster of flawed but hilarious characters.
/Film said as much in their positive review of the spinoff, saying "the show is able to assemble an effortlessly dynamic cast of characters from the jump." Critic Valerie Ettenhofer particularly praised the cast for being able to bring an eclectic group of friends to life, saying "they're an immediately likable bunch."
With Duff's character at the heart of the show, the spinoff has set up a viable love interest in Jesse, played by "Promising Young Woman" star Chris Lowell. While speaking with LATF USA, Lowell revealed that there were no chemistry readings between the show's main actor, except between him and Duff. For Lowell, the lack of chemistry readings should be surprising, considering he thinks dynamite chemistry is the most important part in making a sitcom standout.
Chris Lowell says chemistry can't be faked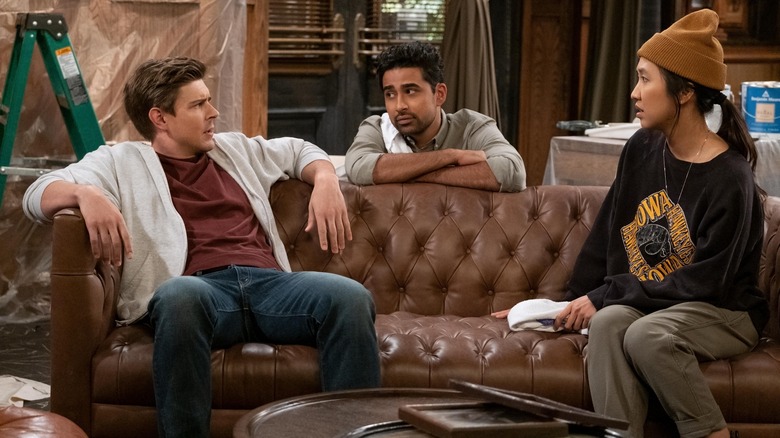 Patrick Wymore/Hulu
While speaking with Collider, Jesse actor Chris Lowell opened up about how the most important component of a sitcom is the chemistry between the leading players. "It really does feel like, in order for a sitcom to work, the most important thing is cast chemistry," Lowell said. Having headlined sitcoms like "Engraved" and "Enlisted" before joining "How I Met Your Father," Lowell has learned a thing or two about what makes comedies pop off. Lowell has also lent his talents to Netflix's wrestling comedy "GLOW," and the cult hit "Veronica Mars," proving he's no stranger when it comes to working with great casts. Beyond his experience as an actor, Lowell simply isn't wrong. It's hard to imagine shows like "Friends" or "The Office" succeeding without stellar chemistry between its lead actors. 
"Really all you're watching as an audience member is five, six, or however many people in the cast, just having fun together," Lowell continued, saying it's not possible to fake quality chemistry between the cast. This rings especially with  "How I Met Your Father" as two out of the five members of the main cast are exceptionally close with his character: Sid (Suraj Sharma), his roommate, and his sister Ellen (Tien Tran). If Lowell's chemistry with the duo wasn't infectious, it'd be difficult to become invested in the sitcom. 
In a separate interview with Elle, Lowell found that the chemistry between the "How I Met Your Father" main players was similar to capturing "lightning in a bottle." "We're six extraordinarily different people with very different lifestyles and different backgrounds and it doesn't make sense that we were able to get along so well so quickly," he told the outlet.