Harrison Ford Was 'Anxious' To Work Alongside Helen Mirren Again For 1923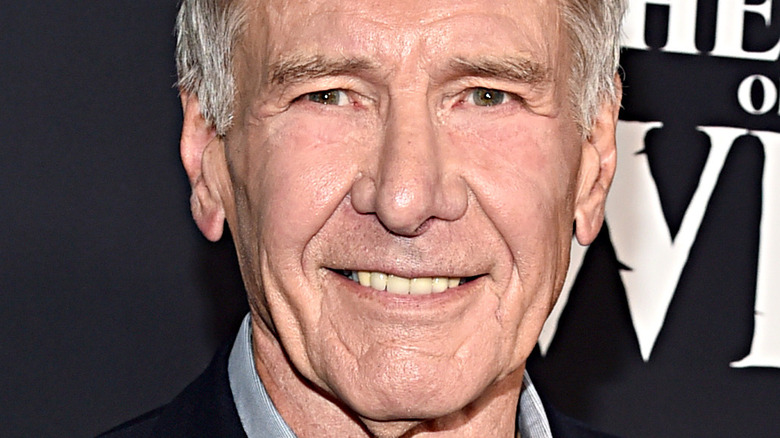 Alberto E. Rodriguez/Getty Images
Harrison Ford and Helen Mirren are two of Hollywood's most prolific and quintessential A-listers, and both have left indelible marks on the acting industry with their respective bodies of work. Ford gained notoriety for portraying the smooth-talking "Star Wars" scoundrel, Han Solo, and the whip-cracking archeologist, Indiana Jones. Meanwhile, Mirren's award-winning reputation grew over the years thanks to her best actress Oscar win for the impressive work she performed in "The Queen," and she also tallied a total of four Primetime Emmys (per IMDb). However, even with over five decades of work in Tinseltown, Ford and Mirren have only worked together once prior to appearing as Jacob and Cara Dutton on the new Paramount+ series "1923."
Ford and Mirren starred together as the husband-and-wife team of Allie and Margot "Mother" Fox in 1986's "The Mosquito Coast." However, over 35 years later the two performers are once again navigating marriage, but this time their journey is set against the backdrop of Western expansion in Taylor Sheridan's latest "Yellowstone" prequel.
"The fact that Harrison was going to be involved was very important for me," Mirren said in an interview with Variety. "Both of us committed to it without really reading any scripts. We didn't really know what we were signing up for — the specifics of what we were signing up for. We had trust in Taylor's extraordinary abilities as a writer and we took a leap of faith." Ford recently revealed how he felt about reuniting onscreen with Mirren.
Ford highlighted the strong relationship between his and Mirren's characters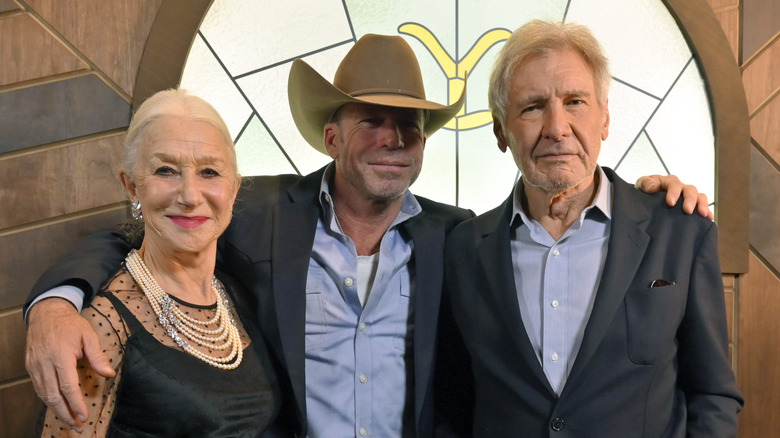 David Becker/Getty Images
Harrison Ford portrays Jacob Dutton in the Paramount+ series "1923." However, even with all of Ford's years as a cog in the Hollywood machine, the actor still found himself traversing uncharted waters. "I haven't played a character like this ever," Ford said in an interview with Yahoo! Entertainment. "The complexity and his moral journey in terms of the decisions he has to make are complicated and interesting. I want audiences to see the struggle of a determined man in specific circumstances."
In addition to tackling an unfamiliar role, Ford was also eager to collaborate with Helen Mirren again. "The relationship between Jacob and Cara is a really strong element of the show," Ford continued. "I was anxious to work in that area with her." 
Ford's work in movies is prolific, but he's only worked on a few television series, including guest spots on "Ironside," "The Virginian," and "Mod Squad" in the early years of his career. However, Ford is well-suited to the grandeur the streaming series "1923" is afforded compared to a program on conventional TV. "They keep calling it television," Ford said in the same interview. "But it's so un-television. It is, you know, a huge vista. It's an incredibly ambitious story that he's [Taylor Sheridan] telling in epic scale. The scale of the thing is enormous I think for the television."
"1923" is currently streaming on Paramount+.