Deborah L. Scott On Costuming Avatar: The Way Of Water's Performance Capture - Exclusive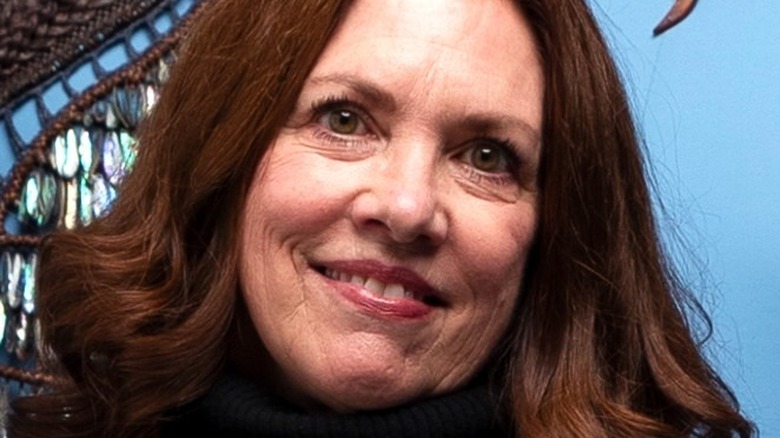 Courtesy of Deborah L. Scott
As convincing as the Na'vi and Metkayina are as living, breathing characters in "Avatar: The Way of Water," they are ultimately the result of performance capture — a technologically advanced means of filmmaking in which the performances of several of the film's actors are captured digitally.
But just because the film's leads — from Sam Worthington, Zoe Saldana, and Sigourney Weaver to Stephen Lang, Cliff Curtis, and Kate Winslet — are transformed into 9-foot-tall blue beings for the first "Avatar" sequel, it doesn't mean their costumes dropped out the ether. Sure, their threads are ultimately rendered by the film's digital effects artists, but they all begin as costumes would for any film production, no matter the genre.
In the case of "Avatar: The Way of Water," the costumes were designed by Deborah L. Scott, who is reteaming with writer-director James Cameron for the second time since she won an Oscar for best costume design for "Titanic," the 1997 worldwide box office juggernaut that swept the Academy Awards. Scott first reunited with Cameron on the global box office blockbuster "Avatar" in 2009, so she was thrilled to be asked to board the filmmaker's ship once again for "Avatar: The Way of Water."
However, as Scott and her fellow collaborators discovered during Cameron's new "Avatar" chapter, technology has advanced considerably since the original film — effectively adding challenges to the already complex process of designing costumes to be worn in the digital world.
Real costumes help inform the performance capture actors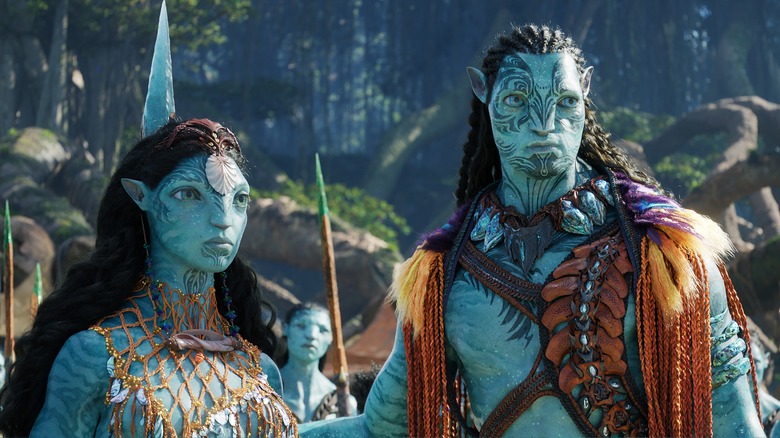 Walt Disney/20th Century Studios
Naturally, every costume designed for a film begins with a sketch, so all of the costumes for "Avatar: The Way of Water" began on paper. From there, though, it wasn't simply a matter of the film's performance capture actors pretending to wear the clothing audiences eventually see on screen. Instead, Deborah L. Scott and her design team would construct each of the characters' threads for real so the actors could quite literally touch the costumes to help inform their performances.
"When you shoot performance capture for so long, you need to make sure that the actors know if they interact with their clothing," Scott told Looper in an exclusive interview. "They have to know what they're touching. It's not like a T-shirt; the costumes are more complex, so if they need to hold their shawl or whatever, they need to have those reference pieces."
Diving into a new method of costume design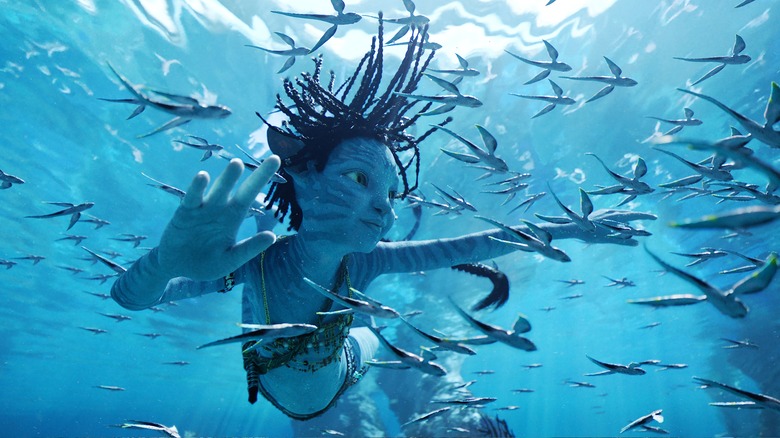 Walt Disney/20th Century Studios
Adding a wrinkle to Deborah L. Scott's costuming process was the fact that her costumes had to be designed for scenes both above and below Pandora's surface. "We did an immense amount of visual research in water with different materials, which led me to be able to figure out which materials sometimes to use for specific costumes," Scott explained. "Plus, we manufactured every single costume. Every single Na'vi costume was made — front, back, and center, every bit of it — so that takes a long time. It's about 200 hours, probably, per garment. I had an incredible team at Weta Workshop [to do that] for the most part and a few people in Los Angeles."
The reason designing costumes for underwater scenes in "Avatar: The Way of Water" was so complex, Scott said, is "because no one had ever shot performance capture literally underwater before."
"As they were developing the technology of the markers, I was developing how to put it together in a suit for the divers and the actors to be comfortable ... it was very complicated," Scott recalled. "Since the digital world has advanced, I knew that the costumes had to meet that level. They were going to be able to read every bead and every knot [on the costumes]. It gave me this freedom to make the costumes as complex or simple as I wanted."
"Avatar: The Way of Water" is playing in theaters in 2D and 3D.