Larry David Might Not Be As Similar To George Costanza As Many Fans Think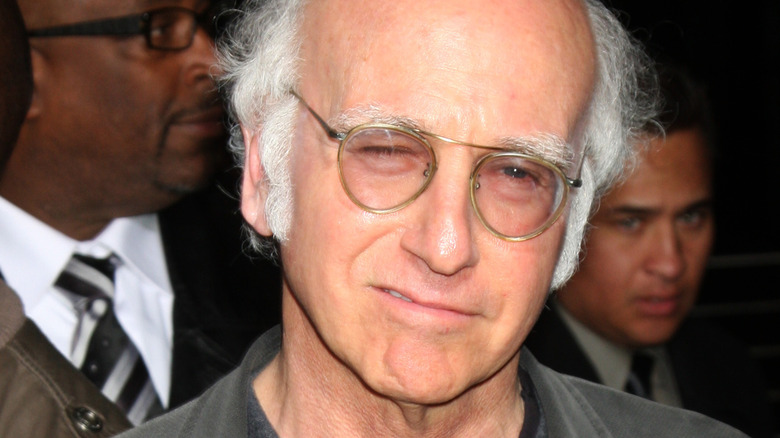 Kathy Hutchins/Shutterstock
Few sitcoms have ever experienced the fanfare enjoyed by "Seinfeld." The brainchild of comedians Jerry Seinfeld and Larry David, the "show about nothing" has arguably become one of the most iconic multi-camera sitcoms ever committed to film. The show ran from 1989 to 1998, delivering nine beloved seasons on NBC and some of the most legendary comedic premises of all time. However, much of the success experienced by the show has to do with the powerful ensemble of core characters featured on the show, which includes Seinfeld himself, Kramer (Michael Richards), Elaine (Julia Louis-Dreyfus), and George Costanza (Jason Alexander).
George, in particular, stands out as a fan favorite from the series. As Jerry's neurotic best friend, his insecure and cynical personality often led him to incredibly awkward situations with girlfriends, family members, employers, and just about anyone else. One of George's most interesting elements is that he is primarily based on David, despite not being played by the "Seinfeld" co-creator. That said, Seinfeld recently spoke out about the potential similarities between Larry David and George Costanza, admitting that the former is not quite as similar to the latter as some fans may think. Here is what the iconic comedian had to say when comparing George Costanza to Larry David.
While many fans compare the two, Jerry Seinfeld thinks Larry David is different from George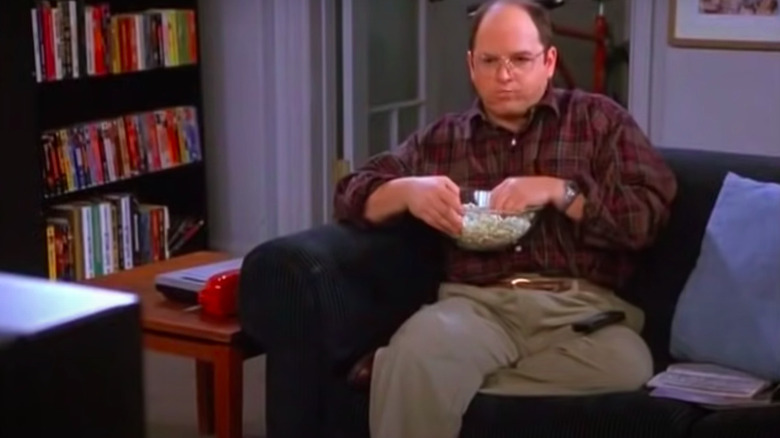 NBC
In 2013, Jerry Seinfeld participated in a Reddit AMA session to connect with his fans and answer their questions about his life and career. At one point in the discussion, a Reddit user asked Seinfeld about the similarities between Larry David and George Costanza. Addressing the comparison, Seinfeld noted that David is actually a much calmer and more normal person than Costanza.
Seinfeld said, "Larry David is not really that much like George in real life. George is a little bit angry. And does not care if he has to break the rules to get what he wants. And Larry David is not like that at all. Larry David is a very considerate and respectful kind of person. George is not." So, while many may think that George is based entirely off of how David acts in real life, that's not necessarily the case. It turns out that the real-life David is, in fact, much less volatile than Costanza, or even the David depicted in "Curb Your Enthusiasm," for that matter.
Of course, while Seinfeld's admission may have come as a surprise to some fans, it also served as a launching pad for some great "Seinfeld" references. Following his note about George being much angrier than David, "Seinfeld" fans chimed in with countless variations of "serenity now" references, as well as the iconic line "George is getting upset!"
Despite differences, George Costanza is still based on Larry David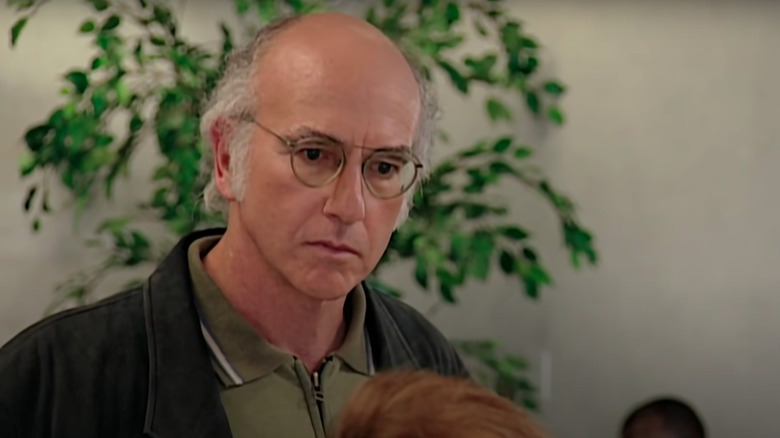 HBO
Despite Jerry Seinfeld's admission that Larry David is actually a much kinder person than George Costanza, the fact remains that George was definitely based on David's real-life experiences and personality. This is something that has been leaned into over the years, with David even stepping in to perform his own impersonation of George on "Curb your Enthusiasm." This seems to be an example of things coming full circle, with Jason Alexander admitting that his performance as George (via LA Times) was "as shameless a Larry David imitation as I could muster."
Moreover, some of George's most iconic exploits from "Seinfeld" were lifted directly from David's life. For example, the legendary "Seinfeld" episode "The Revenge" featured a subplot in which George quits his job only to return as if nothing had happened. As it turns out, this exact same thing happened to David during his time as a writer on "Saturday Night Live." In the writing of "The Revenge," David pulled from his own real-life experience quitting "SNL," and injected it into George's storyline. So, while there may be some notable differences between the real David and Alexander's performance, there are definitely enough similarities to make it clear that the character is based on him.