Larry David's Impression Of Seinfeld's George Constanza Will Have You In Tears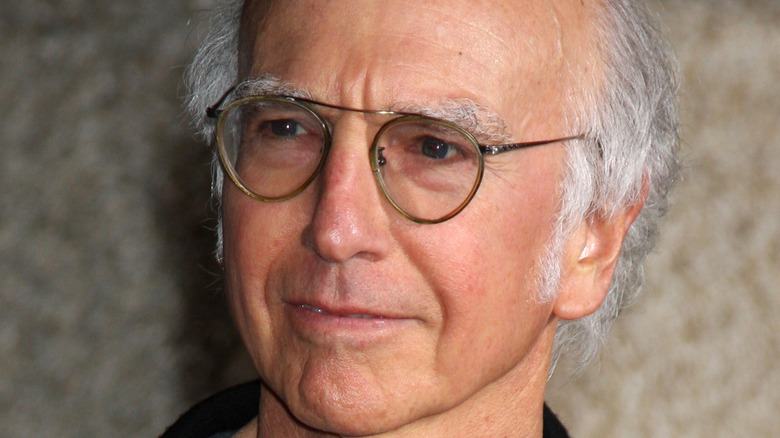 Kathy Hutchins/Shutterstock
It's got to be weird seeing an actor play you on TV. At the same time, isn't it the stuff of dreams? When Larry David cowrote "Seinfeld" and created George Costanza (played by Jason Alexander), he brought that vision to life, basing the character on his own less-than-admirable personality quirks and the odd situations he encountered in his everyday existence. And the funny thing is, the actor cast to play George didn't even realize it in the beginning. "When I first started doing the role, I didn't know it was Larry," Alexander said in a behind-the-scenes bonus of the "Seinfeld" reunion episode of "Curb Your Enthusiasm" (Season 7, Episode 10). "No one ever said he was writing his alter-ego."
Once he knew the truth, Alexander began studying David. He noticed, for example, that whenever David perceived a slight, he'd make a certain face. And he came to understand that, from George's perspective, the world was always out to get him (via Kennedy Molloy).
But what did David see when he watched Alexander play George on the show? Perhaps an exaggerated version of himself, but certainly not a realistic clone. Because when David tried his own impressions of the character, his attempts pivoted into a whole new comedy realm.
He's less than impressive at playing himself
In the "Seinfeld" reunion episode, Alexander walks off the set after David rewrites his final scene with Cheryl David (Cheryl Hines). The rest of the cast can't see continuing without George, so David jumps in to take over the role (per YouTube). "I'm George. I'm more George than he is," he insists. "I wrote it!"
David gives the role his all, imitating George's sarcastic snickers, booming delivery, and overall angry attitude. The end result, however, falls humorously flat. The main problem is David's failure to take it to level 10. When his "ho-ho" lands around level four in terms of commitment and volume, Alexander coaches him behind the scenes. "It's a full Gleason," he explains, referencing loud comedy legend Jackie Gleason, before demonstrating his own superior version of George's amped up cynical laughter.
Later, Alexander tries again to teach David how to imitate the proper George technique. They trade lines, and David is hopeful. "If he takes me through these one by one, it'll be better," he says.
Alas, that's not how things play out, as we see David proving over and over he's not cut out for the role. While Alexander gives him a good review in the end, reactions from the rest of the cast say otherwise. "How is his impersonation of George? It's not good," Julia Louis-Dreyfus says, her bluntness tinged with pity. And to his credit, David doesn't disagree. "I don't really do a good impression of George," he notes. "It's not easy. It's slightly unpleasant." But undeniably funny.