How Larry David Quitting SNL Inspired An Iconic Episode Of Seinfeld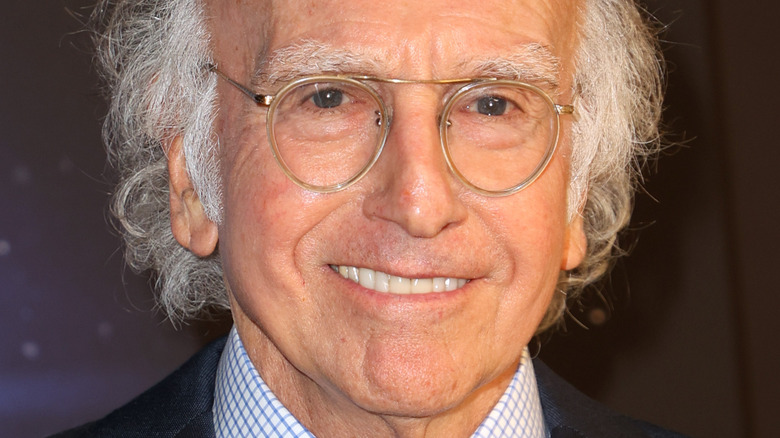 Kevin Winter/Getty Images
For the past two decades or so, Larry David has probably been best-known for playing a parody of himself on HBO's Emmy-winning comedy series "Curb Your Enthusiasm." Prior to masterminding that long-running premium TV staple, David had, of course, already helped mastermind a hit network series in NBC's  legendary comedy "Seinfeld." Being directly involved with not one, but two of the most successful television comedies in history might lead one to believe David has led a charmed life in the small screen realm. While that's certainly been the case since "Seinfeld" hit the airwaves, his early days in television tell a slightly different story.
In fact, one of the funnyman's biggest early breaks in television turned into a bit of a bust. That break came on NBC's legendary sketch comedy series "Saturday Night Live." David joined the illustrious show as a writer in 1984 after making a name for himself on the New York stand-up comedy scene. Unfortunately, as the comedian detailed to Vanity Fair in a 2017 interview, what was initially a cushy writing job turned into one of his most frustrating career sojourns, as he couldn't seem to get any of his sketches on the air.
That frustration indeed led the infamously feisty David to quit his "SNL" gig. But what he did after that would eventually serve as inspiration for one of the funniest story arcs "Seinfeld" ever delivered. 
David turned his SNL story into one of George Costanza's most memorable Seinfeld bits
As Larry David recounted in that Vanity Fair interview, he largely blamed then "Saturday Night Live" producer Dick Ebersol for his woes on the show, stating, "The sketches were funny at the readthrough but the producer, Dick Ebersol, he didn't care for them." According to David, a few weeks into the gig his frustrations were mounting, and came to a head after Ebersol cut one of his sketches mere minutes before an "SNL" episode aired. Per David, the last-minute cut prompted a fiery encounter with Ebersol, "I walked up to him and I went, 'this f****** show stinks! It's a piece of s***. I'm done! I quit! F*** you!' ... and then I left."
David apparently had a change of heart after mulling over the financial impact of quitting the job, a fact he recounted to his neighbor later that evening. It was then that David claims that neighbor offered an unexpected bit of advice — return to work on Monday and pretend nothing happened. That's exactly what David did. To his surprise, it actually worked. 
If that setup sounds familiar, it's because David later wrote it into a Season 2 episode of "Seinfeld." Titled "The Revenge," said episode finds George Costanza (Jason Alexander) pulling the exact same stunt. Things naturally don't work out as well for George, because, well, it's even funnier if they don't. Still, the arc remains one of the character's finest. And it's almost impossible to fathom the absurd tale actually happened in real life.