1923's Michelle Randolph Explores Her Character's Similarities To 1883's Elsa Dutton - Exclusive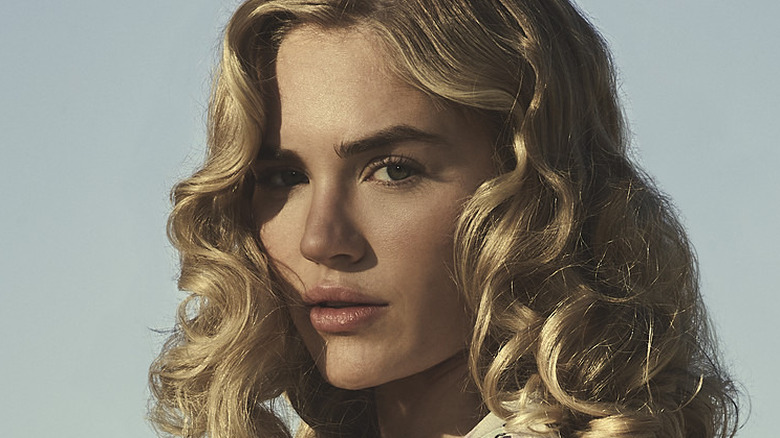 James Minchin III/Paramount+
While "Yellowstone" origin story "1883" was filled with high-profile stars like Tim McGraw, Faith Hill, and Sam Elliott traversing the Wild West, it was breakout star Isabel May as Elsa Dutton who stole the show.
As Elsa, May plays the fierce and feisty daughter of James Dutton (McGraw) and Margaret Dutton (Hill) who goes on her own journey of self-discovery and tragedy. The narrator of the series, Elsa is introspective, observant, and highly independent, particularly for a young woman in the late-1800s.
Now, on the spin-off series "1923," May returns as narrator, ushering in a whole new group of Duttons, including Harrison Ford and Helen Mirren as husband-and-wife ranchers Jacob and Cara Dutton. There's also a feisty young woman named Elizabeth Strafford — played by rising star Michelle Randolph — who's preparing to join the Dutton clan once she can get fiancé Jack Dutton (Darren Mann) to actually walk down the aisle.
A spirited young woman, Elizabeth could easily be compared to Elsa, with the two having similar physical qualities and a penchant for tenacity. It's a connection Randolph explored during an exclusive interview with Looper.
Creator Taylor Sheridan has a knack for strong female characters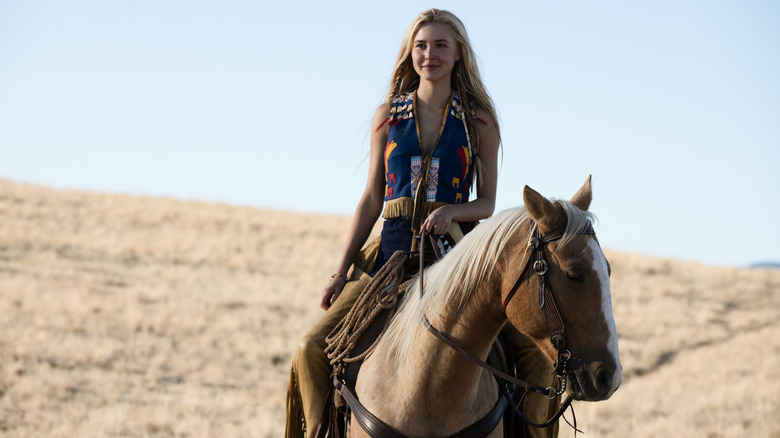 Emerson Miller/Paramount+
In the series premiere of "1923," we first meet Elizabeth Strafford when she learns that fiancé Jack Dutton has chosen to postpone their wedding in order to tend to cattle, which is the lifeblood of the growing Yellowstone ranch. Initially enraged, Elizabeth eventually cools down and reunites with her love — but it's made clear that she isn't a doormat.
While Elizabeth and Elsa have decades between them, there's still one thing they have in common: sheer determination. It's the connective tissue that binds the two women, as well as many of the other women in the "Yellowstone" universe.
"I think [creator] Taylor [Sheridan] writes his female characters with a lot of strength, and Elsa was such a strong character," said Michelle Randolph. "The same with Elizabeth. They're young women who are coming into their own and navigating their way through life and figuring out what their beliefs are."
So expect an unexpected journey for Elizabeth. You can follow her journey on her path in "1923," which streams Sundays on Paramount+.