1923's Darren Mann And Michelle Randolph On What It's Like Joining The Yellowstone Universe - Exclusive Interview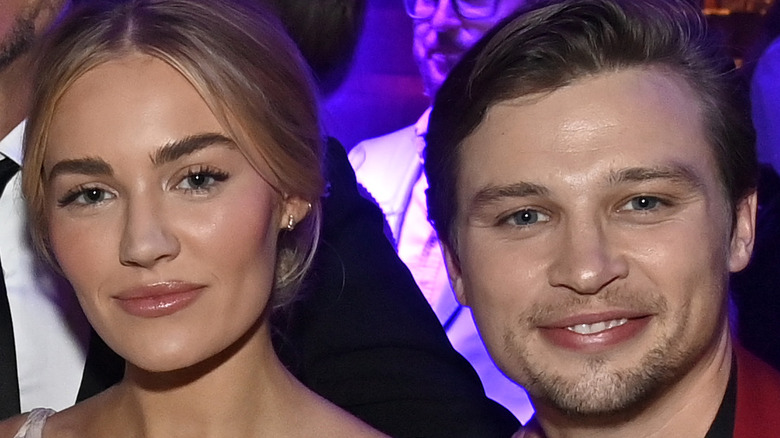 David Becker/Getty Images
For up-and-comers Darren Mann and Michelle Randolph, starring in the "Yellowstone" origin story "1923" is the break of a lifetime.
As the link between the first "Yellowstone" spin-off, "1883," and the modern-day tale of the Yellowstone ranch, "1923" follows Jacob Dutton (Harrison Ford) and Cara Dutton (Helen Mirren) as they work to keep their land and their cattle thriving during a major drought in the mountainous pre-Depression-era West. It's another chapter of the Dutton dynasty that helps tell the tale of how John Dutton III (Kevin Costner) became such a powerful man.
As Jack Dutton, who is John Dutton Sr.'s son and Jacob Dutton's great-nephew, Mann plays a dedicated rancher who is deeply loyal to his family. His soon-to-be wife, Elizabeth Strafford (Randolph), is a feisty and capable young woman who's learning that ranching often comes before anything else, even a wedding. Together, the couple is ready to uphold the family dynasty.
During an exclusive interview with Looper, Mann and Randolph talked about what it's been like joining the growing "Yellowstone" universe and revealed what Ford is like behind the scenes.
Harrison Ford is 'such a cool guy'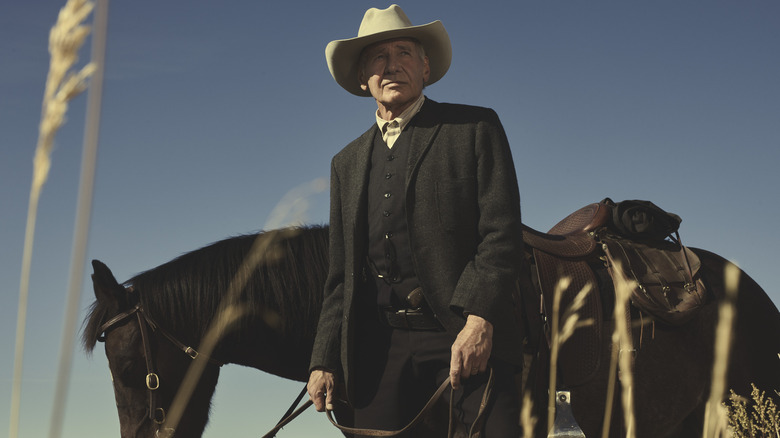 James Minchin III/Paramount+
You two are engaged to be married on the show. Considering the success of "Yellowstone" and "1883," what does it mean to each of you to now be part of the Dutton dynasty?
Darren Mann: It's a dream come true. I've wanted to work with Taylor Sheridan for years. I'm such a fan of his films, like "Wind River," "Sicario," and "Hell or High Water" — these are some of my favorite movies ever. So I've been trying to hunt him down for a while.
It's really neat what he's done with "Yellowstone," the way he's reinvented Westerns. He's brought them back to life. It's tough nowadays to get what you make seen, with how much content is out there. To get to be a part of something that already has such a huge, loyal fan base is really special and unique, and I'm very grateful for it.
Michelle Randolph: As am I. I'm a big fan of "Sicario" and "Wind River," and knowing how many people love "Yellowstone" — and I loved "1883" ... I haven't had a chance to fully watch all of "Yellowstone" because it all happened so fast. But "1883" is one of my favorite shows. To be part of something that's special with such a loyal fan base is awesome.
Darren, you play Harrison Ford's great-nephew. What has it been like working so closely with a living legend?
Mann: That's exactly what he is — he's a legend. One of the coolest things is when you get to meet your childhood heroes and they turn out to be such great people. That's the most special thing because we all know he is amazing [on-screen]. We all love his films. But getting to learn who he is as a person and to hang out with him has been such a great experience I'll never forget. They're some of the greatest memories of my life. He's such a cool guy.
They had to go to 'cowboy camp' before filming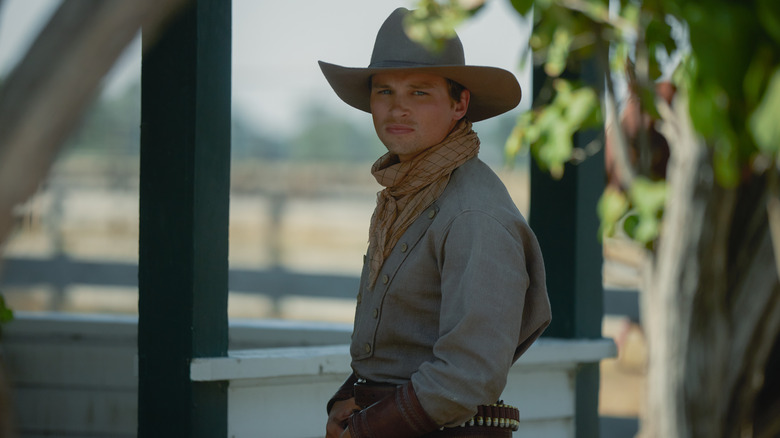 Emerson Miller/Paramount+
Michelle, on the surface it seems like you might get comparisons to Elsa Dutton, played by "1883" breakout star Isabel May. Do you see similarities between those two characters?
Randolph: I think [creator] Taylor [Sheridan] writes his female characters with a lot of strength, and Elsa was such a strong character. The same with Elizabeth. They're young women who are coming into their own and navigating their way through life and figuring out what their beliefs are. That's a cool journey we see Elizabeth go on throughout the series.
I've interviewed several of the stars of "1883," so I've heard about the rigors of "cowboy camp." I assume Taylor put you guys through that too. If so, what was that experience like?
Randolph: It was so much fun. We loved cowboy camp. I would go back there now if I could.
Mann: It's the best way to start a job. Western or not, you should start like that. We wanted to look good doing what we're supposed to know how to do, so that was super helpful. A lot of times, you only get a day or two to work on something you're going to do on set the next day. So for them to dedicate this time [for] us to get to learn and to have all these amazing cowboys and great horses there for multiple weeks prior to starting was really special. I'm grateful. Then, also, getting to meet your castmates before day one and getting to go through something with them and create bonds was so great. It was such a good way to start a job.
"1923" premieres on December 18 on Paramount+.
This interview has been edited for clarity.