The 12 Best TV Holiday Specials That Will Make The Season Merry And Bright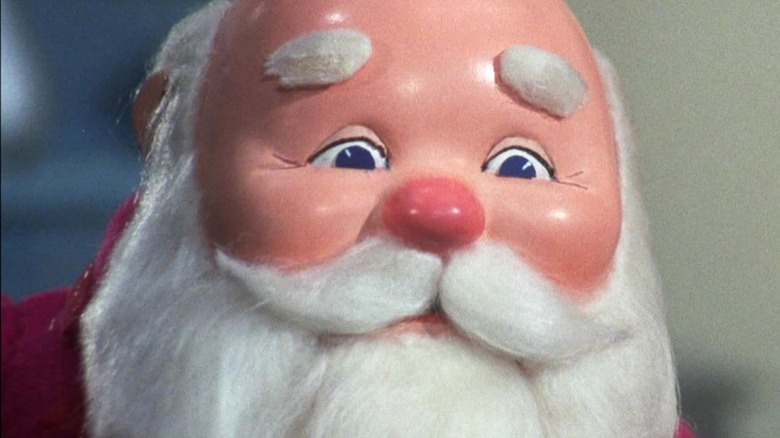 ABC
The holidays are here, and with them comes the time-honored tradition of watching our favorite movies, specials, and more! Though we love talking about the best Hallmark holiday features and our favorite underrated Christmas classics, we can't forget to mention the TV holiday special. Parents, grandparents, siblings, and even your grumpy uncle can't resist watching these timeless tales. Some of these classics are animated while others are live-action — but all of them hold a special place in our hearts. 
The tradition of the holiday TV special is as old as television itself. For many years, these celebrated classics have graced our screens either through syndication or thanks to the technological miracle of digital release. There are even DVD bundles of some of our favorite holiday specials in one convenient package — perfect stocking stuffers to enjoy while celebrating with family. So many TV holiday specials exist in the world, and every year the list grows longer — but we've managed to narrow down the best of the best. Here's our list of the absolute best holiday TV specials ever made.
A Muppet Family Christmas
December of 2022 marked the 30th anniversary of "The Muppet Christmas Carol," a beloved retelling of the Dickens classic. Starring acclaimed English actor Michael Caine as Ebenezer Scrooge alongside Jim Henson's Muppet pals, it's easy to see why this version of "A Christmas Carol" is the favorite of so many. Yet some years before the Muppets took on this literary masterpiece, there was a TV special that brought all of Henson's beloved characters together for the holidays.
In 1987's "A Muppet Family Christmas" Kermit, Fozzie, Gonzo, and the rest of the gang go to Fozzie's mother's farmhouse for an old-fashioned Christmas. Unfortunately, a blizzard delays Miss Piggy's arrival, causing worry from her froggy beau. Yet the Muppets still manage to find ways to celebrate the holiday –- from Fozzie forming a comedy duo with a snowman come to life to Dr. Teeth and the Electric Mayhem performing a rousing rendition of "Jingle Bell Rock."
It's not just the weirdos from "The Muppet Show" who come together to celebrate the holidays, though. The residents of "Sesame Street," "Fraggle Rock," and even the man himself, Jim Henson, gather to spread holiday cheer. As you might expect, there are wholesome sing-alongs of familiar holiday favorites as well as the kind of humor that only the Muppets can provide. "A Muppet Family Christmas" is a Christmas classic that still holds up well and gives us that warm, fuzzy feeling inside when we watch it.
A Charlie Brown Christmas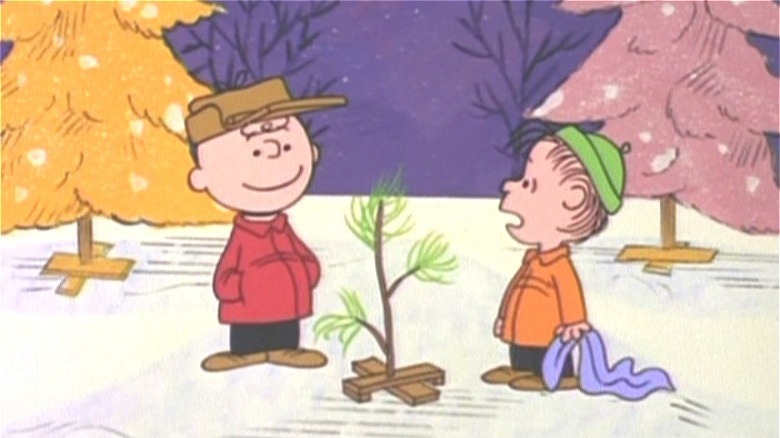 CBS
It's impossible to make a list of the best Christmas TV specials without Charles Schulz's American staple, "A Charlie Brown Christmas." The story of a little bald boy, his sad little tree, and a group of children who would rather dance hysterically to jazz piano than listen to the meaning of Christmas has stood the test of time for almost six decades.
Schultz's "Peanuts" comic strip has been a huge hit since it first premiered in the 1950s. When producer Lee Mendelson got a call from the Coca-Cola Company that they were interested in sponsoring a TV special for the holidays, he knew exactly who to tap. Together with animator Bill Melendez, the trio came up with the pitch for "A Charlie Brown Christmas" in one afternoon, and the production was completed in six months.
Schultz and the others didn't exactly have high hopes for the special, but "A Charlie Brown Christmas" proved to be a massive success when it aired on CBS in December 1965. With its pastoral winter scenes, modern soundtrack, and positive message about the true spirit of the holiday, the 30-minute animation won a Primetime Emmy and a Peabody Award in 1966. It has stood the test of time with its simple yet powerful message and can be seen in syndication every holiday season.
Rudolph the Red-Nosed Reindeer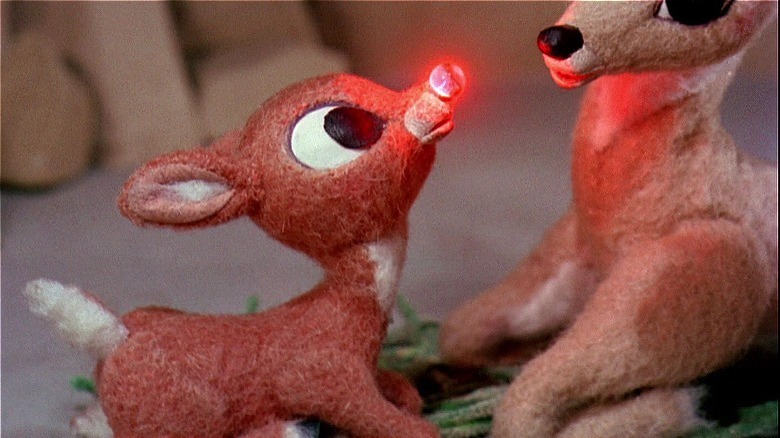 NBCUniversal
Besides "A Charlie Brown Christmas," this stop-motion animation from Rankin/Bass is probably the most popular holiday special of all time. Inspired by the 1949 song by Gene Autry, "Rudolph the Red-Nosed Reindeer" is a tale about bravery in the face of adversity and embracing one's uniqueness. It also doesn't hurt that it has some of the most memorable Christmas characters ever created.
The story of Rudolph (Billie Mae Richards) begins and ends much like the Autry song. A young reindeer in the North Pole is born with an unusual physical feature -– a large red nose that glows. When Rudolph's nose is revealed to the other reindeer in Santa's flying team, they laugh and make fun of him. However, when a dense fog rolls in on Christmas Eve and Santa's sleigh ride is in danger of being canceled, it's Rudolph that saves the day. Rudolph leads the team of reindeer through the mist with his bright red nose and becomes a legendary hero — one who goes down in history.
The familiar tale is expanded upon in Rankin/Bass' version through the addition of whimsical, off-beat supporting characters. There's Hermey (Paul Soles), an elf in Santa's workshop who dreams of being a dentist, and Yukon Cornelius (Larry Mann), a stout adventurer. Along with the Island of Misfit Toys, the Abominable Snow Monster, and a talking snowman voiced by Burl Ives, "Rudolph the Red-Nosed Reinder" has plenty of memorable moments. It's a beloved classic shown in many homes at this time of year -– a tradition that is sure to continue through the coming generations.
Frosty the Snowman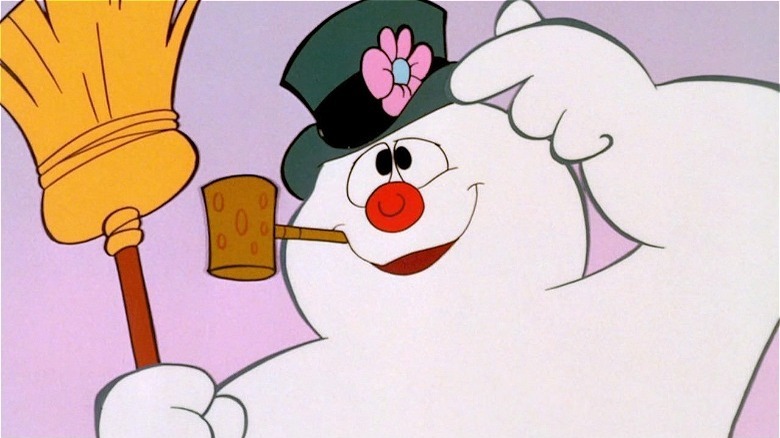 CBS
The Rankin/Bass team adapted yet another classic holiday song into an animated TV special -– this time with the use of traditional 2D animation. The 1969 cartoon "Frosty the Snowman" is a magical musical adventure in which the schoolchildren of a small town build a snowman who comes to life. However, when the sun beats down and threatens to melt their new frozen friend, they get the idea of moving Frosty to the North Pole to save him.
Frosty is joined by a little girl named Karen and a rabbit named Hocus, who accompany him on his journey to the North Pole. However, the group is being chased by a hack magician named Professor Hinkle. When Hinkle's magic act for the children goes awry, he throws away his top hat in a rage, only for the kids' to use it on the snowman and bring him to life. Once he learns that the hat he thought was defective is indeed magical, Hinkle is determined to reclaim it for himself. 
"Frosty the Snowman" is a fun-filled romp for young viewers and a nostalgic trip for grown-ups. The TV special spawned two sequels –- one in 1976, "Frosty's Winter Wonderland," and another in 1992, "Frosty Returns." 
The Guardians of the Galaxy Holiday Special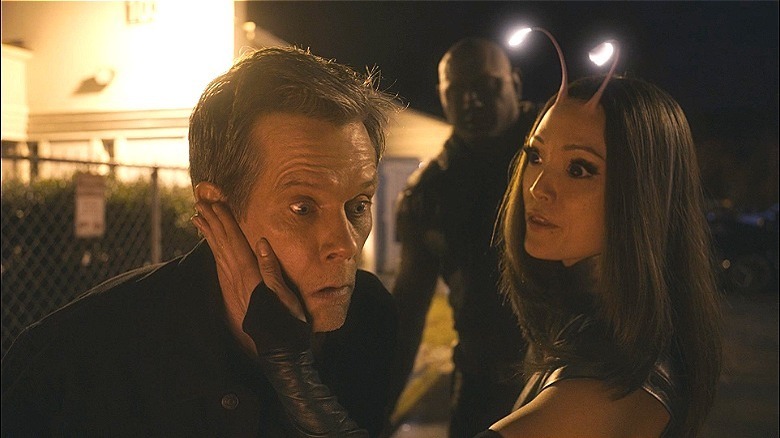 Disney+
There are plenty of older holiday TV specials on the list, but one that just came out in 2022 is sure to go down as an instant classic. Written and directed by James Gunn, "The Guardians of the Galaxy Holiday Special" stars our favorite heroes from the films as they learn about Earth's most popular holiday — Christmas.
The special begins on the planet Knowhere, where Peter "Star-Lord" Quill (Chris Pratt) is still grieving over the loss of Gamora. After Kraglin (Sean Gunn) tells the sad story of how Yondu (Michael Rooker) wrecked Christmas for Peter when he was younger, Mantis (Pom Klementieff) and Drax (Dave Bautista) decide to give Peter the kind of Christmas he's always wanted. This, of course, means going to Earth and abducting Peter's hero, Kevin Bacon, and giving him to Peter as a Christmas gift.
Things go pretty much as you'd imagine, as Drax and Mantis are both enchanted and bewildered by Earth's customs and leave unintentional destruction in their wake. However, they do succeed in helping Peter rekindle his joy for the season -– although he does reprimand them for kidnapping the Hollywood star and sees to it that Bacon is returned home safely. "The Guardians of the Galaxy Holiday Special" is a hilarious holiday romp that will have you laughing throughout its 42-minute runtime while bringing a tear to your eye.
The Snowman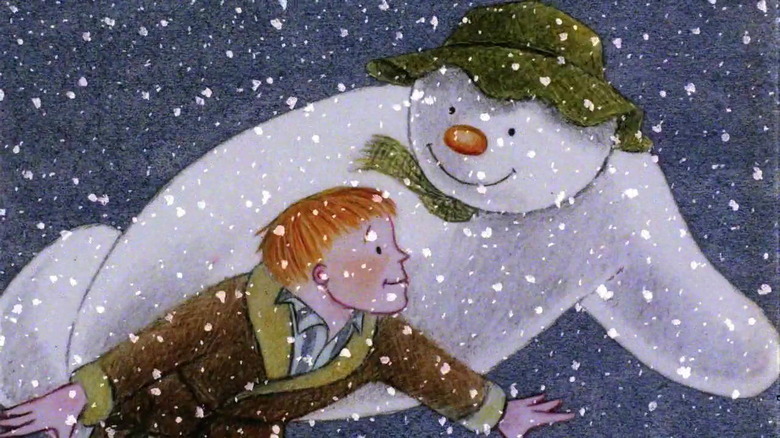 Channel 4
Sometimes dialogue is required to tell a story but there are also cases where all you need are simple yet effective visuals and an emotionally charged soundtrack. This is especially true for the 1982 TV special "The Snowman," which utilizes simple pencil art and a gorgeous musical composition to tell an unforgettable tale. Thanks to creative storytelling, there is no need for words in this enchanting short film.
"The Snowman" is a British animated TV special based on a children's book by Raymond Briggs. The story opens with a boy building a snowman one snowy morning, which then magically comes to life at the stroke of midnight. Together the snowman and the boy embark on a wondrous journey, all without saying a word. "The Snowman" is a beautiful holiday special that stands the test of time thanks to the talented animators and a beautiful score by Howard Blake. 
The Little Drummer Boy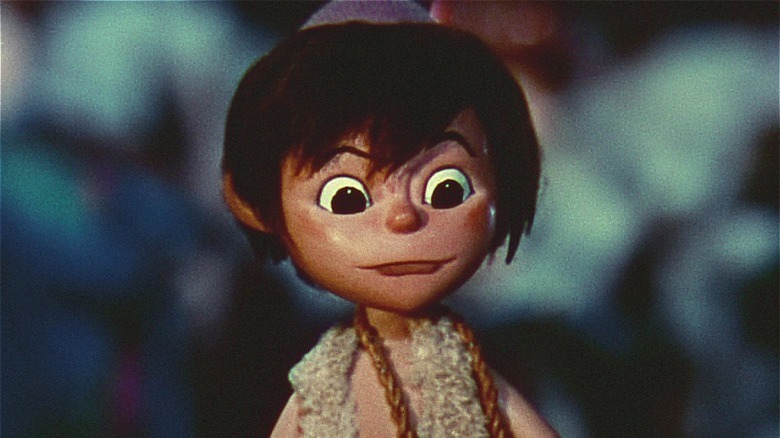 NBC
Another classic holiday TV special from the studio that brought us "Rudolph the Red-Nosed Reindeer," "The Little Drummer Boy" is another tale adapted from a beloved Christmas song. The lyrics of the original tune tell the story of a little boy who goes to visit baby Jesus in Bethlehem. While the three wise men offer generous gifts to the newborn of gold, frankincense, and myrrh, the boy is poor and has nothing substantial to give. So he plays his heart out on the one thing he does have — his drum.
The Rankin/Bass stop-motion animated special is a retelling of this beloved story. A boy named Aaron (Teddy Eccles) is newly orphaned and forced from his home. Aaron and his animal companions are soon captured by the wicked leader of a performance troupe named Ben Haramed. Thankfully, they manage to escape Haramed and join a group of wise men following a star. When they reach their destination, Aaron witnesses the wise men giving gifts to baby Jesus. Having nothing else to offer, Aaron plays his drum for the very special baby. 
This version of "The Drummer Boy" has some darker themes, yet is filled with the hope and joy of the holiday season, making it an interesting special to revisit.
A Garfield Christmas Special
First featured in the comic strip created by Jim Davis, there have been many interesting adaptations of Garfield over the years. From his own animated series, "Garfield and Friends," to feature film reboots, the sarcastic furry feline has undergone many changes but still has his claws sunk into our hearts. 
In the holiday classic "A Garfield Christmas Special" Garfield, along with his owner Jon Arbuckle and sometime nemesis Odie, take a trip to the Arbuckle farm to spend Christmas with Jon's family. As we're introduced to the members of the Arbuckle clan, we can find parallels to people we know from our own lives. Jon's mother makes way too much food, and his father is gruff on the outside but sentimental at heart. Our favorite, though, is the grandmother, a wily lady who proves that age is just a number.
While there is plenty of the humor that this cartoon cat is famous for, there's also a sweet subplot at the heart of "A Garfield Christmas Special." Though only 24 minutes long, this Christmas special is a warm and fun-filled trip down memory lane that continues to feed our holiday cravings.
How the Grinch Stole Christmas!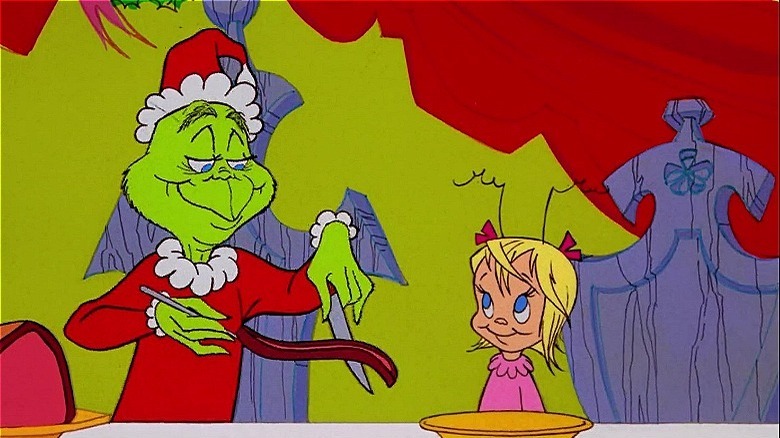 CBS
The 2000 live-action version of "How the Grinch Stole Christmas," which stars Jim Carrey as the malevolent Seussian icon, is a treasured holiday film for many millennials. Yet credit must be given where it is due -– to the original 1966 animated special that first brought everyone's favorite green villainous miser to life. Based on the Dr. Seuss book first published in 1957, legendary animator Chuck Jones of "Looney Tunes" fame produced the colorful animated spectacle that would make the Grinch a household name.
We all know the story – the Grinch hatches a horrible plan to steal Christmas from the Whos and put an end to their irritating merriment. However, even when his plan is a success, the Whos continue to sing and celebrate the holiday despite the lack of lights, gifts, and delicious foods. Their unbreakable spirit inspires the Grinch to change his ways and return everything he stole, and he is then invited to join in the festivities.
The message at the heart of Dr. Seuss's timeless tale is just part of the reason why "How the Grinch Stole Christmas!" has remained one of the best holiday specials of all time. Songs like "You're a Mean One, Mr. Grinch," "Trim Up the Tree," and "Welcome Christmas" have become part of the traditional holiday sing-along in many households, thanks to the catchy melodies and memorable lyrics — what we can understand, anyway. For these reasons and more, "How the Grinch Stole Christmas!" continues to steal our hearts after all these years.
The Best Christmas Pageant Ever
Generation Xers are possibly the most familiar with this hidden gem, "The Best Christmas Pageant Ever," since many elementary schools made it required reading during the holidays. Based on the 1971 novel by Barbara Robinson, this made-for-TV movie from 1983 stars character actor Loretta Swit and was the screen debut for Fairuza Balk.
In "The Best Christmas Pageant Ever," Sunday school teacher Grace Bradley (Swit) must contend with the Herdman family -– the meanest kids in town, whose lack of parental guidance has left them with a bad reputation. When the group of six delinquent children volunteers to perform in the annual Christmas pageant, everyone is convinced that the play is sure to be a disaster. Since none of the other kids want to work with the Herdmans, Bradley takes on the task of directing the pageant while keeping the Herdman kids under control. She is surprised to discover that the Herdmans are very astute with some of their observations of the Nativity, and their unique take on the classic story actually enhances the quality of the performance.
"The Best Christmas Pageant Ever" is as funny as it is heart-warming, and it's a great special that still holds up almost 40 years later. If you've never seen this oft-overlooked holiday treasure, consider purchasing it on DVD as a gift for the whole family.
'Twas the Night Before Christmas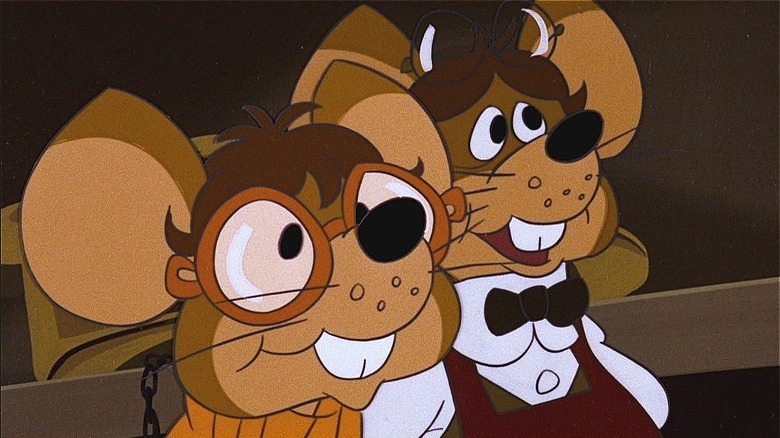 CBS
Many families who celebrate Christmas hold the time-honored tradition of reading Clement C. Moore's classic poem, "A Visit from St. Nicholas" -– or, as it's more commonly known, "'Twas the Night Before Christmas." In 1974, Rankin/Bass Productions created a 2D animated special named after the poem using the better-known title. The TV special deviates quite a bit from its source material, creating an original story centered around the fictional town of Junctionville, a clockmaker named Joshua Trundle (Joel Grey), and a family of mice.
In Junctionville, the townsfolk are shocked to find that the children's letters to Santa have been returned to their senders. Joshua Trundle's assistant, Father Mouse (George Gobel), calls the North Pole and he learns that someone published an open letter to Santa in the town newspaper declaring that no one in Junctionville believes in him. Meanwhile, Joshua presents an idea to the Mayor of Junctionville (John McGiver) to build a giant clock tower that will play a Christmas song in the hopes of pacifying Santa.
"'Twas the Night Before Christmas" is one of just a few 2D animated specials from Rankin/Bass, along with "Frosty the Snowman." It's sometimes overlooked compared to the many other holiday specials released by the studio, but that in no way diminishes its value and charm. Like all Rankin/Bass productions, the special provides a certain unique charm and a timeless holiday warmth, making it required viewing for many.
The Year Without a Santa Claus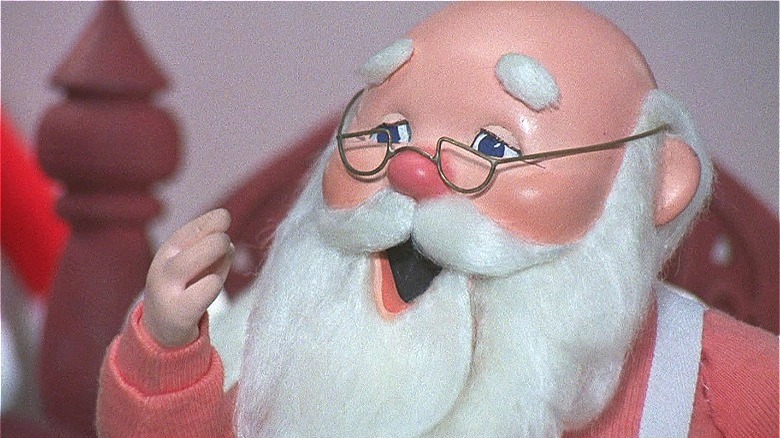 ABC
You might be saying to yourself, "Gee, there's a lot of Rankin/Bass titles on this list," and you'd be right. The truth is that for over a decade their animation team was the king of Christmas specials, pumping out quality new content for several years. While not all of them were winners when they were first released, audiences have come to appreciate the nostalgic charm of these animated wonders as the years roll by.
In 1974, Rankin/Bass studio aired yet another holiday special with iconic characters and toe-tapping musical numbers. In "The Year Without a Santa Claus," Santa (Mickey Rooney) decides it's time to take a vacation from delivering gifts on Christmas when his doctor tells him that the children of the world just don't believe in him anymore. Horrified by the idea, Mrs. Claus (Shirley Booth) sends out two of Santa's best elves, Jingle and Jangle (Bob McFadden and Bradley Bolke), to prove that is not the case.
On their journey, Jingle, Jangle, and the reindeer Vixen get caught in the crossfire of an old rivalry between the Miser brothers, Snow Miser (Dick Shawn) and Heat Miser (George S. Irving). Santa goes to rescue his loyal workers in the town of Southtown. There he learns that while many of the residents are nonbelievers, one boy named Iggy (Colin Duffy) and his family still believe in him. Together, the group finds a way to end the fighting between the Miser brothers and help the people of Southtown learn to believe again.