12 Best Hallmark Christmas Movies Of All Time Ranked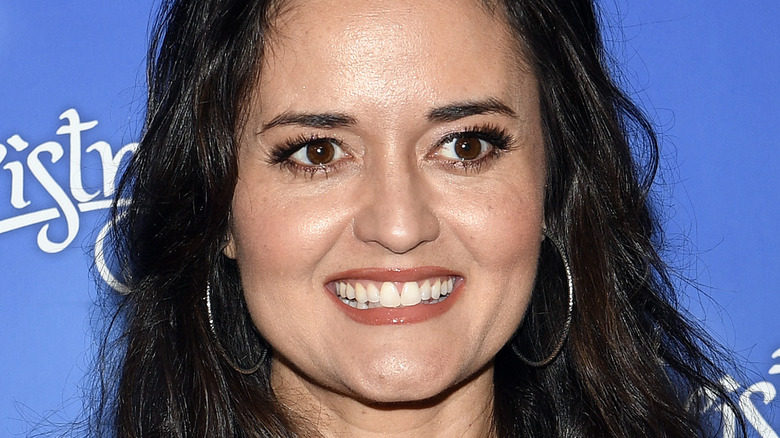 Michael S. Schwartz/Getty Images
When it comes to celebrating Christmas, no brand goes all-in more than Hallmark. For decades, they have produced and distributed more holiday-themed movies than anyone could conceivably see in their lifetime. While most of their titles are romantic comedies, they really cover the gamut of holiday experiences. Sure, many of them are about women in a tough situation finding a new lease on life through the power of Christmas, but they don't always shy away from more difficult subject matter either.
Whether you're interested in cinematography that sparkles with dazzling Christmas flare, or you tend to gravitate to stories about the triumph of the human spirit, Hallmark has got you covered. To help you find the best that Hallmark has to offer, we have ranked their 12 best films over the last few decades. From a vacation booking gone wrong and resulting in romance to the bitter cold of World War II, this list has something for everyone.
12. Christmas Getaway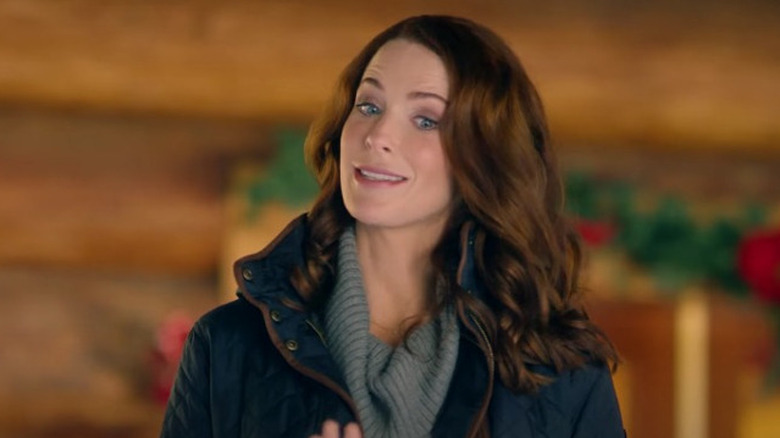 Hallmark Channel
Part of the comfort that comes along with Christmas is its traditions. This, perhaps, is why so many holiday movies feature a character who has lost sight of the nurturing effect of familiarity, learning through incredible circumstances that safety and predictability can be just the thing to get your life back on track.
This usually takes the form of an overly busy and successful person becoming so wrapped up in their work that, in the rush to make as much money as possible, they fail to see the point in things like family and celebrations. In those instances, they typically visit home for the first time in years, meet an old flame, and reignite that dormant passion. "Christmas Getaway" does things a little differently by taking a traditional person and putting her in a surprising situation.
Bridget Regan plays a travel writer who describes herself as "more transient than traditional," resulting in the end of her current relationship. She's more interested in discovery than she is in stability. So when she books a cabin for a little vacation, only to find it has been double-booked with a widower (played by Travis Van Winkle) and his mother and daughter, she's obviously resistant to the idea of spending her holiday with a family that cherishes classic Christmas activities. However, the more time she spends with them, the more she starts to appreciate what she's been missing.
11. Crown for Christmas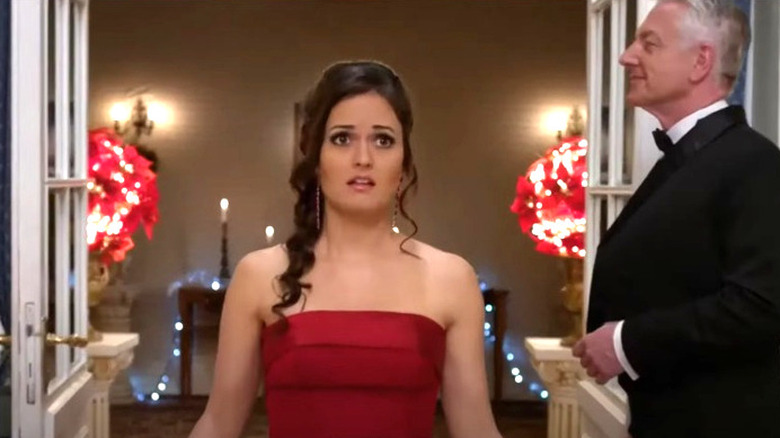 Hallmark Channel
There is a certain amount of wish fulfillment inherent in the holiday season. For some kids, getting that big-ticket item from your wishlist can be like a dream coming true. For others, spending time with the ones you love despite any hardships you may be experiencing makes the struggle worth it. Therefore, it's no surprise that a common trope in Hallmark holiday movies is a kind, generous person in a tough spot getting more than they could have possibly imagined during the holiday season.
Such is the case with the 2015 film "Crown for Christmas," starring Danica McKellar as a housekeeper for a luxurious hotel who loses her job one week before the holiday. The film makes sure to let the audience know what a great person she is by emphasizing her optimism and Christmas spirit in the face of mounting debt. She lives with her brother and sister in the big city, where everything is expensive and work is hard, but that doesn't faze her.
This ensures that we're on her side when she finally finds some good fortune and is hired as the governess for a king's daughter. Her optimism and work ethic allow her to hold her own amongst the royals and warm the heart of the widower king. It's a tad predictable (aren't most Christmas movies?), but it hits every beat needed to put you in the holiday spirit.
10. Christmas With Holly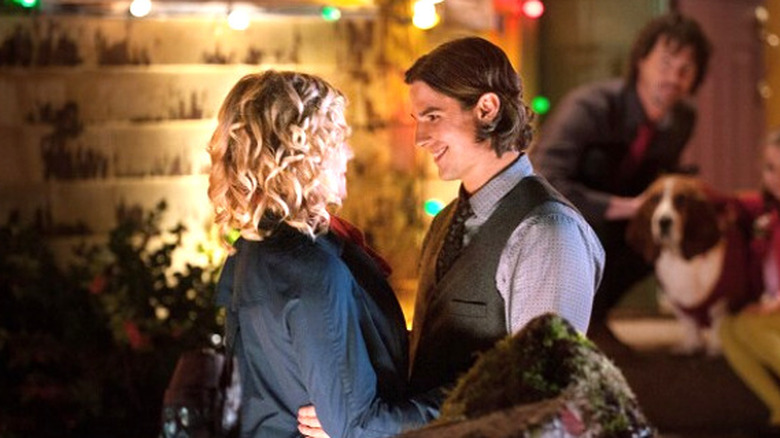 ABC/Hallmark
The best ways to make an audience care about your characters are to show them either losing something they care about, or working hard to make the best of a bad situation. "Christmas With Holly" does both. The film opens with a bride named Maggie (played by Eloise Mumford), in a wedding dress, morosely realizing her groom isn't going to show up.
We then meet Holly, a little girl in the first grade who hasn't spoken since the recent death of her mother. She is being taken care of by her uncle Mark (played by Sean Faris) who wants her to succeed so badly that he's doing her homework for her. Maggie and Mark meet on the ferry to a small town in Washington state where Maggie, who's a toy store owner, picks up Holly's dropped teddy bear and makes sure to let her know that the bear is unharmed.
Even before this scene, we know Mark and Maggie are going to be together — it's a rom-com, after all — but what's interesting about this interaction is that there's no instant spark or love at first sight; it's just two kind people meeting. The fact that the movie takes place around the holidays is almost an afterthought, as it lacks typical Christmas movie decor. It doesn't exude holiday atmosphere the way other entries on this list do, but it warms the heart just the same.
9. Journey Back to Christmas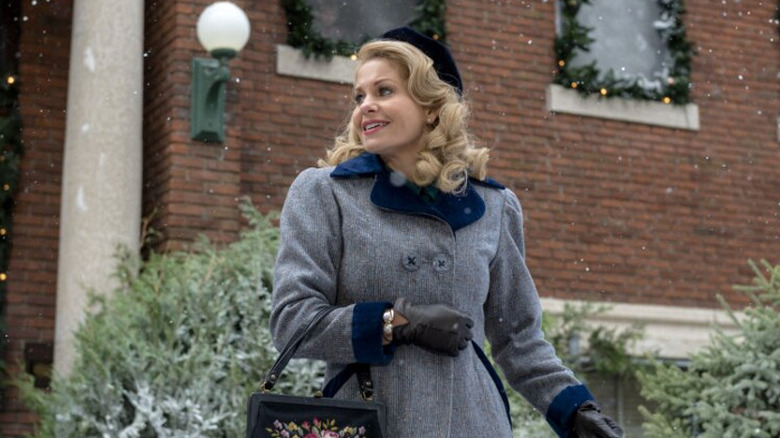 Hallmark Channel
In "Journey Back to Christmas," Candace Cameron Bure plays Hanna, a widow from the 1940s who is magically transported to the year 2016 on the night of the Christmas comet. In her time, she is a lonely woman who tries to take solace in her work as a nurse, but the death of her husband, who was serving in World War II, is still too much to bear. Her friends and coworkers try to cheer her up and include her in their festivities, but she simply isn't feeling the Christmas spirit.
After Hanna returns a stray dog to its owners, the universe rewards her by sending her ahead in time to spend the holidays with a big family who welcome her into their home, despite some of them doubting her origin story. This is one of those Christmas movies that utilizes the magic of the holiday season by exploring themes of loss and self-discovery through an impossible, fantastical premise.
It's something sadly lacking in other Christmas films (many of which prefer to tell typical rom-com stories set during December) and it is great to see. The scenes set in the '40s have the nostalgic haze that comes with sentimental depictions of the period, while the 2016 scenes have a cozy, warm atmosphere that makes you feel right at home.
8. The Nine Lives of Christmas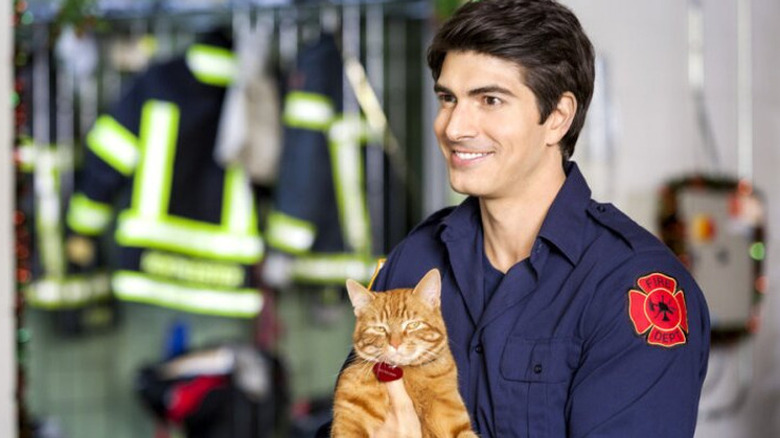 Hallmark Channel
There is an understated magic at work in "The Nine Lives of Christmas." The movie never telegraphs exactly what's going on, but it seems as though the universe really wants the two stars of the film to get together. When they pass each other on the road, they share a polite wave but since they're both in vehicles, nothing progresses beyond that. Therefore, two cats are sent in to make this love connection happen.
Former Superman Brandon Routh plays a fireman named Zachary. He's a nice guy and very popular with the opposite sex, but isn't a fan of commitment. His explanation for this is that since he works 24-hour shifts, he doesn't "do commitment." The reality is that he also spends a lot of time flipping houses in order to keep himself busy enough to not have to think about finding a life partner, because he doesn't believe in long-term relationships since his parents split up.
At the same time, Marilee (Kimberly Sustad) is working at a pet food store while attending veterinary school. She has a great way with cats and people, but is also avoiding relationships because she wants to focus on getting her career going before committing to someone. Two cats enter Marilee and Zachary's lives, which causes their paths to cross again. It isn't the most Christmassy movie on the list, but it's never boring and even spawned a sequel.
7. A Bramble House Christmas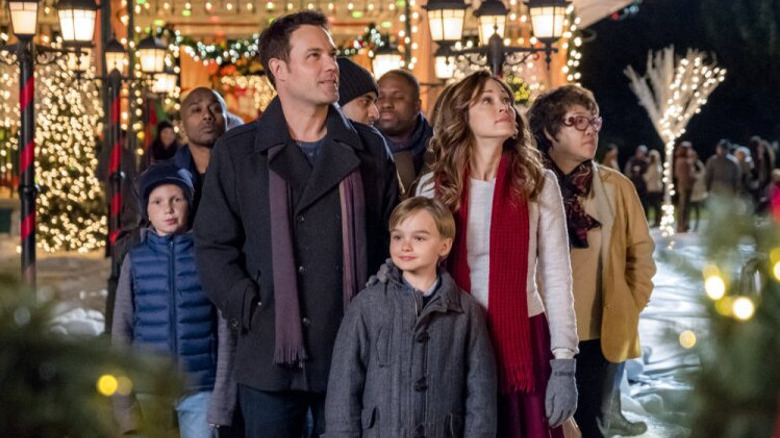 Hallmark Channel
The Hallmark Christmas movie formula usually goes like this: someone who seems to have everything meets someone who lost something and it turns out that the one thing both people were missing was each other. Aside from being a great-looking film, "A Bramble House Christmas" adds a slight (and welcome) twist to that formula by making one of the people in the equation grapple with some heavy issues.
It's nothing special when compared to a prestige drama, but for a Hallmark movie, it's complex stuff. The conceit of the film is that a health aide named Willa (played by Autumn Reeser) inherits the estate of her wealthy employer following his death. The deceased's son, Finn (David Haydn-Jones), is suspicious of the generous offer and seeks to prove that she manipulated her father into adding her to the will.
Willa, of course, is about as sweet and kind as people get in these movies, but Finn is bitter and angry because his father more or less abandoned his family when they were young. Having a protagonist who is dealing with grief in this way adds to the romance plot, because you aren't just tapping your foot waiting for the stars to get together. Instead, you're invested in Finn's progress and hope he can forgive his father and embrace the future.
6. The Most Wonderful Time of the Year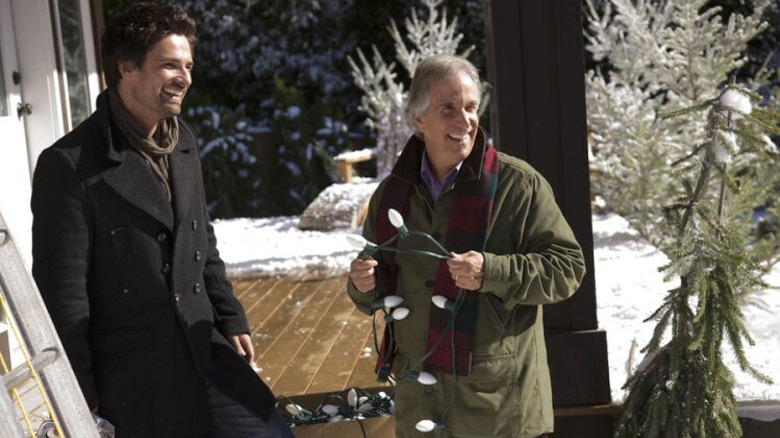 Hallmark Channel
Pop culture icon Henry Winkler brings some serious Fonzie energy to his character in "The Most Wonderful Time of the Year," which is appropriate since he's playing a confident former cop who is still as cool and capable as ever and doesn't have time for any fancy nonsense. He's a guy who cuts to the chase and always looks out for the people closest to him, much like his legendary "Happy Days" character.
The protagonist is a single mother named Jennifer (Brooke Burns), a successful businesswoman with an analytical mind who's struggling to give her son the perfect Christmas he deserves. She's in a relationship with a wealthy man who she sees as safe and stable, but who her uncle Ralph (Winkler) thinks is untrustworthy.
With his ability to cut through the noise and operate from the heart (rather than the brain), Ralph makes it his mission to help his niece embrace the more passionate side of life. So he sets her up with a stranger (Warren Christie) he met in the airport who is anything but stable. The movie takes a different, refreshing look at how the holidays can affect people by telling a story about someone who wants to be seen as the model of Christmas cheer, but is totally unprepared for the pressures of that impossible standard.
5. Signed, Sealed, Delivered for Christmas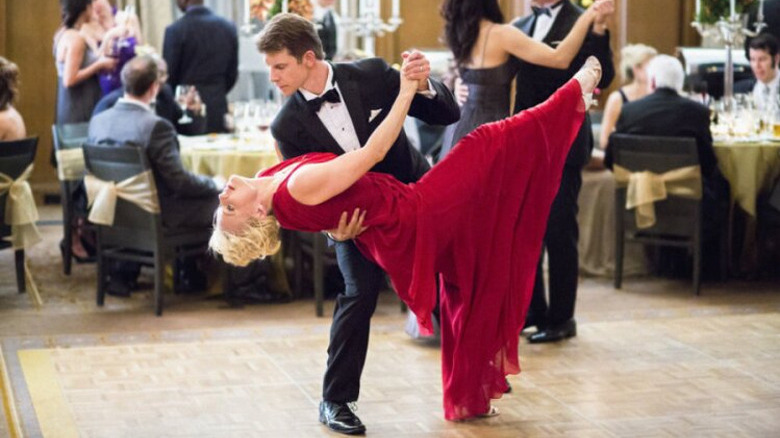 Hallmark Channel
"Signed, Sealed, Delivered" was a Hallmark television series about a department in the American postal service with the mission of making sure that mail which typically can't be delivered finds its way to the proper party. It lasted for one season before becoming a series of TV movie specials. The first of these specials is "Signed, Sealed, Delivered for Christmas."
If you've never seen the show before, there's a bit of a learning curve when jumping into the film. It doesn't exactly lay out its premise to new viewers, causing them to play catch-up on the concept and the characters while also trying to follow the story for this specific special. That may hinder some from enjoying the film as its own thing, which is why the movie doesn't rank slightly higher.
In terms of production value, this is one of the best-looking entries on this list. The sets are lively, the lighting is cinematic enough, and the performances are all solid. Where it really excels, however, is in the story, about a little girl who writes a letter to God in an effort to save her mother's life. It's nice to see the more desperate and difficult side of the holidays getting highlighted here, as well as the determination of the characters to help in any way they can.
4. The Christmas Secret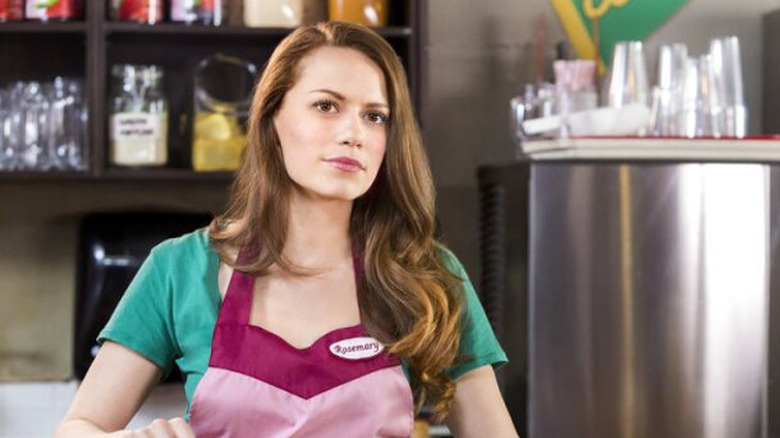 Hallmark Channel
Another tale of Christmas wish fulfillment, "The Christmas Secret" stands apart from others of its genre by feeling more grounded, despite revolving around a magical locket. Bethany Joy Lenz plays a single mother named Christine who lives in a house she can't afford, thanks to her job as a waitress, which she loses after being late one too many times. Not only is she newly unemployed and about to be evicted, but her ex is filing for custody of their children. 
After witnessing a car wreck, she saves the life of the driver, who is having a heart attack. This fateful event leads to a big change in her life, as the locket her mother gave her as a child falls into the heart attack victim's coat, guaranteeing that they will see each other again.
What makes this film more grounded than others is the systematic ways in which Christine's life breaks down and she begins to find her way back. It isn't as simple as a prince showing up and whisking her away to a new life; she takes a journey to reach her new destination (which includes uncovering an old secret), mirroring the lives of its viewers a little more accurately than your typical fairy tale.
3. A Dog Called Christmas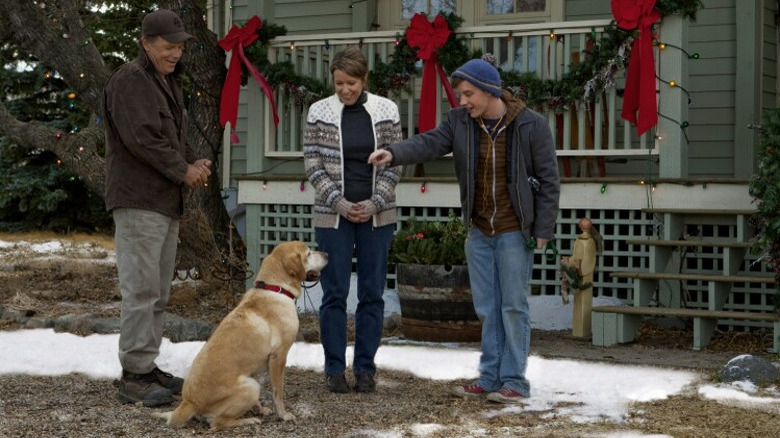 Hallmark Channel
While it's unfortunate that an actor who does not have a developmental disability is playing a character who does, this story of a lonely dog changing the lives of a family over the holidays is so powerful that it's hard to condemn an entire film for one oversight. In "A Dog Named Christmas," Bruce Greenwood plays a farmer who"s also father to Todd (played by Noel Fisher), a young man with a deep love of animals but whose disability prevents him from raising a pet on his own.
After hearing that the local shelter is asking families to adopt dogs over Christmas, Todd is ready to open their doors, but his father is adamantly against it. He personally knows the heartache that comes with losing a dog and he's afraid his son won't be able to handle it. After some convincing from his wife Mary (Linda Emond), he reluctantly agrees to shelter one of the dogs (named Christmas) for a few days.
This is another one of those movies that isn't all that interested in making the audience swoon with nostalgia over all the food and decorations associated with the holidays. Instead, its primary focus is telling a personal story about companionship and love in a surprisingly honest and grounded way. You may not salivate over the iconography of Christmas, but you'll feel its power regardless.
2. Silent Night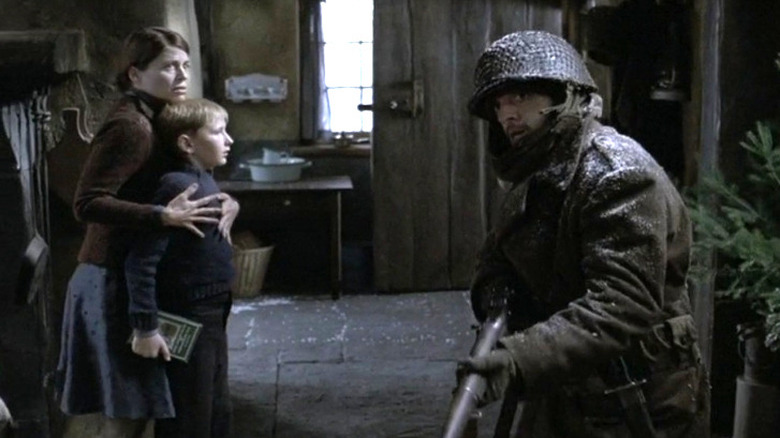 Hallmark Channel
Every Christmas, songs are sung and speeches are made about the importance of peace on Earth and goodwill toward men, but surprisingly little of the media we consume actually tackles that topic. Most of the time, we prefer to engage with uplifting stories about meeting a prince at Christmas or adopting a puppy that changes your life. What about Christmas for soldiers in the middle of a long and bloody war?
Well, "Silent Night" endeavors to put the sentiment of "putting aside your differences" to the test by telling a story that doesn't shy away from the realities of war while still managing to remain optimistic in the face of despair. Linda Hamilton plays Elisabeth, a woman living in war-torn Germany at the height of World War II. She flees to a family cabin with her son Fritz (Matthew Harbour) for safety on Christmas Eve.
Just when they think they're free of danger, three American soldiers burst in looking for shelter. Elisabeth doesn't align herself with the fascistic beliefs of her country's leader and cautiously agrees to give them a place to stay, putting herself and her son at risk. The cinematography and subject matter are pretty bleak, but the message is important and worth watching every couple of years to remind yourself what "goodwill toward men" actually means.
1. November Christmas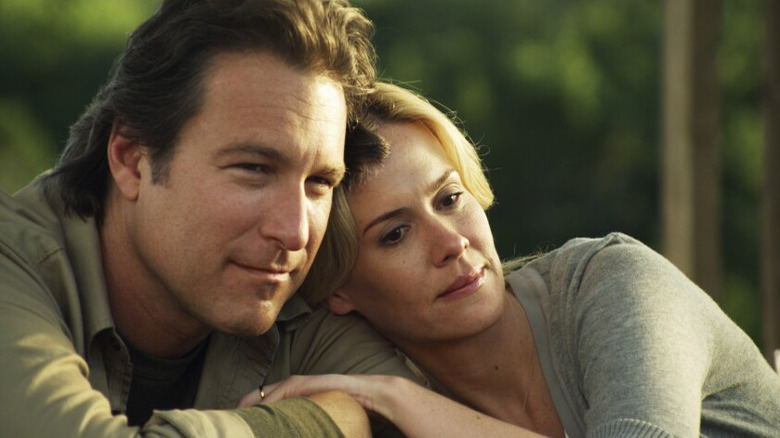 Hallmark/CBS
Right off the bat, it has to be mentioned that "November Christmas" sports a very impressive cast. "American Horror Story" icon Sarah Paulson plays Beth, the mother of a little girl named Vanessa (Emily Alyn Lind), who has a terminal illness and may not make it to Christmas. Her husband Tom is played by Tom Corbett, and he wants to do everything he can to make sure his daughter gets to experience Halloween, Thanksgiving, and Christmas. With the help of local farmers Jess (Sam Elliott) and Claire (Karen Allen), they work with the rest of the town to celebrate the holidays early.
It's important that the film have such a capable cast because the subject matter is very delicate. If not handled just right, the whole thing would come across as a horrible, manipulative mess. As it stands now, it is a well-made, well-acted piece of heartbreaking, uplifting Christmas magic that inspires you to stick through the tough times no matter how badly you want to give up. Those are the kinds of stories that Hallmark does better than any other outlet around the holidays, and "November Christmas" proves it.