Underrated Holiday Movies You Need To Watch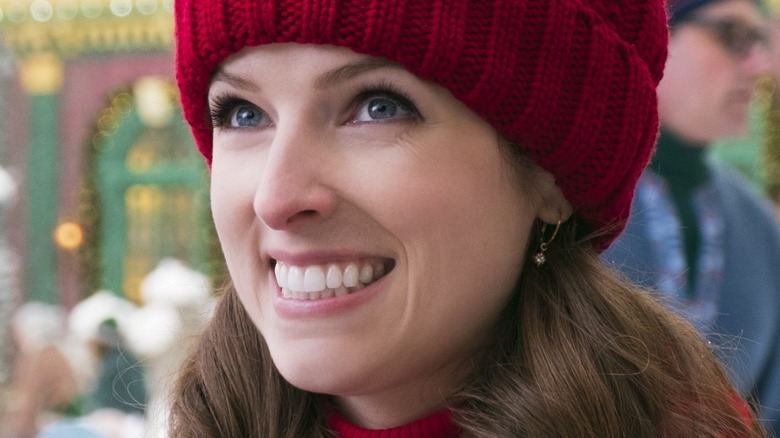 Disney
When the weather outside is frightful and the fire is so delightful, sometimes you just want a Christmas movie to keep you company. It's always comforting to put on an old favorite, one of the many all-time greats that you've seen a dozen times or more over the years. However, if you're feeling a little daring this year, then there are plenty of hidden gems out there, films of Christmas past and present that didn't get the recognition they deserved upon release.
If you don't know where to start looking, you're in luck, because we've done the hard work for you. From comedies to capers, from action movies to romcoms, and, of course, family-friendly features, we've covered every corner of the Christmas movie market. So crack open an eggnog, whip out the candy canes, and fire up the yule log, because this is a list of underrated holiday movies that you need to watch.
A Boy Called Christmas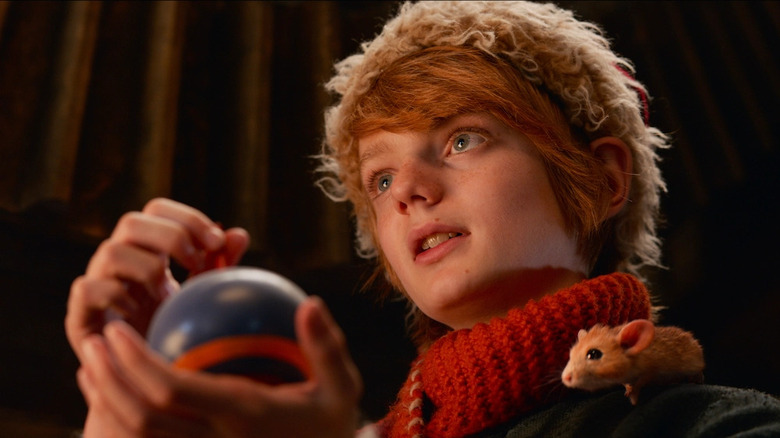 StudioCanal
A film that flew under the radar when it was released in 2021, "A Boy Called Christmas" may have been skipped over because it lacked a big star or a recognizable filmmaker behind the camera. However, if you look closely you'll find a talented ensemble cast dotted with well-known veterans, and director Gil Kenan has quite the pedigree himself, having directed "City of Ember" and co-written "Ghostbusters: Afterlife." Based on a 2015 book of the same name, this one tells a tale of wonder about a little boy on a Christmas quest.
A family-friendly fantasy, "A Boy Called Christmas" is set in a dreary kingdom where little Nikolas (Henry Lawfull) lives with his father alone in the woods. When his dad goes missing during a search for the fabled city of Elfhelm, it's up to Nikolas and a talking mouse named Miika (Stephen Merchant) to find the city themselves. When they do, they discover more than they bargained for and must deal with all manner of danger. Thankfully, he has the help of a loyal reindeer named Blitzen and a magical elf named Father Topo (Toby Jones) — and he'll need it if he's going to save his father and stop the hunters who have endangered Elfhelm.
A modern-day fairy tale, "A Boy Called Christmas" was overlooked at the time and still is to this day. With a healthy dose of adventure and a dash of whimsy, it has all the ingredients to become a timeless classic.
Prancer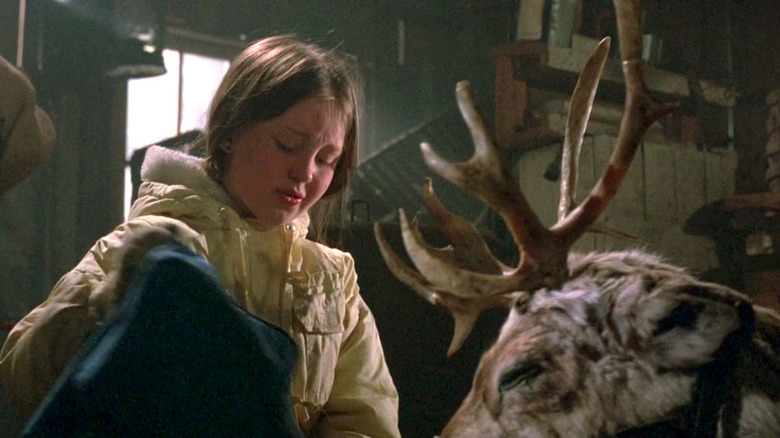 Orion Pictures
Many of the best Christmas favorites involve Santa Clause, elves, or even an adventure to the North Pole; light-hearted romps that inspire with good humor. The 1989 family drama "Prancer" takes a different route, a more somber story focusing on one of Santa's many beloved reindeer. Here, a little girl believes she's stumbled across Prancer himself, who has been injured by a local hunter.
Dispirited eight year old Jessica lives with her struggling father, who may have no choice but to leave his kids with his sister as he is unable to properly provide for them. After Jessica discovers a wounded reindeer hiding in their barn, she takes it upon herself to nurse him back to health. When the situation becomes known, it causes a stir in the town and this panics Jessica, who fears that others will come to hurt the animal further. The community is instead inspired by her story of Santa's injured reindeer, and through her love of Prancer, Jessica and her father learn new truths about each other.
Elevated by strong performances from stars Rebecca Harrell Tickell and the always brilliant Sam Elliott, "Prancer" is a tender, child-friendly story of family, faith, and the power of belief. Plus, with a mix of tear-jerking drama and inspirational, cheer-worthy moments, it's also one of the most heartwarming holiday movies you've probably never heard of.
Fatman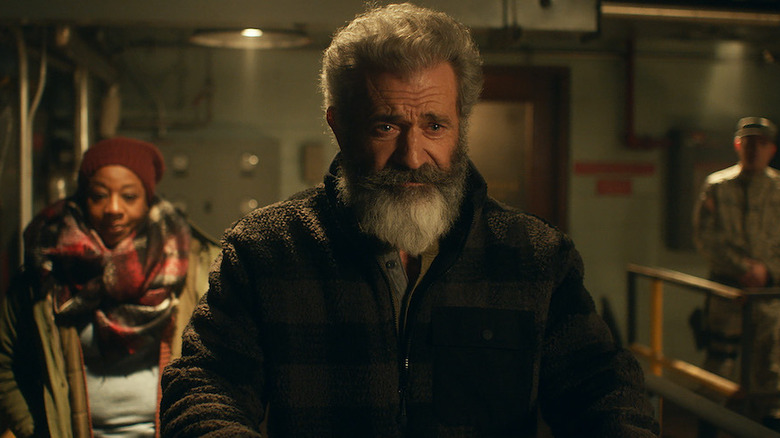 Saban Films
Holiday movies come in all shapes and sizes. We've seen plenty of Christmas comedies, fantasy flicks, and family romps across the years. There's also a bunch of horror movies for the holidays, and even some surprising sci-fi Santa movies. And while pundits have argued for decades about whether the '80s classic "Die Hard" qualifies as a Christmas movie, there's no debate with the 2020 action movie "Fatman." One of the most underrated Christmas action movies ever, it mixes holiday heart with over-the-top, guns-blazing destruction.
With its tongue firmly planted in its rosy red cheek, "Fatman" opens with a naughty little boy who's been given a lump of coal for Christmas. Unwilling to suffer this indignity, he does what any spoiled brat would do: He hires a ruthless madman (Walton Goggins) to track down Santa Claus (Mel Gibson), who, in this strange reality, is a very real man that owns a toy shop in the backwoods of Alaska. But this is no jolly old Saint Nick. Gibson's "Chris" is a highly trained killer himself, whose toy-giving operation is funded by the United States government.
Reinventing the lore of Santa Claus, "Fatman" is full of gruesome, bloody violence, with tons of hot lead fired back and forth between the two deadly assassins. Though this one's not for the little ones, adults will revel in the gloriousness of Santa kicking butt and taking names for his ever-growing naughty list.
Scrooged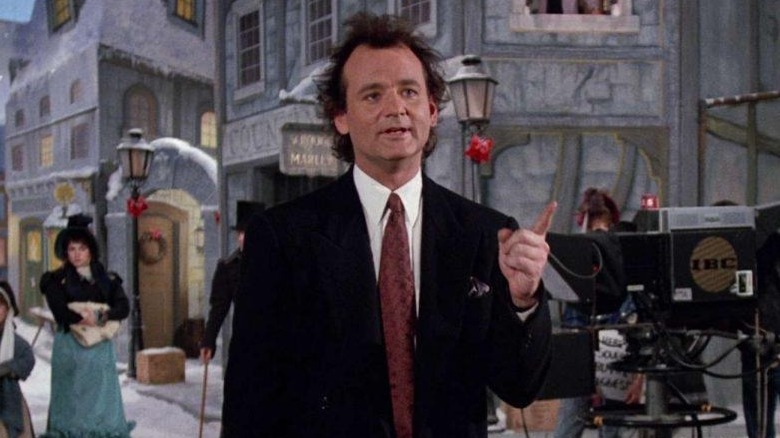 Paramount
Perhaps due to its more cynical approach to holiday cheer, Bill Murray's "Scrooged" is sadly often left out of yearly holiday rewatches. However, few people would argue against it being one of the best in Murray's career. In fact, as the story of a bitter, lonely man who learns to soften his heart, many consider it a spiritual precursor to one of his most iconic films, "Groundhog Day."
"Scrooged," as you might imagine from its title, is a comedic play on Charles Dickens' "A Christmas Carol," and it's arguably the greatest alternative adaptation ever produced for the screen. The former "Ghostbusters" star plays Frank Cross, a greedy and heartless network TV boss who wants to put on a live Christmas television special and he doesn't care if it means his overworked staff has to be away from their families for the holiday. But, thanks to visits from three increasingly sinister ghosts — who show him his past, the effects his actions have in the present, and the future that awaits him if he doesn't change — Cross becomes a new man and falls in love in the process.
Poignant, hilarious, and darkly twisted in equal measure, "Scrooged" features sterling performances from Murray, Karen Allen, Carol Kane, and Bobcat Goldthwait as a vengeful ex-employee. With a razor-sharp script and side-splitting laughs, it goes from a delightful holiday fairy tale to a black comedy that deserves to be an annual tradition.
Ernest Saves Christmas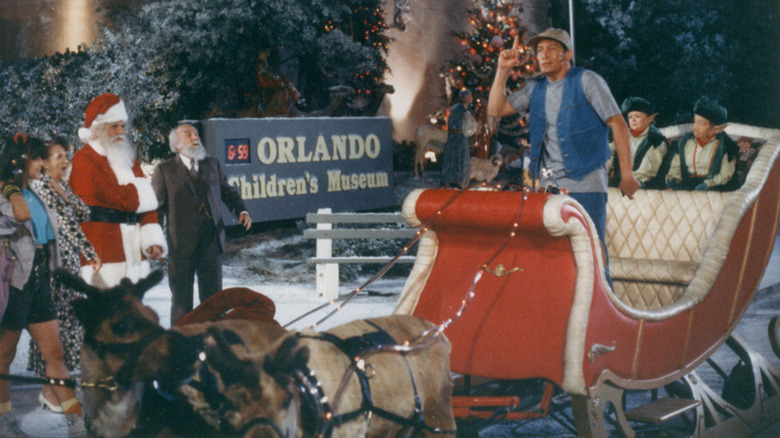 Buena Vista Motion Picture Distribution
Comedian Jim Varney might be best known to younger audiences as the original voice of Slinky Dog in the first two "Toy Story" films, but for the better part of the '80s and early '90s, Varney had a popular persona known as Ernest P. Worrell, a local yokel who appeared in TV commercials for everything from Coca-Cola to Cinemax. Eventually he made the leap to the movies, and after "Ernest Goes to Camp" became a 1980s caper classic, Varney returned in 1988's "Ernest Saves Christmas."
In the film, Ernest meets none other than Santa Claus during his day job as a taxicab driver. When Mr. Kringle leaves his magic sack behind in the cab, it's up to Ernest to track down Santa and return it to him. The trouble is, Santa Claus is not what he used to be: Being over 150 years old he's slowly losing his Christmas magic and his memory, too. When Santa is mistakenly arrested, Ernest must break him out of jail, find his elves, his reindeer, and his sleigh — and hopefully find a new Santa if he's going to get Christmas back on track.
A time-tested premise where a hero must come to Santa's rescue, "Ernest Saves Christmas" is jam-packed with wacky mishaps and slapstick madcap misadventures. Though "Ernest Goes to Camp" gets all the attention, "Ernest Saves Christmas" is a worthy holiday follow-up that everyone should have on their wishlist.
Jack Frost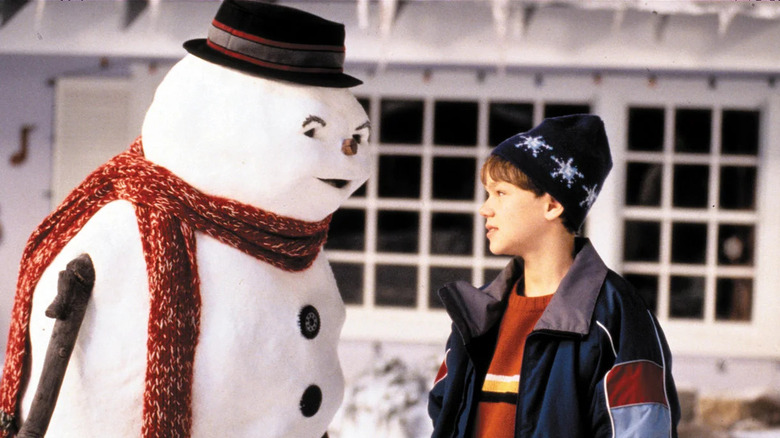 Warner Bros.
The Christmas genre is littered with forgettable films, movies that are boring or just plain bad. The 1998 family drama "Jack Frost" was maligned because, according to most critics, it was unoriginal and a bit too by-the-numbers. However, what this film has in its favor is a typically spirited performance from the great Michael Keaton, who plays the title character. His turn transforms "Jack Frost" into a delightful little film that's perfect for the holiday season.
Similar to many films of its type, the story begins with the death of a beloved family figure, in this case the eponymous Jack Frost, a musician who had long neglected his family in favor of his dreams of being a rock star. A year later, on Christmas day, Jack's son Charlie (Joseph Cross) is startled to discover his father's spirit has returned in the form of a living snowman. Reunited, Jack and his son rediscover their differences, and with a second chance at being a better father, Jack isn't going to waste the opportunity.
Sure, the film has its flaws, but thanks to some nice snowman effects from ILM that have aged surprisingly well and an endearing cast that includes Kelly Preston, Henry Rollins, and Mark Addy, "Jack Frost" has plenty of Christmas charm and is undeserving of its bum rap.
The Night Before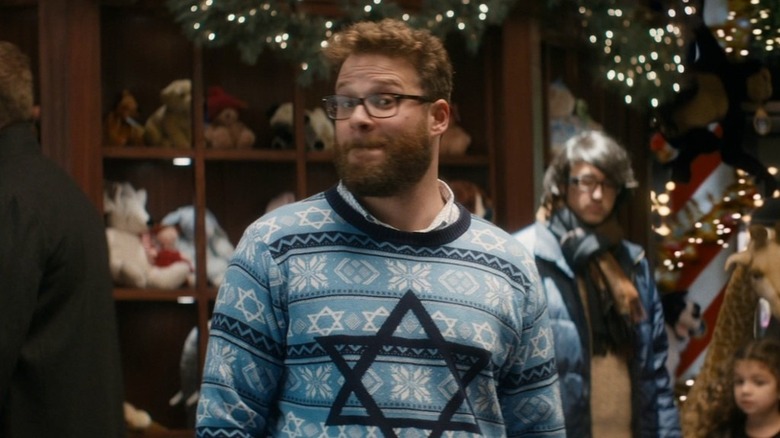 Sony Pictures Releasing
"The Night Before" is a holiday comedy starring Seth Rogen, Joseph Gordon-Levitt, and Anthony Mackie as three best friends with an annual tradition. Narrated by Tracy Morgan, the ensemble cast also includes Lizzy Caplan, Mindy Kaling, Michael Shannon, and Jason Mantzoukas. The film starts with a flashback to when loved-up Isaac (Rogen), football star Chris (Mackie), and the struggling Ethan (Gordon-Levitt) were younger and Ethan's parents die in a car crash just before the holidays. The three friends make a solemn vow to spend Christmas Eve together from then on. In adulthood, this becomes impossible, so they decide to call time on their yearly ritual.
To mark the end of their Christmas tradition, they decide to have one last holiday bash. The three friends set out to find the fabled "Nutckracka Ball," a secretive celebration that's been a dream destination for years. The gang goes looking for the craziest, most hedonistic night they can find, so you'll get all of the typical nutty antics of a typical Seth Rogen joint: The film mixes adult gags with the festive cheer of the holiday season. Cozy up with the yule log and pop this one on at Christmastime and you won't be disappointed... just be sure the kids are tucked up in bed first.
Trapped in Paradise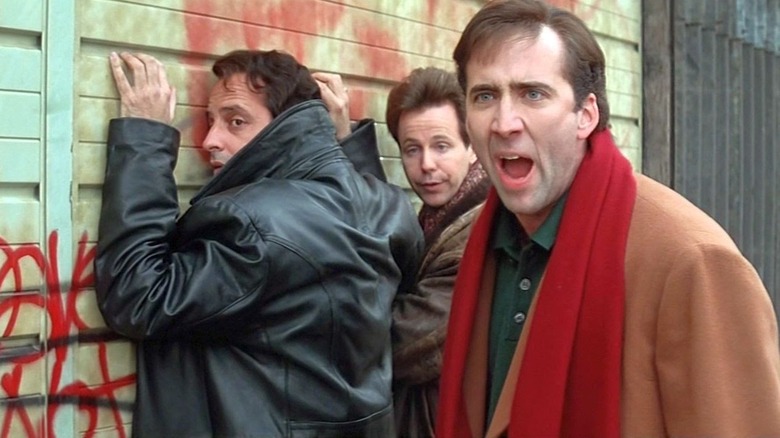 20th Century Studios
Admit it — you didn't know that Nicolas Cage ever did a Christmas movie. He's actually been in two, with the most underrated being 1994's "Trapped in Paradise" (for the record, the other is 2000's "Family Man"). Co-starring "Saturday Night Live" alums Jon Lovitz and Dana Carvey at the height of their comedic careers, it was written and directed by George Gallo, who also penned the 1988 action-comedy "Midnight Run." Like De Niro and Charles Grodin in that film, Carvey and Lovitz are the perfect comedic foils to star Nicolas Cage.
The two "SNL" vets play a pair of bumbling ex-con brothers recently out on parole. They are placed into the custody of their more strait-laced and responsible brother Bill (Cage). After getting into a bit of trouble himself, though, Bill is convinced to help his two idiot brothers commit a major heist and rob a bank to the tune of nearly $300,000. However, robbing the place blind isn't the hard part — getting out of the town of Paradise, Pennsylvania with his dim-witted siblings constantly stepping on their own feet is the real challenge. A mostly-forgotten Christmas caper along the lines of "Bad Santa," it might not be the best film of its kind, but it's still a heck of a lot of fun.
Four Chistmases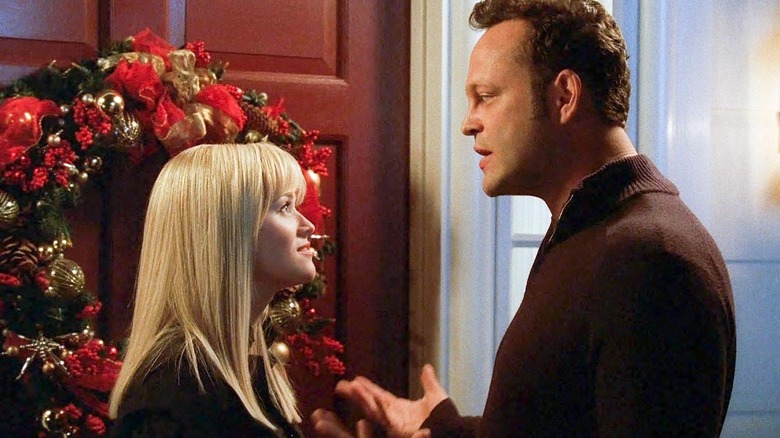 Warner Bros.
As modern families have grown more complex with divorces, new marriages, and plenty of new in-laws, Christmas traditions have only gotten more difficult to navigate. Never is this more evident than in the 2008 Christmas comedy "Four Christmases" starring Reese Witherspoon and Vince Vaughn. They're a happily married couple, but their holiday is thrown into chaos when they realize they have to make time for four different household celebrations in one day.
That's because Kate and Brad (Witherspoon and Vaughn) both come from complicated and sometimes difficult families. Both have parents who are divorced, as well as brothers and sisters who don't get along. After years of always finding some fabricated reason or another to avoid festive gatherings, they've finally run out of excuses and have no choice but to visit all of them. What follows is a zany romp full of over-the-top family drama, domestic hijinx, and plenty of Christmas mischief.
With some charming performances from a cast that includes Jon Favreau, Tim McGraw, Sissy Spacek, and Carol Kane, "Four Christmases" has plenty to love. It won't win any awards, but it's a light and breezy film that puts the spotlight on the difficulties of complex family relationships during an already challenging time of year.
A Christmas Prince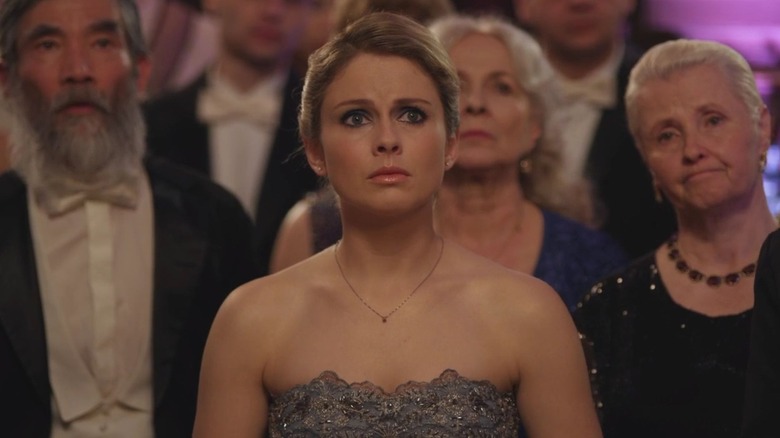 Netflix
From "Enchanted" to "The Princess Diaries," audiences love a good story about a woman who becomes royalty through a whirlwind romance, so why not mix it with a little bit of Christmas? That's the exact formula used for "The Christmas Prince," a 2017 Netflix romantic comedy starring Rose McIver and Ben Lamb. Oddly enough, the titular prince's mother is played by Alice Krige, famous for her role as the Borg Queen in "Star Trek: First Contact."
Krige plays Queen Helena, whose son Prince Richard (Lamb) is due to ascend to the throne of Aldovia after the sudden death of his father. He's long been thought of as a cavalier socialite and word around the palace is that he is planning to abdicate his position, having no interest in the monarchy whatsoever. American journalist Amber Moore (McIver) arrives to cover the crowning of the new king, but she ends up working her way into the prince's inner circle after being mistaken for a family friend and quickly falls in love. Amber, pretending to be someone she's not, suddenly finds herself in the awkward position of being the next king's new flame, meaning she could be Aldovia's next queen.
There's nothing deeper here than a fun, simple romcom with a Christmas theme, but it's perfect for a cozy Christmas evening. If you haven't seen it already, you're in for a tender treat. And if you like it, don't exit Netflix when it's over, because there's a pair of equally fuzzy sequels to enjoy.
Jingle Jangle: A Christmas Journey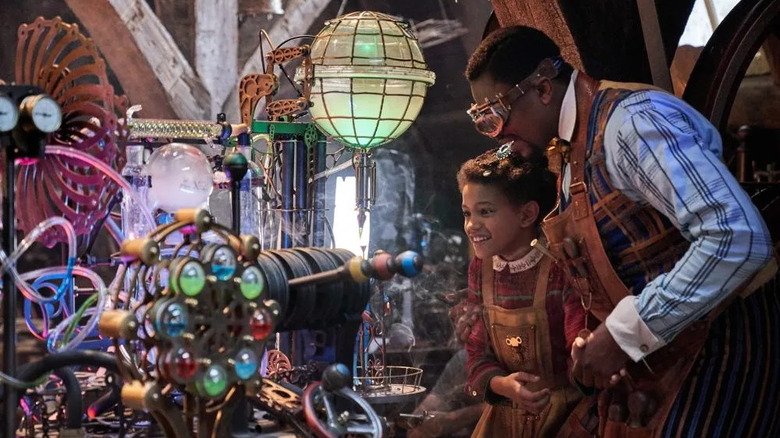 Netflix
Netflix has become a haven for new holiday movies in recent years. The problem is, given their seasonal nature and their streaming home, audiences often only find them when browsing at home and they seldom get as widely viewed as they should. As a result, there are quite a few sorely underrated Christmas films on the streaming service, including "Jingle Jangle: A Christmas Journey."
Starring Forest Whittaker, Keegan-Michael Key, Hugh Bonneville, Phylicia Rashad, and newcomer Madalen Mills, "Jingle Jangle: A Christmas Journey" is a wondrous flight of fancy about a downtrodden old toymaker named Jeronicus Jangle (Whittaker). Though his shop isn't much these days, he was once a brilliant inventor. It all went downhill for him when his assistant (Key) stole his prized creation — a matador doll named Don Juan Diego — and used it to create his own toy empire. Estranged from his family, his spirit is renewed when he is visited by his long-lost granddaughter Journey (Mills), who has become something of an inventor herself.
"Jingle Jangle: A Christmas Journey" dazzled critics, praised as a sparkling spectacle of musical Christmas magic. Nerdist put it best, describing the film as "chock full of joy, emotion, and a story that children or adults can reach out to when life hits rough or when they just want to smile."
How the Grinch Stole Christmas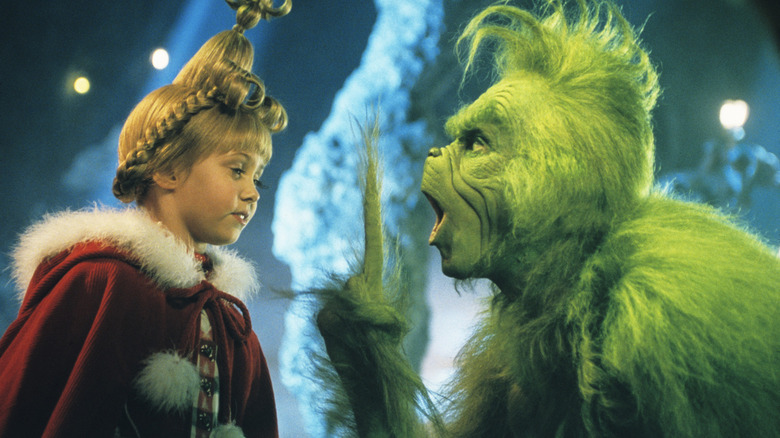 Universal Pictures
"Dr. Seuss' How the Grinch Stole Christmas" is one of the most famous Christmas tales ever written, and it has been adapted for the screen several times. The 1966 animated version with the voice of Boris Karloff is a staple of the season, and today's youngsters may know the 2018 CGI-animated version (simply titled "The Grinch") with Benedict Cumberbatch as the titular humbugger. But there's another version that's all too often glossed over, and it might be the best of the bunch: 2000's "How the Grinch Stole Christmas," which stars Jim Carrey as the green yuletide monster.
The first-ever live-action adaptation of the beloved Dr. Seuss story, "How the Grinch Stole Christmas" hits all the same beats as the book, with the town of Whoville obsessed with the Christmas holiday. But up on a mountain on the edge of town lives the Grinch, a bitter, holiday-hating menace who will stop at nothing to ruin Christmas for everyone in Whoville.
Though it sits on only 49% on Rotten Tomatoes, RT's own podcast "Rotten Tomatoes is Wrong" has argued that it's far smarter and funnier than critics give it credit for, and we agree. Unlike other versions, which focus much more on the silliness of his antics — but don't worry, there's plenty of that here — this colorful Christmas picture turns the Grinch from a snarling, nasty villain into a sympathetic, misunderstood figure. Directed by Ron Howard, it's a top-notch production that should be considered a Christmas classic.
Noelle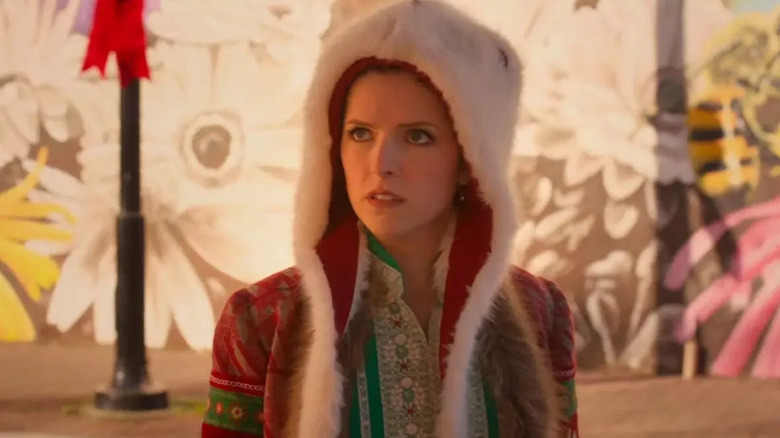 Walt Disney Studios Motion Pictures
Most readers will be familiar with the Tim Allen favorite "The Santa Clause," a movie that mixes magic, fantasy, and reality to tell a story about what happens when the world needs a new Santa. It was a blockbuster hit and received multiple sequels, but it's far from the only movie of its kind. One that should get more attention for its heart, charm, and top-notch jokes is "Noelle" from 2019. A Disney family fantasy about Santa's daughter Noelle Kringle, it stars Anna Kendrick, Bill Hader, Kingsley Ben-Adir, Billy Eichner, and Shirley MacLaine.
Nick Kringle (Hader), the son of Santa, has just taken over the job from his father, but he is already beginning to feel the pressure. It's not exactly part of the plan when Nick leaves the toy shop and abandons his post as the next Santa Claus, leaving Noelle to pick up the pieces. With the help of family friend Elf Polly (MacLaine), Noelle must track her brother down and get Christmas back on track before it's too late. Sprinkled with holiday cheer and plenty of fantasy fun, "Noelle" can seemingly do no wrong. With a lovable cast and a sweet story, it might just be your new festive favorite.