Jenna Ortega Is Not A Fan Of Wednesday's Love Triangle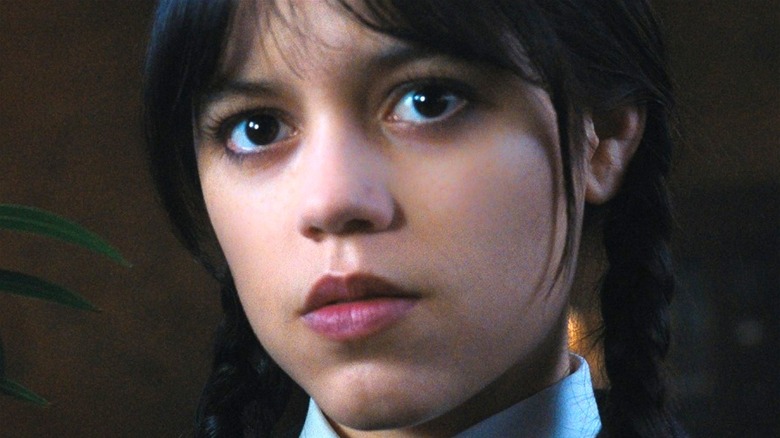 Netflix
Contains spoilers for "Wednesday" Season 1
Jenna Ortega tackles the iconic role of Wednesday Addams in "Wednesday," a series that's broken viewership records at Netflix. While the show pays homage to the characters fans know and love from "The Addams Family," it introduces some new elements that add to their backstories as well. In this adaptation, Wednesday is a troubled teen headed for Nevermore Academy, Gomez (Luis Guzmán) and Morticia's (Catherine Zeta-Jones) alma mater that offers shelter to all manner of monsters and outcasts. This new version of Wednesday is outwardly sardonic, quick-witted, and mischievous, all of which are traits that lead her to getting wrapped up in a mystery that threatens the lives of the students at Nevermore. However, even while she's busy investigating, Wednesday still has time for a little romance. 
Soon after arriving at her new school, Wednesday finds two boys clamoring for her attention. On one hand, there's a local teen named Tyler (Hunter Doohan), the helpful son of the town sheriff. On the other is Xavier (Percy Hynes White), a Nevermore student with strange powers. Romance is a common subplot in teen dramas, so it's not all that surprising to see a love triangle emerge in this particular show. However, Ortega herself isn't too fond of her character partaking in such a cliché storyline.
Jenna Ortega wants to move past the love triangle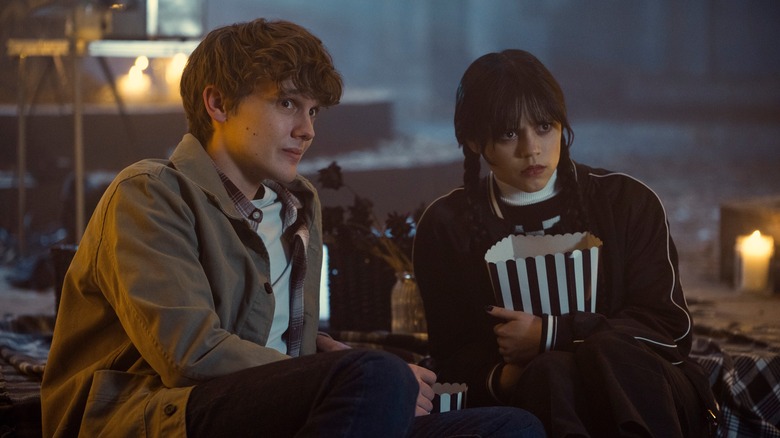 Vlad Cioplea/Netflix
Before long, Wednesday finds out that there's a monster lurking in the woods surrounding Nevermore Academy, and she quickly becomes determined to figure out what's going on. The minds behind "Wednesday" clearly wanted to keep the audience on their toes during her investigation, because even as the boys try to endear themselves to Wednesday, it becomes clear that either Tyler or Xavier could be the culprit behind the violent attacks that have been plaguing the community. As a result, their love triangle doesn't last — by the end of the season, it's revealed that Tyler is the series' monster, seemingly eliminating him as a romantic interest.
As it turns out, Jenna Ortega wasn't the biggest fan of this storyline. During an appearance on Etalk, Ortega revealed that she wants to avoid love triangles for Wednesday moving forward. "As far as the boys went, I had to accept it," the actor explained. "Honestly I'm going to fight this love triangle thing so hard because this is just me being protective. I don't think Wednesday would ever be in a love triangle."
Should "Wednesday" return for a second season, then, there's plenty of reason to believe that we've seen the last of Wednesday becoming enmeshed in such a situation, given Tyler's true nature and Ortega's explicit wishes to eliminate love triangle storylines from the picture outright.
Fans agree that Wednesday's love triangle is one of the show's weaker points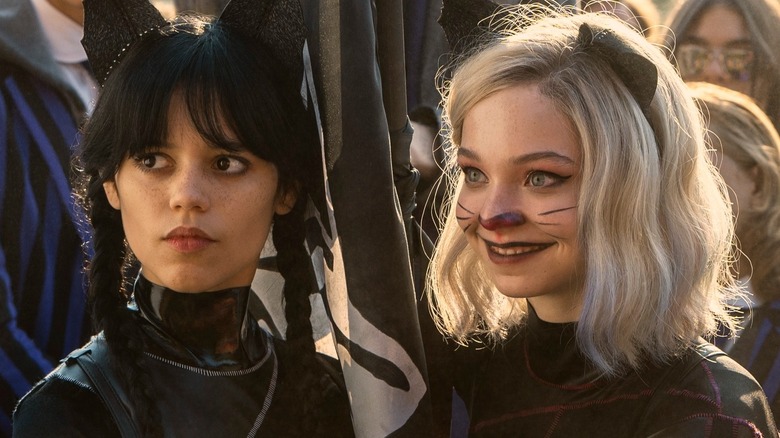 Vlad Cioplea/Netflix
In a Reddit thread criticizing "Wednesday" as standard Netflix fare, user KuhlThing shared that, like Jenna Ortega, they're not a fan of the Season 1 love triangle between Wednesday, Tyler, and Xavier. "Not every female protagonist needs a love triangle. Or a love interest, for that matter. I'm not an anti-shipper or anything like that, but none of the love interests presented on the show were likeable or interesting to me," they wrote. In response, a number of commenters either agreed outright, or supported a romance between Wednesday and her roommate Enid (Emma Myers) as the only acceptable option as the series continues.
Even for viewers who might have enjoyed Wednesday's interactions with Tyler and Xavier, Ortega and her character's fans all make a fair point — there are plenty of ways the series could develop Wednesday's character without bringing any superfluous romance into the picture. Hopefully, the writers take Ortega's thoughts on love triangles into account and lean into Wednesday's dark side if the show gets a second season.