Wednesday Fans Aren't Sold On The Casting For Morticia And Gomez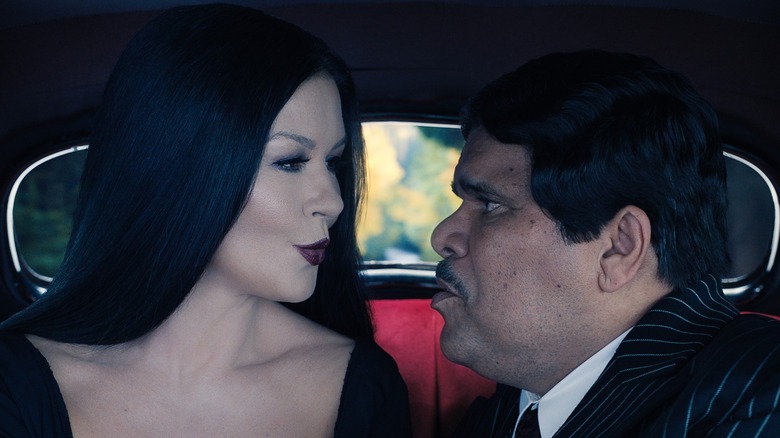 Netflix
Tim Burton's "Wednesday" has finally arrived on Netflix, and in a snap (or two, for those who already have "The Addams Family" theme song playing in their head), it was snatched up by eager audiences who binged through the new take on the Addams Family's dark-minded daughter in no time at all. Viewers have praised Jenna Ortega's performance as Wednesday Addams, who takes center stage after being enlisted into Nevermore Academy, where she begins investigating a series of brutal murders. 
It wasn't exactly what you'd call a shocking revelation to see Wednesday getting the most attention out of the Addams family we know and fear — the show is named after her, after all. Still, would it really be an Addams-adjacent project if the other members of the titular family wouldn't make an appearance? 
For some, therein lies the problem. With fans having checked the entire first season off their watch list, it's the heads of the Addams family household with which many people are taking issue. Morticia and Gomez Addams are played by Catherine Zeta-Jones and Luis Guzmán, who, while having nowhere near as much screen time as Jenna Ortega, still had serious shoes to fill. The roles have been irrevocably bound to Anjelica Huston and Raul Julia since they brought the characters to the big screen with flawless chemistry in Barry Sonnenfeld's 1991 film and its 1993 sequel, "Addams Family Values." It may be that these rock-solid performances still linger in the minds of fans, since some viewers have been pointing out that they fail to see even a flicker of Morticia and Gomez's sadistic but equally sweet spark in the new talent's take on the characters. Here's why fans are taking an issue with the casting of Morticia and Gomez Addams on "Wednesday."
Fans think Morticia and Gomez have zero chemistry on Wednesday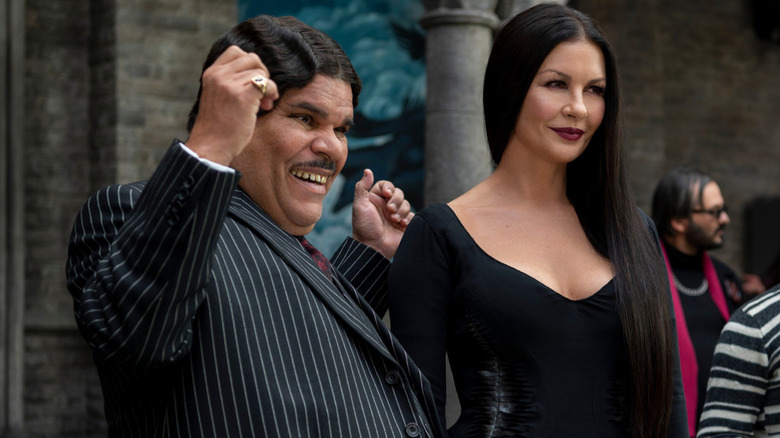 Netflix
If you're familiar with cartoonist Charles Addams' original characters, it's clear that Morticia and Gomez Addams look the part on "Wednesday." However, looks aren't everything, and some fans seem to feel that romance is dead between the two — which is unfortunate, since the Raul Julia and Anjelica Huston incarnations of the characters are such notable (if somewhat grim) lovebirds. 
In the subreddit r/television, one fan, u/IllStyle, expressed their concerns about the characters' casting. "Absolutely not sold on the casting for Mortica [sic] and Gomez tho, didn't mind it at all when I first watched the trailer but felt like they had 0 chemistry [on] the show," they wrote. Redditor u/MikeTony713 agreed with this opinion. "[Catherine Zeta-Jones] was definitely miscasted [sic] imo. But you're right about their chemistry being off as Gomez and Morticia as the wild and seductive couple they're suppose [sic] to be," they added their own two cents.
But if the final choices weren't up to snuff for audiences, who else would fit the bill for one of pop culture's madly in love (and slightly mad) couples? Well, it's no surprise that one name that came up belongs to an actor who has already dabbled in "Addams Family" history. "Ideally, I would have cast Oscar Isaac and Eva Green," said u/Vidzphile. "Oscar is a fan of the character and voice acted the role in the 2019 animated 'Addams Family' movie." Now that's the absolute horror we were never gifted with.
As for the takes we get on "Wednesday," maybe if a second season gets the green light, Zeta-Jones and Luis Guzmán could capture the passion that might have been missing this time around and prove they were the right choices in the end. Everyone is allowed to have one bad day, after all.