Jim Carrey Underwent 92 Grueling Transformations While Filming How The Grinch Stole Christmas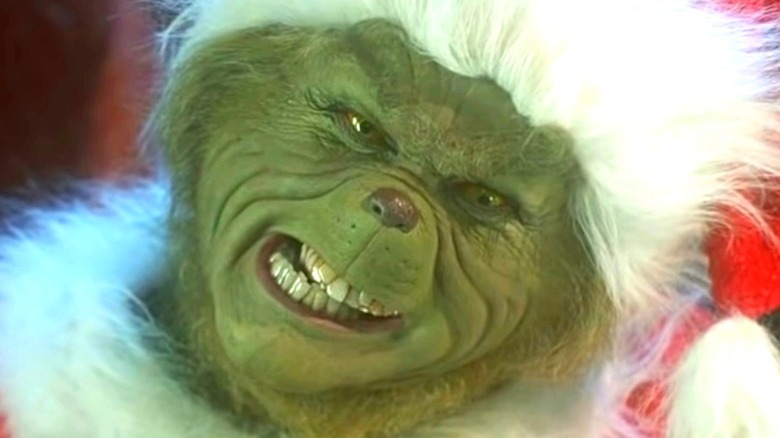 Getty Images/Getty Images
Jim Carrey may be one of the undisputed GOATs of comedy, but there's actually another part of the entertainment industry that the Hollywood legend has managed to slay: costume and makeup. In fact, retired special effects expert Rick Baker has even gone so far as to declare Carrey's work in the Ron Howard holiday classic, "How the Grinch Stole Christmas," as the most extensive and elaborate effects job ever taken on by an actor.
"I don't know of anybody who's worn a makeup that many times," Baker claimed during a post-production interview, which has been posted on YouTube. "For that many days, it's ridiculous," he said. 
Carrey's struggles with the Grinch costume and makeup process have been well-documented over the years, with him discussing the supposedly excruciating film shoot on talk shows before. In 2014, he famously told Graham Norton, "Literally the makeup was like being buried alive everyday...The first day was eight-and-a-half hours, and I went back to my trailer and put my leg through the wall, and I told Ron Howard I couldn't do the movie. And then [producer] Brian Grazer came in, and being the fix-it man, came up with a brilliant idea, which was to hire a gentleman who is trained to teach CIA operatives how to endure torture. And so that's how I got through 'The Grinch.'"
Carrey's appearance on "The Graham Norton Show" was actually not the first time he talked about the exhausting "Grinch" shoot. In fact, much of the cast and crew of Howard's 2000 Christmas epic actually spoke about the demanding process in a post-production video. 
Ninety-two days of makeup is 'torture'
According to Rick Baker, who worked as a special makeup effects artist for "How the Grinch Stole Christmas," Jim Carrey would spend around two hours in the makeup chair before finally being able to shoot scenes for the movie. He would spend an additional hour just taking his Grinch getup off. "Where the real torture comes in," Baker said, "are the number of days Jim had to wear this makeup." According to him, Carrey spent 92 days getting done up as the big green guy. 
"Ninety-two days of coming in the morning, sitting in the makeup chair, having somebody put glue on your face — a two-and-a-half hour process every morning, and an hour removal process at the end of the day — is torture," Baker said. Meanwhile, Carrey similarly admitted that the process was challenging because of how he was burdened by the costume. "My eyeballs were covered ... My hands had long fingers on them, and stuff like that," the actor said.
Makeup artist Kazuhiro Tsuji, who also worked with Carrey, remembered how the biggest hurdle for him and the effects team was keeping everything that Carrey had on intact — and looking good — throughout an entire day of shooting. "Jim is so active," Tsuji said. "He moves a lot and he sweats a lot, and his expression is, like, crazy...So the challenging part was keep the makeup [looking] good all day as much as possible. And also, of course, he didn't want to sit in the chair for long time, so [I] tried to go as quick as possible." 
Carrey noted how he had to basically be "a Zen master" during the makeup routine every day and practice extreme patience.  "By the end of the project, literally you could have hit me in the face with a baseball bat and I would've gone, 'Good morning, nice to see ya,'" Carrey said. "I learned patience. It was amazing."