Amazon's Rings Of Power Is Already On Track For A Season 3 Renewal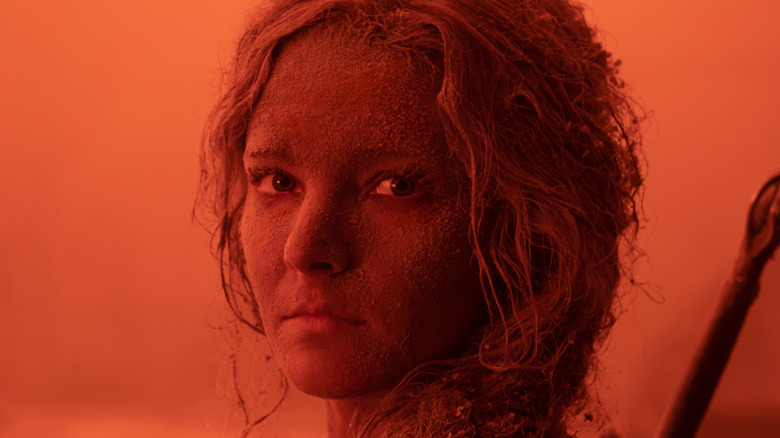 Amazon Studios
"The Lord of the Rings: The Rings of Power" finally premiered in the fall of 2022 — just shy of five years after the original announcement that Amazon Studios had purchased the rights to the massive Tolkienian world of Middle-earth. Of course, first seasons always take a while to pull together, especially when a show starts with a five-season story arc already in place. Toss a world-shaking pandemic into the mix and prolonged industry-wide VFX delays in its wake, and it's no surprise that Season 1 of the Second Age Middle-earth adventure took a while to come to fruition.
Now that the first run of episodes is behind us, the question that remains is: when will we get another season? News broke just before the finale of Season 1 that Season 2 had started production after completing the monumental task of moving from New Zealand to the U.K. However, not long after that, showrunners JD Payne and Patrick McKay clarified that Season 2 was probably a couple of years away. This dampened hopes of a quick return to Amazon Studios' iteration of Middle-earth and made Season 3 barely even a factor for most fans.
Now, in a pair of recent interviews with Head of Global TV for Amazon Studios Vernon Sanders, it's become clear that the studio is working overtime to speed up production on Season 2 ... and Season 3 may already be in the works, as well.
Season 2 of The Rings of Power is close, and yet so far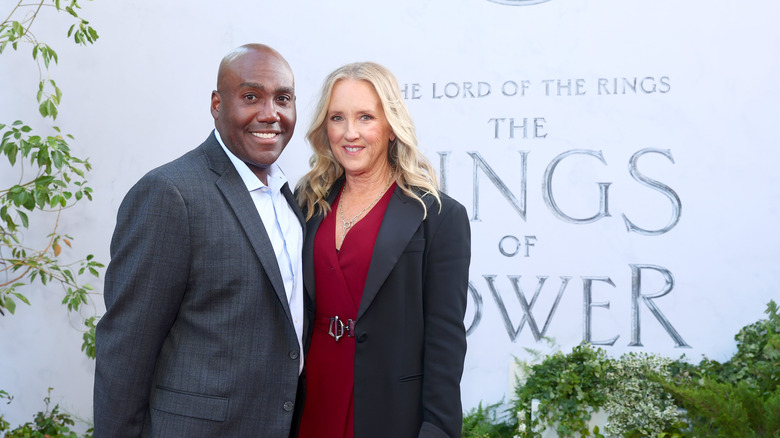 Emma Mcintyre/Getty Images
In an interview with Collider, the Head of Global TV for Amazon Studios, Vernon Sanders, clarified the admittedly vague timeline for Season 2. "It would be amazing if we could get Season 2 out within a year of Season 1's release," Sanders said. "It may take a smidge longer than that, but we're doing everything we can, and we're going to get better and faster as we go." Sanders added that the entire production crew has learned a lot from making Season 1, and these are lessons they're collectively applying to speed up the creation of Season 2.
Collider added the tidbit that, in its interview with the Amazon exec, it became clear that it's less than likely that the next season will air in 2023. Still, Sanders' comment about Season 2 taking "a smidge longer" than a year and the fact that there appears to be a sense of urgency behind the production schedule implies that we may not be waiting 24 whole months before we see more of Morfydd Clark's Galadriel and company on the streaming screen.
Season 3 is also unofficially in the works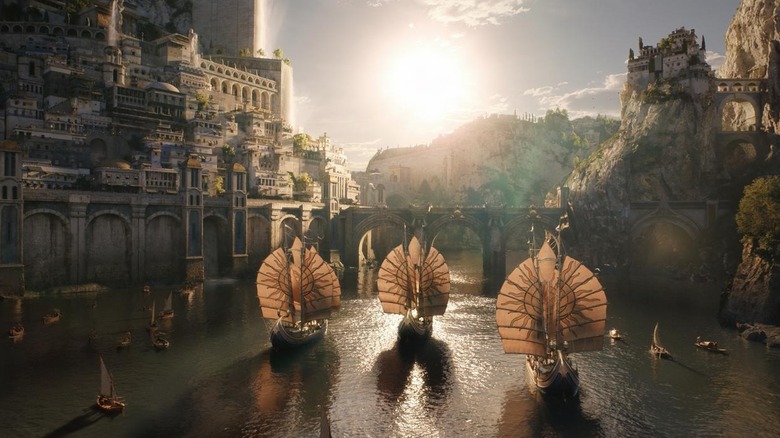 Amazon Studios
In the above-mentioned interview with Collider, Sanders was reluctant to clarify much about Season 3 of "The Rings of Power," pointing out that there have been conversations and preparations. He reiterated that the studio is fully committed to Payne and McKay's original five-season vision for the story, but nothing is official at the moment. With Season 2 just underway, the lack of solid information on Season 3 isn't surprising. What is a surprise is that the Collider report isn't all she wrote.
In another interview with Deadline released on the same day (December 19, 2022), the outlet reported asking Sanders a similar question about a possible impending announcement for a renewal of Season 3. After reiterating the studio's commitment to the showrunners' vision, Sanders provided a much more specific answer: "It's a great question about Season 3, we're probably two to three months in on Season 3 but I think there could be news certainly in the new year." The exec went on to explain, "There's so much planning and prep that's necessary for us to get this mounted that the only reason we probably haven't gotten there quite yet is we've just been so heads down in Season 2, but I would expect there to be news in the new year."
While formal Season 3 renewal news is anything but official, based on Sanders' responses, there appears to be no doubt that it's coming, likely in the weeks or months ahead.