The Best Brooklyn Nine-Nine Guest Stars, Ranked
One of the most delightful things about a long-running TV show is the slate of guest stars that often appear over the years. While most popular shows usually boast cool cameos and recurring characters, sitcoms are an especially fun format in which to see familiar (exciting) faces. Brooklyn Nine-Nine already has heavy hitters like Andre Braugher and Andy Samberg in its permanent ensemble, and plenty of its best episodes have been the ones that focus on the core cast, but it's still really delightful to see Jake, Holt, and the rest of the precinct get a little mixed up by a fun new character. 
It's difficult to choose the best of the best guest stars that have appeared on Brooklyn Nine-Nine over its eight seasons and even more painful to leave off iconic performers such as Dean Winters and J.K. Simmons, or underrated turns from up-and-coming actors like Karan Soni and Jenny Slate, but we had to draw the line somewhere. The following guest stars are some of the best and most memorable in "Brooklyn Nine-Nine," thanks in large part to their comedic chops and chemistry with the main cast. Make sure to read to the end of our countdown to see who topped the list.
12. Julia Sweeney (Pam)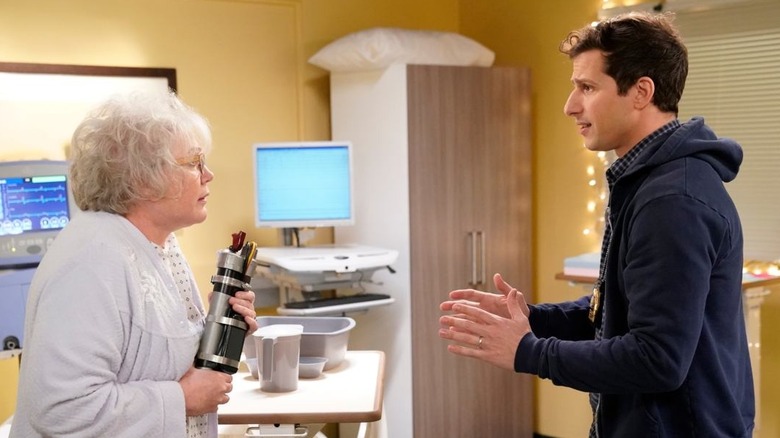 NBC/Peacock
Pam (played by "Saturday Night Live" alum Julia Sweeney) serves as a crucial character in Season 6, Episode 12 ("Casecation"), an episode that has several important moments for Amy and Jake's relationship. During their anniversary, Jake (Samberg) and Amy (Melissa Fumero) camp out in an important witness' hospital room and try to salvage some romance. Pretty quickly into the evening, though, they devolve into a serious argument about children — Amy definitely wants them and Jake is pretty sure he doesn't. This disagreement stems from an awkward conversation with the patient next door, Pam, who snoops on their anniversary conversations and in turn tells them all about her twisted bowel.
Part of what makes Pam such a great guest character is that she sneaks up on Jake and Amy. At first, they, and the audience, believe she's just a funny nuisance with some good lines ("I'd be careful if I were you. Relationships are like bowels. Once you get them twisted, they can never untwist") until it turns out that she's been hired to kill the witness that Jake and Amy are looking after. She has a bomb to set off in exchange for money that will go to her son and grandchild, and her fear is palpable. Jake talks her down and in the process, learns that he can be a dad, even if it is scary.
11. Nasim Pedrad (Kate Peralta)
Nasim Pedrad only guest stars in one episode as Jake's newfound sister Kate (Season 5, Episode 17, "DFW"), but she effortlessly inhabits the role and the quirky-but-lovable vibe of the show in a pretty short amount of time. Pedrad was also a cast member alongside Samberg on "Saturday Night Live" for a bit, and the two have a fun, energetic rapport in all of their scenes. Kate, who Jake only found out about because his father was loopy on pain medication after cutting off his thumb, is a bit of a disaster from the get-go, having been arrested on the flight from Texas to New York for vaping in the airplane bathroom. 
Jake is mildly horrified by her and her behavior, which is pretty funny considering how shocking some people find Jake's behavior a lot of the time. It seems that Roger Peralta (Bradley Whitford) definitely produces chaotic children, and Pedrad has a particularly shining moment in the episode when she drops some glass into her food at a restaurant and pretends to find it so she can get out of paying. It's too bad that we don't get to see Kate again on the show, especially since she and Jake end their visit on good terms with plans to stay in touch, but this episode alone is funny enough to land Pedrad a spot on the list of the best "Brooklyn Nine-Nine" guest stars.
10. Jimmy Smits (Victor Santiago)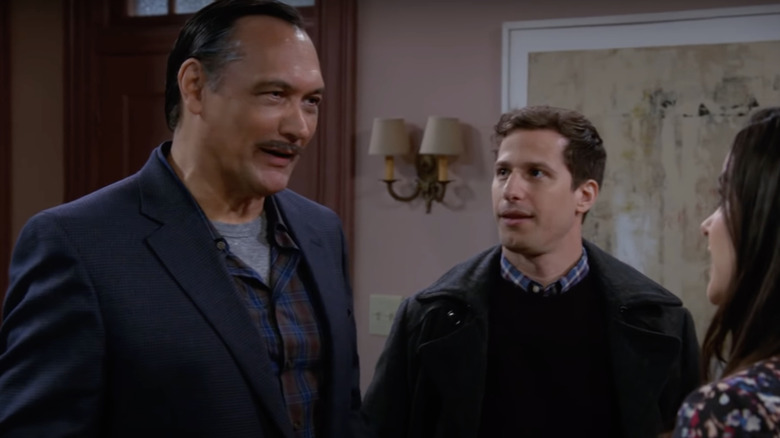 NBC/Peacock
"Brooklyn Nine-Nine" absolutely excels in its casting of parents. Rosa's (Stephanie Beatriz) dad is played by a sufficiently intimidating Danny Trejo, Gina's (Chelsea Peretti) mother is portrayed by the talented Sandra Bernhard, and Charles' (Joe Lo Truglio) dad is played by longtime comedy veteran Stephen Root. Aside from Jake's parents, Amy's dad, Victor Santiago, played by Jimmy Smits, is probably the strongest out of a collection of strong parent casting choices. Smits has always had a bit of a smirk, and he's a good enough actor to make it work in different roles. In "Brooklyn Nine-Nine," it's often directed disapprovingly at Jake or his father, Roger. 
In Season 4, Episode 7 ("Mr. Santiago"), Amy's father is introduced as a competent, intimidating man with a favorite font (Garamond) and a passion for crossword puzzles which he shares with his daughter. Jake and Victor work an old case together and come to a begrudging agreement to love and respect Amy's choices despite Victor's disapproval of Jake (who has a terrible credit score, among other stats and facts). 
9. Ken Marino (Captain Jason Stentley)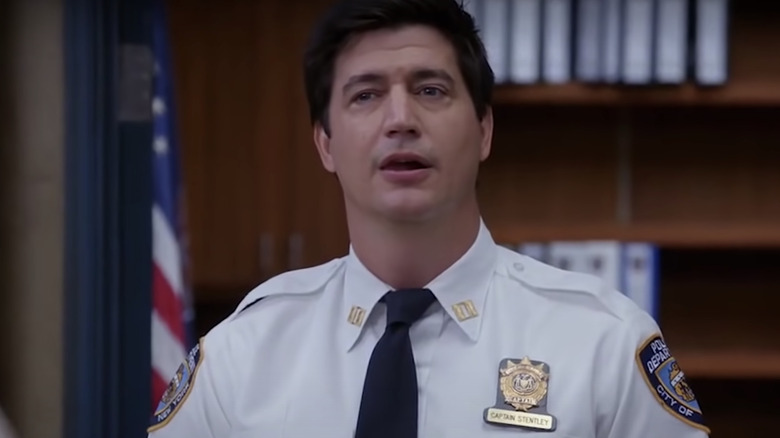 NBC/Peacock
Captain Jason "CJ" Stentley comes to the 99th precinct to serve as Holt's (Braugher) replacement while the former captain is hiding in Florida under the witness protection program. Ken Marino, who plays Captain CJ, is an underrated comedic actor with a gift for effortless buffoonery, and CJ is nothing if not a buffoon. At first, he's a pushover, saying yes to any request the detectives submit, and then, after Amy rallies the squad to ask CJ to be a better Captain and hold them accountable, he punishes them with the night shift when they go to Florida to help Holt and Jake despite being told not to.
Not only is CJ just a funny character and a fun addition to the precinct in Season 4 and Season 6's "Suicide Squad," where he works with the team alongside former Nine-Nine foes The Vulture (Winters) and Madelyn Wuntch (Kyra Sedgwick), but he's a pretty perfect example of a dumb dude that somehow just keeps failing upward. It's a little scary to think about all of the incompetent people out there who are tasked with life-and-death responsibilities, and those folks probably can't even carry a tune. 
8. Vanessa Bayer (Debbie Fogle)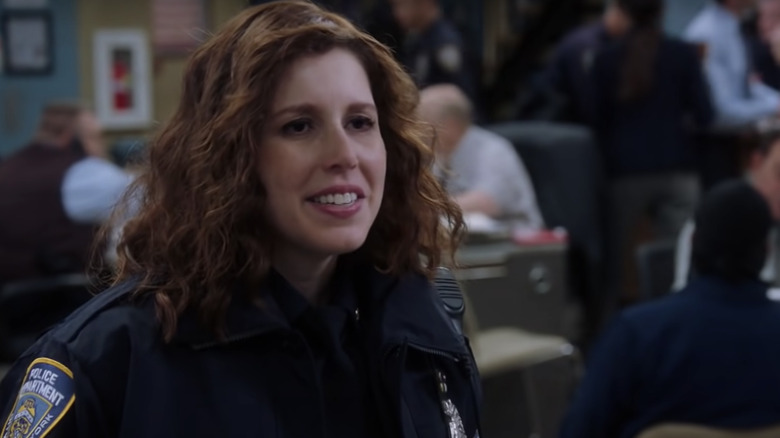 NBC/Peacock
Vanessa Bayer, like Nasim Pedrad, was on "Saturday Night Live" with Samberg for a few years, so it's no surprise that she eventually popped up in a guest role in "Brooklyn Nine-Nine." In Season 7, Episode 1 ("Manhunter"), audiences are introduced to Bayer as Debbie Fogle, Holt's new (temporary) partner as he is forced to complete his required hours as a uniformed officer. Debbie immediately delivers laughs with her love of picking up traffic cones and her pedometer social media app, especially because she seems to have a personality (awkward, conflict-avoidant, wacky) that's pretty antithetical to the role of a police officer. 
In Season 7, Episode 5 ("Debbie"), Debbie goes off the rails and steals cocaine and guns from the precinct evidence locker in exchange for money from a prominent Brooklyn crime boss. Debbie spends the episode taking the drug, contemplating the sexual viability of Mr. Bean, demonstrating surprising competence in hand-to-hand combat, and overall just serving as an agent of chaos until Jake and Rosa convince her to turn herself in. The whole episode is a riot, but the funniest gag comes when Debbie purses her lips in order to kiss Jake despite the fact that they're standing at least three feet apart. 
7. Sterling K. Brown (Philip Davidson)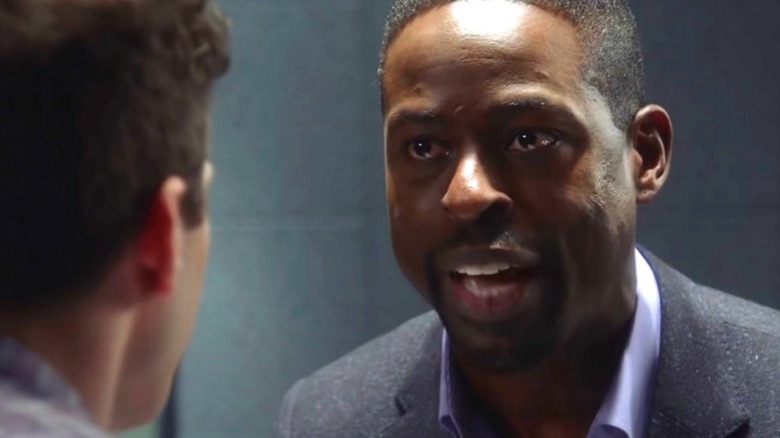 NBC/Peacock
Even though Sterling K. Brown is only in one episode of "Brooklyn Nine-Nine," it is widely considered to be one of the best episodes of the entire series, thanks in no small part to Brown's performance as murder suspect Philip Davidson. Season 5, Episode 14 ("The Box") takes place almost entirely in the precinct interrogation and observation rooms. Jake and Holt work together over the course of a night (they're only allowed to keep a suspect in interrogation for so long) to get a confession out of Philip for the murder of his dentistry practice partner. The point of this episode is to examine the relationship between Holt and Jake as fellow cops and mentor and mentee, but it wouldn't land nearly as well as it does if not for Brown's riveting performance.
Jake and Holt use many different tactics in interrogation to try and trick Philip. They do variations of good-cop-bad-cop and dumb-cop-smart-cop. Jake forces Philip to face his victim with a photo of the deceased, Holt tries to trigger Philip by insulting dentists, and Jake even lies at one point in hopes that Philip won't call his bluff. Just when it seems they will be forced to let Philip go without obtaining a confession, Jake tricks Philip by pretending to think that he just got lucky. Philip needs them to know how smart he is, and Brown plays the character's arrogance perfectly throughout the entire episode.
6. Katey Sagal and Bradley Whitford (Karen and Roger Peralta)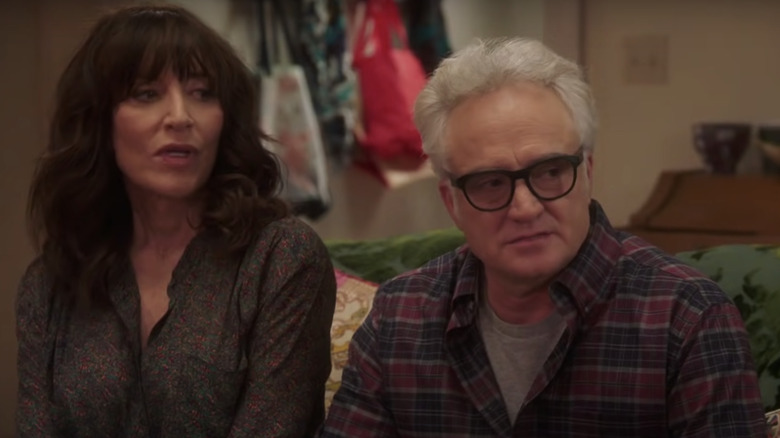 NBC/Peacock
It would be difficult to talk about Karen and Roger Peralta in separate segments. This isn't because they're always on the show together (in fact, Bradley Whitford makes several appearances in "Brooklyn Nine-Nine" without Katey Sagal) but because they are two of the best cast parents in the history of sitcoms. Of course, Jake is the son of a cornier version of Katey Sagal and a less reputable version of Whitford. Sagal's Karen is hilarious in her first appearance (Season 3, Episode 14, "Karen Peralta"), finding the perfect balance between maternal self-assuredness and a guileless disposition, and she is the kind of actress that has chemistry with just about anyone on-screen.
Whitford is also a delight whenever he pops up in "Brooklyn Nine-Nine." While at first, he is a pretty smarmy excuse for a father, over time he makes amends with Karen and Jake without losing the things that make him especially funny. Jake's dad is sexually promiscuous, flaky, and the kind of guy who never really had to do anything the hard way (until Jake forces him to confront his failures as a father, that is). Whitford's comedic timing is always golden, and it's especially delightful to see him working with his old "The West Wing" co-star Jimmy Smits again in Season 5, Episode 7 ("Two Turkeys").
5. Tim Meadows (Caleb)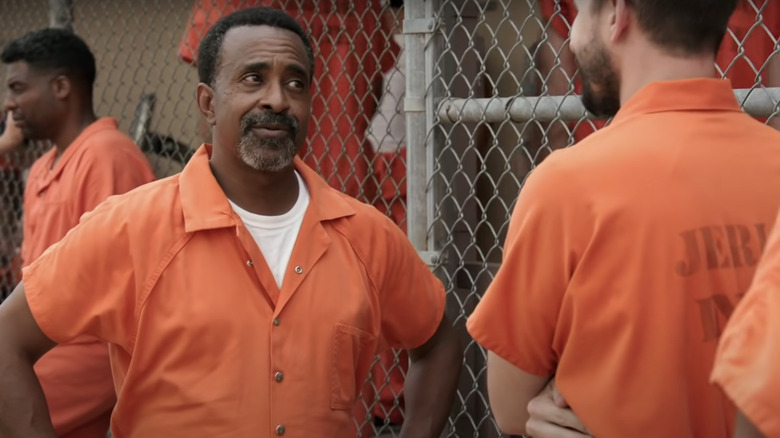 NBC/Peacock
Even though Tim Meadows' cannibal killer Caleb is only in a few episodes of "Brooklyn Nine-Nine," he's highly memorable and one of the funniest guest stars that appear in the show. When Jake is framed for a crime and found guilty, he goes to prison where he shares a cell with Caleb. Aside from his tendency to eat humans, Caleb is amiable in general and helpful to Jake and is really Jake's only physically nearby ally as he goes through the most difficult months of his life in prison for a crime he did not commit. Nobody plays strange-made-normal like Meadows. Caleb often casually mentions his cannibalism to Jake during their time together, and some of the darkest humor in "Brooklyn Nine-Nine"  comes from how matter-of-fact he is about such gruesome crimes.
Later on in the series, after Jake has been released from prison, he and Charles visit Caleb at a new maximum security prison when they need help catching an organ-stealing serial killer. It's such a treat that viewers get a chance to see Caleb interact with Charles who is actually jealous of Jake's friendship with the inmate, even when Caleb attempts to bite Jake after helping him find a lead on his killer.
4. Kyra Sedgwick (Madelyn Wuntch)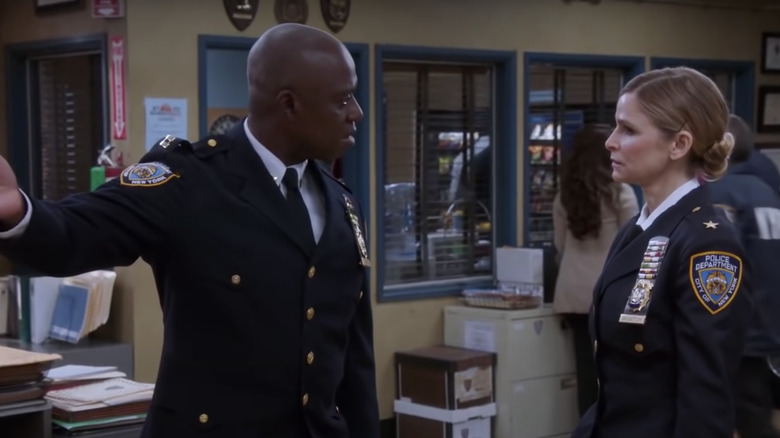 NBC/Peacock
"So nice of you to greet us, Madelyn. I thought surely you'd still be crushed under that house in Munchkinland," Holt tells Wuntch in Season 3, Episode 1 ("New Captain"). It's just one of the many fantastic jabs delivered to Wuntch by Holt throughout "Brooklyn Nine-Nine," and she pretty much always gives as good as she gets. Kyra Sedgewick, the actress behind Wuntch's confident swagger and brassy New York accent, has fantastic onscreen chemistry with Andre Braugher's Captain Holt, and it's easy to imagine the years of malice and resentment that have built up to a constant battle of wills between Holt and Wuntch throughout the series. 
Wuntch is smart, and a part of what makes her such a great character is that she and Holt would probably be friends was it not for a few misunderstandings between them that eventually led to their bitter rivalry. They even work together in the Season 6 finale, "Suicide Squad," to take down Commissioner Kelly (Phil Reeves), even though Wuntch has Holt demoted to beat cop at the end of the episode. It's easy to see that Braugher and Sedgewick have a blast playing against each other in the show, and their rivalry makes for some of the best moments in the entire series.
3. Marc Evan Jackson (Kevin Cozner)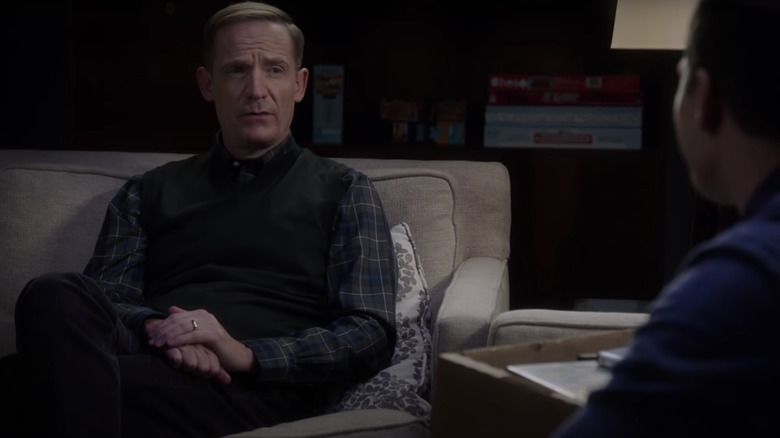 NBC/Peacock
Kevin Cozner (no relation to Kevin Costner), is introduced in Season 1 Episode 16 ("The Party") as Captain Holt's beloved, fastidious husband who works as a classics professor. As Holt's husband, Kevin pops up a lot throughout the series in many short (but memorable) scenes, but he also has several episodes in which he shines as the MVP character. Kevin's relationship with Holt is both heartwarming and totally strange thanks to his and Holt's shared peculiarities (a love of obscure "jokes," overly formal interactions between intimate partners, a penchant for bird watching, etc.), and it's just really fun to watch most of the time.
Kevin's dynamic with Jake is also super fun. In Season 5, Episode 12 ("Safe House"), Jake and Kevin are forced to cohabitate for months in a police safe house after Kevin is threatened by crime boss Seamus Murphy (Paul Adelstein). Jake eventually coerces Kevin into watching almost every Nicolas Cage film that he has on DVD, and it's so funny to see Kevin demoralized by the boredom that forces him to watch movies he would never have otherwise even heard of. Kevin and Jake become good friends by the end of the show, providing an excellent layer to Holt and Jake's father-and-son dynamic.
2. Jason Mantzoukas (Adrian Pimento)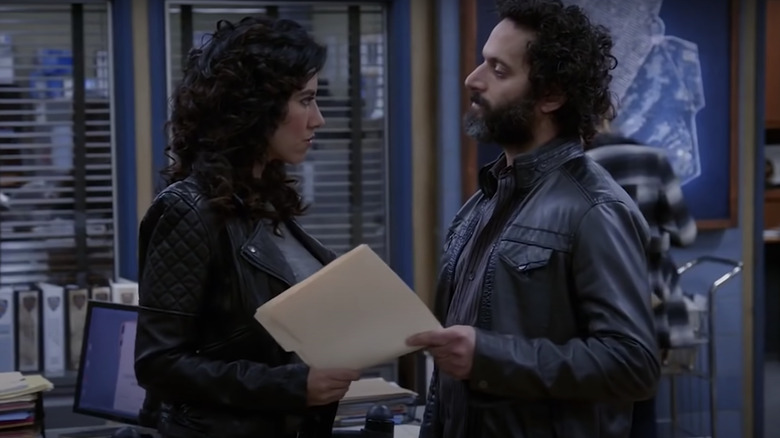 NBC/Peacock
Jason Mantzoukas is one of the best comedic character actors in Hollywood. From stellar voice work in "Invincible" and "Big Mouth" to superb guest spots in shows like "The Good Place," he's done a little bit of everything. His role in "Brooklyn Nine-Nine" as Detective Adrian Pimento is one of his funniest gigs so far. Originally introduced as a recurring character in Season 3, Episode 17 ("Adrian Pimento"), Pimento immediately establishes a strong presence in the precinct as a slightly unhinged but well-meaning detective who worked undercover as a gangster's henchman for too long. His time on the show as Rosa's romantic partner is also great — they're both a little bit strange, and they make a terrific comedic duo, especially when positioned to make Terry (Terry Crews) uncomfortable.
However, fans get his best episode in Season 7, Episode 3 ("Pimemento"). Adrian seeks out Jake and Charles when he realizes that someone is trying to kill him. They soon discover that Adrian is suffering from short-term memory loss (a disease that Jake desperately attempts to explain by talking about the movie "Memento" only to be told that it's much more like "Finding Dory") and that he has tattooed reminders all over his body, including one about what to customize in his Panera Bread order. The episode, which also features Jim Rash, is killer, and a perfect balance of both Pimento's mayhem and Jake and Charles' exasperation.
1. Craig Robinson (Doug Judy)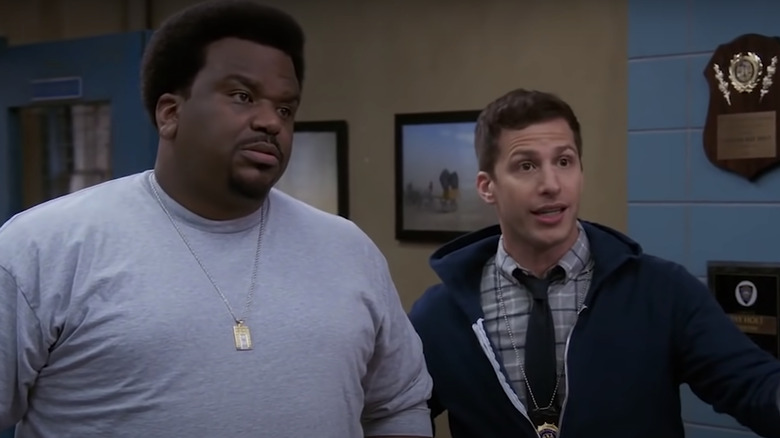 NBC/Peacock
No other guest star better personifies the lovable wackiness of "Brooklyn Nine-Nine" than Craig Robinson as Jake's nemesis-turned-best-friend Doug Judy. Doug appears in one episode of each season and the progression of his relationship with Jake is really fun to watch. At first, Doug is known as the Pontiac Bandit, a criminal that Jake has been trying to nab for years. After a few altercations though — wherein Jake and Doug find that they have a magical platonic chemistry — Jake can no longer hide his fondness for Doug, and their hijinks soon turn into partners in (solving) crime. 
Doug tops this list because of his final chapter with Jake. In Season 8, Episode 5 ("PB & J"), Jake takes Doug on a buddy road trip to prison (Doug had been arrested in New Jersey with an outstanding warrant from years ago), hoping to show him a great time before his incarceration. Doug, of course, has a plan to escape Jake and prison but has to put a stop to it when his hired crew tries to kill Jake. Later on in the episode, Jake gets a call from Doug who has somehow made his way to Amsterdam. It turns out Jake made sure Doug could escape prison, and it's a huge deal for him to break the law. Jake had never sacrificed the law for Doug before this point, despite their awesome friendship. It is a beautiful last adventure for the star-crossed best friends.