Whatever Happened To Danny Trejo?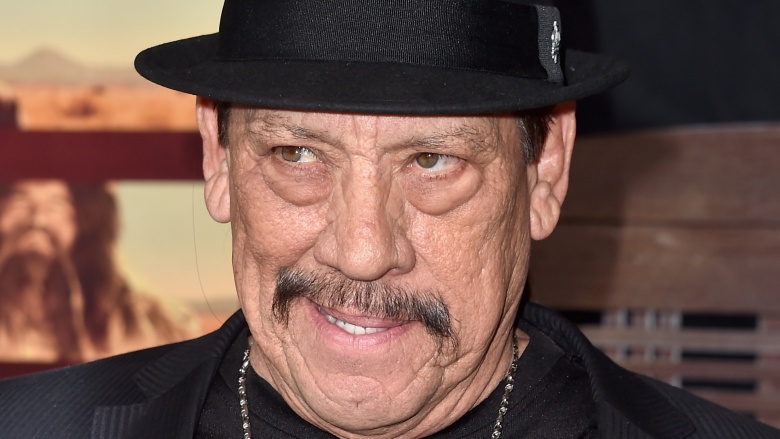 Getty Images
Danny Trejo's actual life story sounds like something you'd see in own of his movies. Born in East Los Angeles, Trejo spent most of his early life in and out of juvenile detention centers and prisons. Finally, while doing a stint in San Quentin, a twelve-step program helped him get sober and nudged him along a better path. After getting out, he worked as a youth drug counselor. One of his teenage patients needed Trejo's help dealing with a cocaine problem on the set of Runaway Train, and in one of the best "right place, right time" stories in Hollywood, Trejo was offered a role as an extra in the film's prison scenes. Things snowballed from there, taking Trejo from a career criminal to beloved character actor. Why don't we see more of him? You just need to look harder, because he's always busy.
From lead roles to quick cameos, he's constantly in movies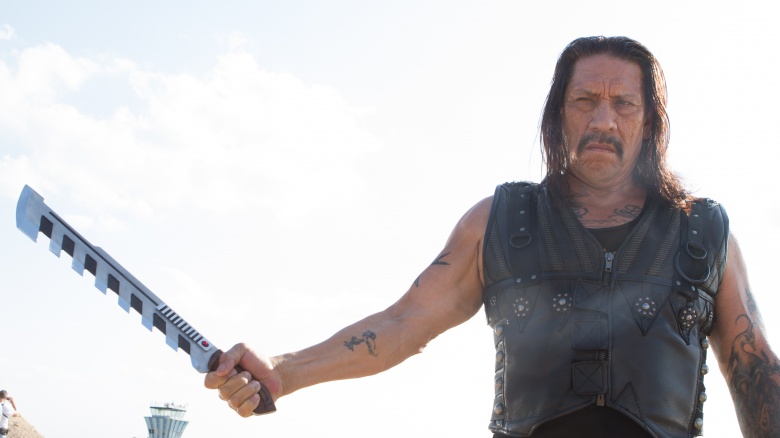 If you haven't noticed Danny Trejo at the cinema (or more likely in video on demand movies), then you haven't been paying attention. Since starring in 2010's Machete, Robert Rodriguez's gritty ode to '70s B-movies, Trejo's acting credits are as long and diverse as anyone else in Hollywood. Who else can star in the film franchises Machete, Bad Ass, and Death Race, plus appear in the family films Muppets Most Wanted and Spy Kids: All the Time in the World in 4D, and still make time for a laundry list of genre movies including Zombie Killer, Adam Sandler's Ridiculous 6, Voodoo Possession, L.A. Slasher, 3-Headed Shark Attack, and The Burning Dead? His future appears to be just as packed: Trejo's name is attached to 24 upcoming movies over the next two years, including Machete Kills in Space, Frat Pack, and Death Race 4.
He rejoined the From Dusk Till Dawn crew for the TV series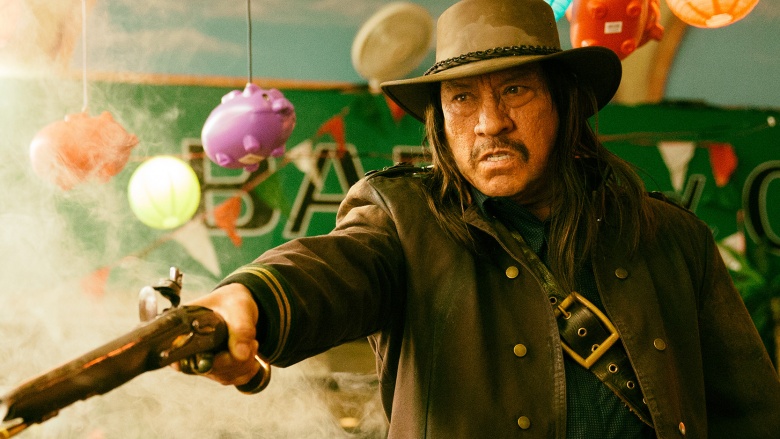 In 1996, before Trejo became one of Hollywood's most recognizable character actors, Robert Rodriguez cast him as Razor Charlie in the vampire thriller From Dusk till Dawn. The movie, which also featured George Clooney, Quentin Tarantino, Salma Hayek, Harvey Keitel, Juliette Lewis, and Cheech Marin, became a cult hit and led to two sequels as well as a TV series. Razor Charlie returned for every sequel, but didn't make it into the TV series. That doesn't mean Trejo missed out, though. He joined the cast as a different character named the Regulator.
He does voiceover work, and sometimes even voices himself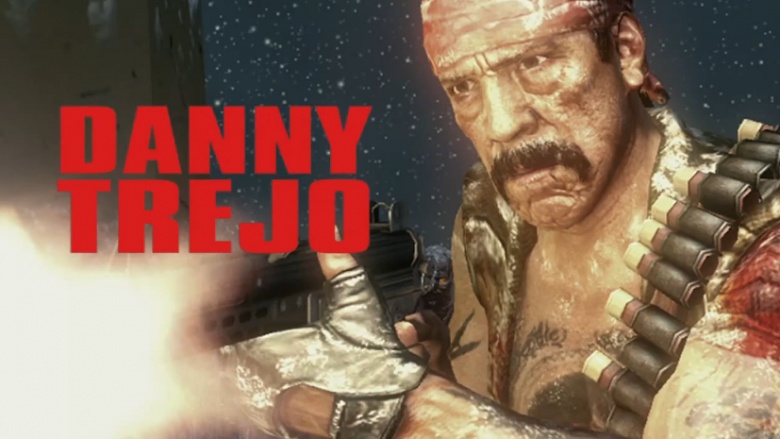 Even if you haven't noticed Trejo onscreen lately, you may have heard his voice. He voices El Moco in The Adventures of Puss in Boots as well as characters in Scooby-Doo! Ghastly Goals, Comedy Central's TripTank, and a recent Mickey Mouse short. If cartoons aren't your thing, you might also have heard him in an array of popular video games, including: Grand Theft Auto: Vice City, Fallout: New Vegas, and Teenage Mutant Ninja Turtles: Danger of the Ooze. He's even a playable character in Call of Duty: Black Ops, Call of the Dead, and Danny Trejo's Vengeance: Woz with a Coz.
Salma Hayek told a hilarious story about the tattoo on his chest (of her?)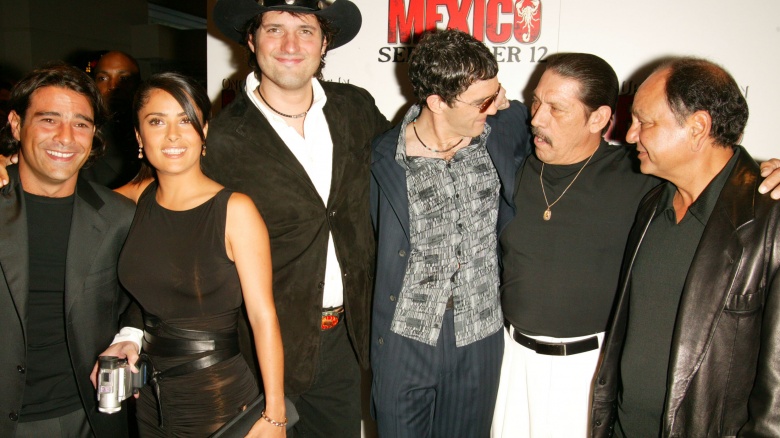 Getty Images
During a 2016 appearance on The Graham Norton Show, Salma Hayek talked about her first time meeting Trejo on the set of her debut film, 1993's Mi vida loca. Before she even saw him, she'd heard buzz around the set about an ex-con actor who used to rob banks. She was intimidated by his reputation alone; however, as soon as they locked eyes, Trejo ripped open his shirt to reveal a tattoo of a woman who looked very much like her. According to Hayek, he said, "I knew you before I knew you ... I dreamt you before I knew you." Hayek said he then told her that although he'd sworn off crime for good and never wanted to go back to jail, he'd rob another bank for her if she wanted.
Trejo is a pop culture reference in young adult literature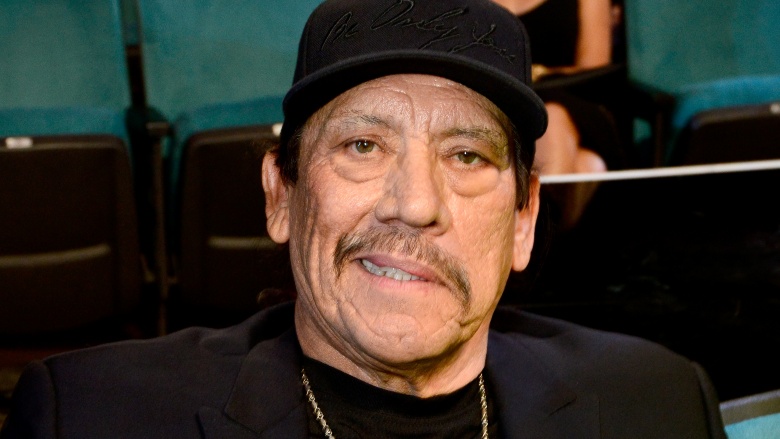 Getty Images
Charlie Higson's The Enemy is a young adult horror series in which a worldwide sickness transforms all of the adults into cannibalistic zombie-like creatures. The story evolves over seven novels, and in the third book, The Fear, there's a scene in which two characters are making snide remarks about each other's intellect. When one character introduces himself as "Einstein," thinking a character named DogNut won't get the reference, DogNut retaliates by introducing himself as "Danny Trejo." Einstein buys it.
From the book: "He may not know much about scientists, but Einstein clearly didn't know much about hard-faced, ex-con Mexican action-movie stars."
He appeared in a prison-themed music video for legendary metal band Slayer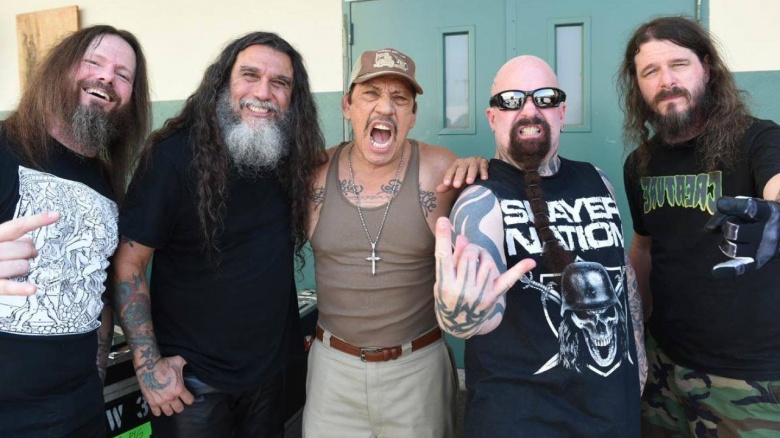 Slayer Facebook
Director BJ McDonnell had directed horror films before, but he'd never taken on a music video until Slayer asked him to direct the clip for their song "Relentless." McDonnell went big, staging a gruesomely violent prison riot with buckets of blood while Slayer perform in the middle of the carnage. Trejo plays one of the escaped inmates, who stabs a dude and gouges another's eyes out with his thumbs. Violence of his role notwithstanding, he seems pretty chill in this photo taken with the band.
His most-unsuspected role came in a Snickers commercial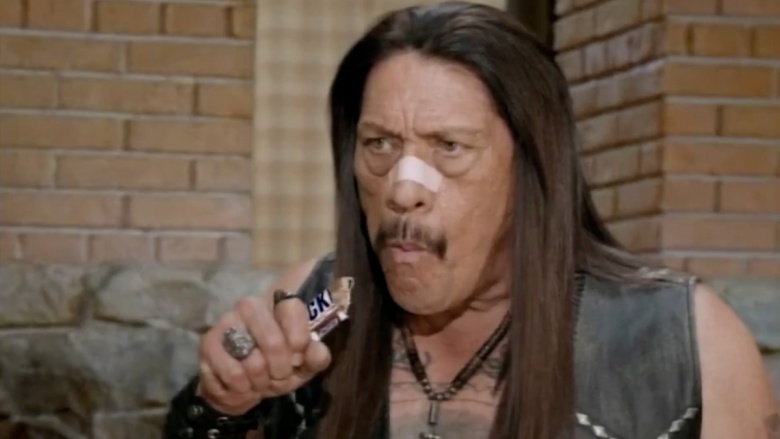 Snickers hit pay dirt with their "You're Not You When You're Hungry" ad campaign, which began during Super Bowl XLIV in 2010 with Betty White and Abe Vigoda trying to play pickup football. Needing to top themselves each year, they put together a spot featuring a digitally superimposed Trejo playing Marsha in a Brady Bunch episode. He nails her spoiled brat temperament ... adding an axe thrown into the family room's coffee table. Steve Buscemi even appears at the end as Jan Brady.
He's a successful restaurateur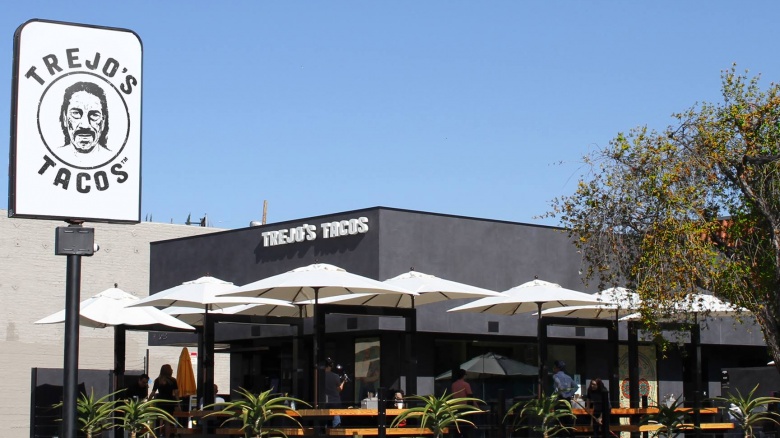 Trejo's Tacos Facebook
Celebrities opening restaurants is nothing new. However, celebrities opening restaurants that continue to thrive? That's a different story. Trejo seems to have bucked the trend with his Los Angeles eatery, Trejo's Tacos. It's doing so well, he's even opening a second location in Hollywood. In addition to the food, which regularly draws a line out the door, they sell a bunch of merchandise featuring Trejo's face, including T-shirts, baby onesies, posters, beanies, hats, tortilla warmers, and even Trejo's Coffee. The man has his own line of coffee! Move over, Juan Valdez.