Avatar 2 Fans Are Already Claiming The Sequel Has The Oscar For Best Visual Effects On Lock
Some might say that James Cameron possesses the golden touch — literally. For over 30 years, almost anytime the Canadian director has touched a movie, it has resulted in a golden statuette for the film's visual effects. Beginning with "Aliens" and continuing on to "Titanic," all but one of Cameron's films won the Academy Award for best visual effects, with "True Lies," which was nominated for the award, being the only outlier (his pre-"Aliens" films, "Piranha II: The Spawning" and "The Terminator," also missed out on the award).
For many moviegoers, however, it seemed to be an impossible feat to top 2009's "Avatar" in terms of visual effects, even for James Cameron. While the film may not be considered the most revolutionary piece of storytelling out there, practically any weaknesses the film saw in its narrative were made up for with its groundbreaking use of motion capture and computer-generated technology that brought the world of Pandora to life. Unsurprisingly, the film was another winner at the Oscars for its visual effects, along with two additional wins for best art direction and cinematography.
So when Cameron announced not one, but numerous sequels to his epic sci-fi fantasy, it felt like watching Rocky Balboa go back in the ring after taking a beating. How could Cameron top himself after already pushing himself and his team to the limit? Well 13 years later, fans finally got their answer with "Avatar: The Way of Water" — and it doesn't seem that Cameron's golden touch has worn off yet. 
The visuals of Way of Water have achieved the impossible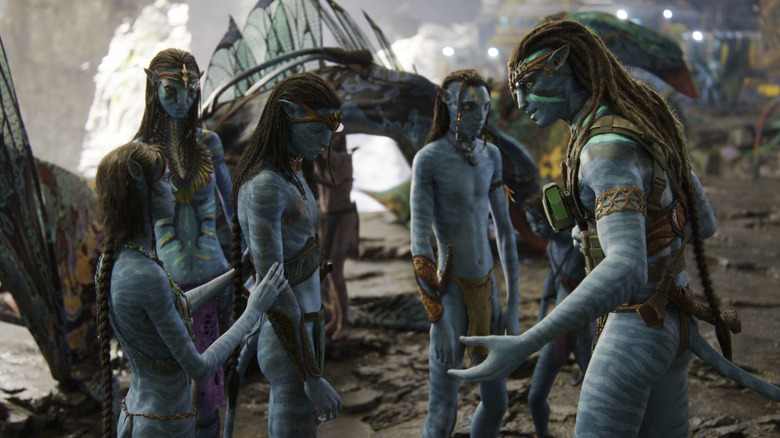 20th Century Studios
From the film's early reactions alone, it was clear that James Cameron had another visual spectacle on his hands with "Avatar: The Way of Water." Since the film's worldwide release, fans have not been able to hold back their amazement at the movie's jaw-dropping effects work. 
On a Reddit thread diving into the film, fans from all over have been sharing their reactions, such as Redditor u/MrBrightside618 who admitted, "Every time I thought I'd grown numb to the VFX, the very next shot would be the most photorealistic CGI I'd ever seen in a movie. This happened at least ten times." Similarly, Redditor u/cbruins22 praised the visuals, saying, "The world is just so ALIVE in every freaking scene. Stunningly beautiful." Meanwhile, Redditor u/mikeyfreshh recalled, "I remember leaving the theater in 2009 thinking that CGI had peaked. That they'd never be able to do better than this. When they announced Avatar 2, I trusted that Cameron would make a good movie but I didn't think they'd be able to wow me with the visuals like they did the first time. I was wrong. This is incredible." 
Redditor u/karltee practically predicted the next logical step for the James Cameron epic, simply stating, "This movie better win best visual effects." And if its current trajectory for the upcoming award season is anything to go by, it seems like it has a pretty good shot at doing just that.
The Way of Water has already collected multiple visual effects nominations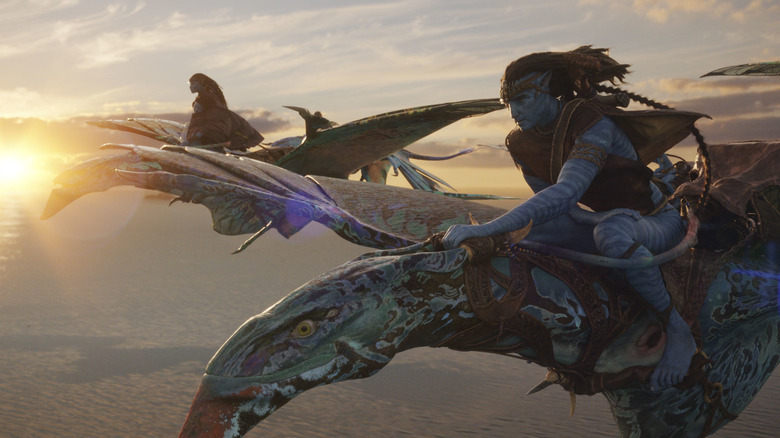 20th Century Studios
While we have some time to wait before the Academy of Motion Pictures Arts & Sciences announces their list of nominees on January 24, 2023 (via Deadline), it appears that "Avatar: The Way of Water" won't be having an especially difficult time getting a nomination for its visual effects. If the film itself isn't proof enough, then maybe its already hefty number of nominations will be the evidence you need. 
Amongst the several nominations it has received from the Critic's Choice Movie Awards, including best picture and best director for James Cameron, the film has also nabbed itself a nomination for visual effects (via The Hollywood Reporter). Similarly, it has received nominations for its stunning effects work from the Hollywood Critics Association Creative Arts Awards, the Florida Film Critic's Circle, the Chicago Film Critics Association, and the Satellite Awards to name a few. 
It seems a no-brainer that "Avatar: The Way of Water" will get a well-deserved nomination for visual effects at the Academy Awards. And unless someone else comes in and changes the game of visual effects before the year is over, it looks likely that James Cameron's golden touch will prevail once again.