Modern Family Star Sofia Vergara's Iconic Brunette Locks Are All Fake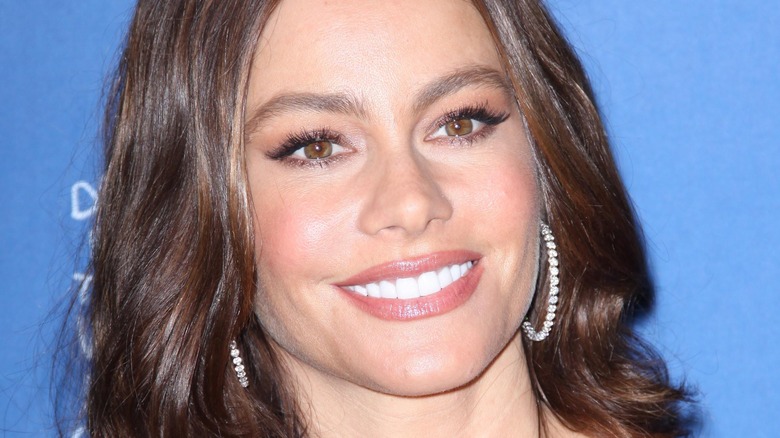 s_bukley/Shutterstock
When an actor takes on a role, whether it be for theater, TV, or film, they are required to completely morph from their true self into that character. This can include everything from mannerisms and posture to accents and emotions. Another transformation that is essential to achieving a sense of reality for viewers, of course, is appearance. Everything from wardrobe to makeup, or lack thereof, gives the actor's portrayal a sense of authenticity. 
For Sofia Vergara, though her character, Gloria, on "Modern Family" didn't completely stray from her real-life mannerisms, there were still significant changes she needed to make before stepping into not only that role, but to also break into Hollywood. Vergara's initial jump into Hollywood scene didn't occur by diving straight to her role on "Modern Family." In fact, her credits (via IMDb) reveal that she popped up in multiple TV shows and films before her career truly took off. But, when it did, it can be traced back to her time as Gloria Delgado–Pritchett, the gorgeous second wife to Jay Pritchett (Ed O'Neill). 
Despite, at the beginning of the series, appearing to be a simple trophy wife, it was clear that Vergara's character had so much more to offer. Gloria stepped forward as a character with a sense of compassion, self-worth, and strength. And although fans, by the end of the series and beyond, had become accustomed to Vergara's consistent appearance, her look was not what it was prior to gaining fame and recognition. And that was her own decision.
Sofia Vergara revealed that she's naturally blond
There's really no argument to be made against the fact that Sofia Vergara is a highly talented performer, with incredible comedic timing. Her portrayal as Gloria in "Modern Family" helped contribute to the ensemble cast. Besides her talent, her incredible look and fashion sense continues to be praised by both fans and the media. 
However, she explained to Parade that her hair is not what most people think it is. "I'm a natural blonde, like my siblings," Vergara revealed. This revelation was a surprise to some fans who got their first peak at her natural look when she posted a picture on Instagram in 2013.
Of course, Vergara is not the only performer to change their natural look. For example, Amy Adams' iconic red locks used to be naturally blond. Also, those fans who love Emilia Clarke's platinum blond hair from "Game of Thrones," should know that she grew up as a brunette. 
Despite whatever reasons different actors have to change their hair color, Vergara believed, when first starting out, this change from blond to brunette would help her find work. "When I started auditioning for American acting roles, they didn't know where to put me," she explained. "A blond Latina? In L.A. they're used to Latin women looking more Mexican. But if you go to Uruguay, Argentina, Colombia, everybody is blond."
Well, it couldn't have been just her hair color that helped her score the iconic role of Gloria on one of ABC's greatest sitcoms. But just like all appearance changes for specific roles, it helped perfectly create the character and Vergara's own Hollywood persona.