Yes, That Was Dame Helen Mirren Narrating The Barbie Movie's First Trailer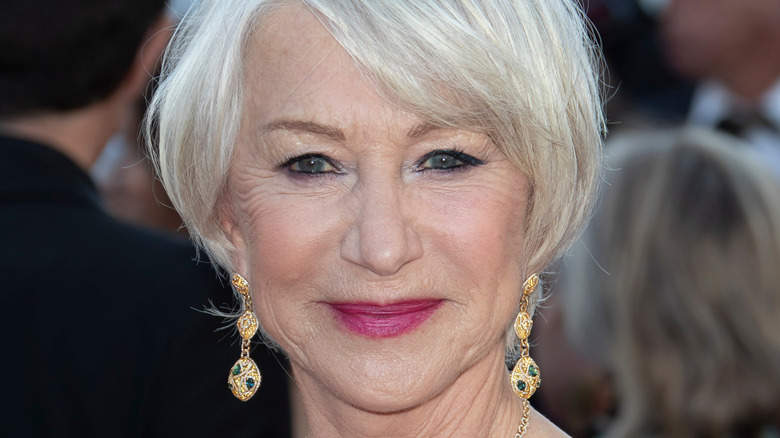 BAKOUNINE/Shutterstock
Ever since it was announced that Greta Gerwig would be directing the upcoming "Barbie," speculation regarding the film has abounded. What would the ambitious director of pictures such as "Ladybird" and "Little Women" do with a movie about the iconic Mattel toy? Today, audiences got a sneak peek at the first teaser for "Barbie," and it was quite literally Kubrickian. Sparse shots of little girls playing with traditional dolls in a barren landscape give way to a surreal image of Margot Robbie as a giant, 15-foot-tall Barbie towering over it all as the children look up in awe. The teaser features a voiceover proclaiming to the sweeping horns of the "2001: A Space Odyssey" theme that young girls have always played with dolls, and that "The dolls were always and forever baby dolls, until ... " at which point a shot of the gargantuan Robbie blocks out the sun itself as Barbie.
If you thought that svelte, English-accented voiceover sounded familiar, you were right. The narration comes courtesy of none other than Dame Helen Mirren.
Helen Mirren was thrilled to be a part of the Barbie trailer
Dame Helen Mirren's involvement in the "Barbie" teaser came as a result of a long-time bond between her and director Greta Gerwig, according to Vanity Fair. Speaking to the publication, the Triple Crown actor said her and Gerwig's relationship dates back to the set of 2011's Russell Brand vehicle "Arthur," in which Gerwig and Mirren both played supporting roles. When Gerwig asked Mirren to narrate the "Barbie" teaser, the chivalric star was thrilled to lend her iconic voice. "I thought it was an incredibly funny, fun thing to be involved in," she said.
In fact, there's a decent chance the Dame will appear in "Barbie." She admitted to shooting a cameo, though she's unsure whether it will progress past the cutting room. "I did shoot an appearance," she said, "but whether that's gotten to stay in the movie, I don't know."
Mirren has been game for plenty of outlandish appearances amid her treasured filmography, such as playing the host on the IFC mockumentary series "Documentary Now" or voicing the delightedly depraved Shame Wizard Rita St. Swithens on the raunchy Netflix animation "Big Mouth" (via IMDb). It's a testament to the fact that even the most esteemed actors can allow themselves to cut loose.